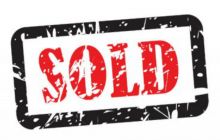 There are several reasons why you might want to sell your home quickly. Maybe you are struggling with your current mortgage and want to downsize as soon as possible, or maybe you need to relocate for work purposes and simply don't have the time to wait for a traditional sale. You might even have followed the recent progress of house prices in the UK and concluded that the market in your area has reached its peak for the foreseeable future. Whatever your motivations, the chances are that you will have spotted the TV advertisements for quick house sale firms. While this type of service has its merits in certain circumstances, it isn't without its pitfalls, and it's crucial that you fully understand the issues before signing up with a firm offering fast home sales. In this short Nethouseprices guide, we set out some of the key issues to consider before you sign up with a quick house sale company.

What is a quick house sale company?

Put simply, it's a company specialising in buying (or arranging for third parties to buy) houses significantly more quickly than traditional estate agents. They will typically charge a fee for processing the sale and you will almost always receive less than your full house valuation.

What are the advantages?

The obvious upside of a quick sale firm is that you can offload your house far more speedily than if you offered it for sale in the open market. You might also be able sell a property that has been up for sale for a lengthy period, either because your area is currently unpopular with house-hunters or because the house has structural or other defects.

What are the downsides?

There are three main disadvantages inherent in selling your home through a quick sale company:

1. You will not receive the full house valuation.
2. If you are in some financial duress, you might opt for a quick sale then regret the decision.
3. Some firms are less scrupulous than you might hope.

How do I protect myself?

There are some important points to consider before acting:

1. Ask yourself why you are considering this strategy for selling your home.

If you are in debt, there might well be a way of restructuring your payments so you don't need to sell your home. Certainly, before you do anything, we'd recommend that you contact one of the following free advice services:

- Money Advice Service: https://www.moneyadviceservice.org.uk/en.
- Citizens Advice: https://www.citizensadvice.org.uk. Please note that the portal will direct you to the service for your part of the UK.
- StepChange: https://m.stepchange.org.

If you are experiencing difficulty paying your mortgage, it is well worth talking to your lender. Banks and building societies don't want to foreclose on properties if they can avoid it and they employ trained staff who will try to help you find a solution that doesn't involve selling up.

2. Consider other options.

When you're in a bind - whether it be financial or emotional - there's an understandable inclination to take the path of least resistance. It's vital, though, that you don't panic or get pushed into a decision that ultimately isn't right for you. The following might be suitable alternatives to a quick sale company:

- Renting your house out.
- Property auctions (although these have their own sets of risks).
- Sell on the open market via an online service. These platforms have an audience of hundreds of thousands and can sometimes sell your home far more quickly than you'd imagine. Their fees are also typically lower than high street estate agents.
- Research local estate agents to find which has the best record in your neighbourhood and in your type of property. You might find that houses in your area sell much more quickly with some agents than with others.

3. If you have thought the matter through and still believe a quick sale company is your best option, then you should:

- Research sold prices in your postcode and street and obtain a free instant house valuation from Nethouseprices. Being armed with this information will help you to put any offers made to you into context.
- Check with your local authority planning department to see whether there is any imminent development in the area which might materially affect prices. This knowledge might help you negotiate a better price.
- Research the companies you are considering. They should:

i) Have a verified online presence.
ii) Be registered with Companies House: https://www.gov.uk/get-information-about-a-company.
iii) Have great testimonials from satisfied customers.
iv) Be members of the National Association of Property Buyers: https://napb.co.uk. This body will help you gain redress in the event that anything goes wrong with the transaction.

- Ask for a full fees schedule and make sure you understand any penalty clauses in the contract. For example, will you face an extra fee if you leave the scheme early?
- Make sure the contract is written rather than oral to avoid confusion and to prevent future disputes.
- Take independent legal advice so you are thoroughly apprised of the implications of this type of sale and to make sure the documentation is properly drafted.
- Do negotiate any offer and ask for the company's reasons for the offer. If, for instance, the company cites an unfavourable survey as the principal reason for a lower than expected offer, ask for a copy so you can decide for yourself if the deduction is reasonable.
- Don't be rushed into a fast decision: the implications of selling your home are far-reaching and you are absolutely entitled to take your time before agreeing to a sale.

We hope you have found this guide useful. Quick sales companies offer a valuable service to thousands of homeowners every year, but their service isn't right for everyone, so we strongly recommend that you take independent legal and financial advice before signing up to sell your home.

Visit us again soon for our news coverage of house prices in the UK and our commentary and analysis of the property issues affecting you and your investments.
You can also sign up to our newsletter and join Nethouseprice's community of over 190,000 members who get regular property tips, relevant offers and news, click here http://nethouseprices.com/auth/user-register
Source: Nethouseprices.com 12.02.18