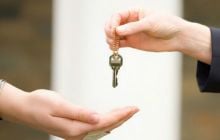 Nethouseprices readers are probably painfully aware that these aren't the best of times for landlords. In previous columns, we have talked at length about the veritable raft of tax and regulatory measures which have been introduced during the past two or three years, and concluded that, whether by accident or design, these have materially impacted landlords' livelihoods. We don't mean to suggest that there isn't money to made from buy-to-let investments. In fact, quite the contrary: investors are turning over highly respectable yields in many locations across the UK. In our view, though, the current environment is sufficiently challenging that landlords need to take careful steps to protect their revenues and their investments. Finding the right tenants is absolutely key. In this short guide, we set out some strategies to help you identify the best occupants for your house or apartment.

1. Financials

When evaluating potential tenants, the single most important exercise you can undertake is to investigate their financial history and present circumstances. For practical purposes, this means:

- Carrying out a comprehensive credit check.
- Requesting a reference from previous landlords to ensure that they have a great track record of paying their rent in full and on a timely basis.
- Confirmation of salary from an employer, or bank statements proving that applicants have the monetary wherewithal to pay the rent on your property. Researching this, we found that the standard requirement seems to be that a tenant's annual income should be around 30 times the monthly rent. Increasingly, though, landlords are looking for evidence that prospective tenants can not only afford to pay their rent but can also finance a relatively comfortable lifestyle. The rationale for this approach appears to be that residents who are stretched by their rent payments are more likely to default, leave unpaid utility bills, skimp on cleaning and their other day-to-day responsibilities and leave the property before the end of the lease. Crucially, they are also unlikely to be able to cope with even token rent increases.
- Insisting on a rent guarantor in the case of very young people and students who haven't built a significant financial history.
- Considering taking out landlord insurance to help protect your revenue in the event that your tenants fail to pay their rent.

Remember: legislation is passing through Parliament which will restrict security deposits to six weeks' rent, so you need to be especially vigilant about your tenant's financial circumstances.

2. Character

As vital as it unquestionably is that tenants meet their rent commitments, it's essential that they can also be trusted to respect your property. Some dilapidations are clearly inevitable during a tenancy, but tenants should keep the premises clean and tidy, take reasonable care of fixtures, fittings and appliances, and avoid being rowdy or otherwise causing a nuisance in the neighbourhood. It's no exaggeration to say that neglectful or antisocial tenants can seriously compromise your house valuation. Accordingly, you should:

- Follow up on personal references from former landlords.
- Obtain testimonials from employers or, in the case of students, tutors. Knowing that a resident is in a secure occupation can give you a degree of peace of mind.
- Where feasible, ask to visit a tenant's present home.
- Ascertain his or her personal and family circumstances. This is important because you will probably want to avoid a situation where family members move into your property, complicating the lease.
- Find out their plans beyond the initial tenancy. Ideally, there should be at least a possibility that they will remain in situ for several years.
- If possible, check out their social media spaces. This should give you a fairly shrewd idea of what type of person you are dealing with and whether your ostensibly ideal tenant is in fact a raucous party animal!
- Trust your own instincts. If you don't get the right "vibes" from a tenant, there is every likelihood that - irrespective of his or her glowing references - the arrangement won't work out.

Note: Local regulations vary, but in England, for example, landlords must satisfy themselves that tenants have the right to rent the property. You are obliged to see original documents certifying that tenants are legal residents of the UK. Failure to comply with this requirement will result in a civil penalty. You are, however, prohibited from discriminating against potential tenants on the basis (for example) of race.

3. Do your bit

There are two strands to this point:

- It is simply imperative that you meet your legal and regulatory requirements. This is partly because tenants are unlikely to pay their rent and respect you and your property if you fail to provide accommodation that meets the relevant statutory criteria. It's also because the financial and legal consequences breaching landlord and tenant law can be devastating.

Important: The Ministry of Housing, Communities and Local Government has been extremely prolific in recent months and the laws around private sector tenancies are changing. We strongly recommend that you take legal advice before letting out your house or flat.

- Remember the principle of reciprocity. In other words: do as you would be done by. If, for example, your property is immaculate when your tenants move in, they are likely to keep it that way. Similarly, if you are prompt to respond to queries, they will respect you and consult you about problems before they escalate into a major issue. Fair rent increases will be tolerated but unjustified hikes are likely to result in your tenant's speedy departure to alternative - and more reasonably priced - accommodation. Essentially, try to give residents quiet but supported enjoyment of their new home.

We hope you have found this guide informative. It is intended as a general introduction to the subject and does not constitute advice. We urge you to take professional advice before entering into any major undertaking.

Visit us again soon for our news coverage of the UK property market. Coming up shortly: the Nationwide index of house prices in the UK. Don't forget to try our free instant house valuation service.
You can also sign up to our newsletter and join Nethouseprice's community of over 190,000 members who get regular property tips, relevant offers and news, click here http://nethouseprices.com/auth/user-register
Source: Nethouseprices.com 28.02.18