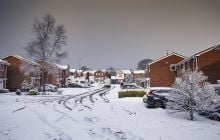 House prices in the UK have taken an understandable back seat to other news in the past few days, with the wintry weather wreaking havoc across the country. We hope our readers are safe, warm, and coming through Storm Emma and the so-called Beast from the East entirely unscathed. If you have managed to keep an eye on the other news, you will no doubt have noticed that these aren't the best of times for business and the economy. Not only did two major retailers enter into administration on the same day, amid a welter of warnings that more stores will follow, but we learnt that inflation continues to outstrip wage growth and that the recent boom in British manufacturing is starting to falter. Against this somewhat gloomy backdrop, Nationwide's announcement that property prices fell in February didn't come as a great surprise. Until, that is, we recall that the lender actually reported solid growth in both December and January. In this Nethouseprices feature, we examine the latest Nationwide index of house prices in the UK, look at the reaction and ask whether the trend will persist over the coming months.

Nationwide HPI for February

The headlines

As usual, we preface these statistics with a short caveat. Like its competitor Halifax, Nationwide bases its index on its own mortgage-lending business of around 12,000 monthly transactions rather than on official Land Registry sold prices. The following are the building society's key findings for February:

- The average cost of a home in the UK rose by 2.2 per cent in the twelve months to February. This is in sharp contrast with the 3.2 per cent growth recorded in the year to January.

- Property prices fell by 0.3 per cent in February, having - according to Nationwide's own calculations - increased by a healthy 0.8 per cent in January.

- The average cost of a house or flat in the UK was £210,402. This is down from £211,756 the previous month, but an increase on the £205,846 reported back in February 2017.

- Property accounts for a remarkable third of UK households' wealth. This observation and the surrounding detail warrant deeper discussion and we will cover them in an upcoming Nethouseprices feature.

Reaction

Readers might recall that Robert Gardner, Nationwide's Chief Economist, expressed a degree of surprise to be announcing growth of 0.8 per cent in January. The figures, he argued, didn't really conform to patterns of consumer behaviour noted elsewhere. Retail data, for instance, have shown clear signs of faltering consumer confidence. While he didn't say this outright, there was perhaps the sense that Mr Gardner thought that the statistics for January were outliers. In his briefing to the February index, he stresses that the latest monthly findings are as susceptible as ever to volatility, but adds that they do appear to reflect events in the wider economy. Crucially, they are also consistent with the available Bank of England data around moderating levels of mortgage approvals, and a Royal Institution of Chartered Surveyors ( RICS) poll showing that comparatively few new instructions are being received by estate agents.

Going forward? Mr Gardner's projections haven't significantly changed since the January index. He still maintains that much depends on the broader economy and the ongoing Brexit negotiations, both of which are extremely difficult to predict. The factors that might weigh down prices include affordability constraints in some locations and continued pressures on household finances. Supporting the market, however, will be low unemployment, low mortgage interest rates and the perennially low supply of homes up and down the country.

Elsewhere

The response elsewhere was uncharacteristically muted, with property pundits perhaps being as preoccupied with the weather as the rest of us! We did note a few comments, though. Howard Archer of the EY Items Club - one of the experts we frequently cite - said, for example, that the latest figures did nothing to "dilute" his institution's view that house prices in the UK would rise by no more than two per cent during 2018.

Jeremy Leaf, a London-based estate agent and former Chairman of RICS, said that the contents of the Nationwide index for February were unquestionably troubling, especially because this is a time of year when we would typically expect to see growth. Nonetheless, he argues, the study does highlight the dangers of this type of national snapshot. Robert Gardner, by way of example, talks of the restricted supply of housing as being a central driver of the market. This, says Mr Leaf, is not the case in London, where supply is outstripping demand right now, causing sellers to modify asking prices.

Sam Mitchell of HouseSimple.com was quoted in the media as having said that prices have clearly "gone off the boil," most notably in London. There is no prospect of a crash but we are facing a challenging few months. Sellers might need to rethink their price demands if the market is going to pick up any real momentum.

Nethouseprices view?

We can't argue with these analysts. Assuming there are no major shocks to the economy, it seems reasonable to assume that - buoyed by a superb jobs market, low interest rates and supply constraints - the cost of residential real estate in Britain will continue to climb, albeit at a dramatically reduced pace. There are things we need to watch out for, though. The indications are, for instance, that the Bank of England's Monetary Policy Committee is minded to hike the lending base rate as early as May. On the other hand, the impact of the abolition of Stamp Duty for most first time buyers hasn't, as yet, been fully felt. It's conceivable that this particular measure will stimulate price growth in some regions. In the meantime, we will be fascinated to see the Halifax index for February, which is due to be published in the next few days. This lender, you might recall, reported that prices fell in January. Will it once again contradict Nationwide's findings? Watch this space to find out!
You can also sign up to our newsletter and join Nethouseprice's community of over 190,000 members who get regular property tips, relevant offers and news, click here http://nethouseprices.com/auth/user-register
Source: Nethouseprices 02.03.18