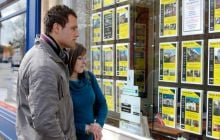 Given the prevalence of newspaper headlines hailing rising numbers of first time buyers over the past couple of years, you would be forgiven for assuming that the problem of declining rates of homeownership among young people had been largely solved. Not so, says the Institute for Fiscal Studies (IFS) in a fascinating new study: the issue might, in fact, be rather more deeply ingrained and significantly more complex than we thought.

The IFS set out in its research to explore two key areas. Firstly, how have young adults' incomes and house prices in their regions evolved over twenty years, and how have the changes affected homeownership? Secondly, do the occupational circumstances of their parents impact young people's prospects of being homeowners?


In this Nethouseprices feature, we set out the principal findings of the report.

What is the IFS?

It will perhaps be useful to start with a short summary of the IFS. It describes itself as the UK's leading microeconomic research institute which - being entirely frank - makes it sound as though it is engaged in arcane studies involving higher mathematics and endless statistical meanderings. Its work does, in fact, have a practical application, and its output is intended to provide a basis for debate about public policy. You might recall, for instance, the annual IFS reviews of the implications and costings of the Chancellor's Budget. As such, its documents need to be taken seriously by government, other think tanks, charities and industry.

Key findings

The salient points of the IFS bulletin on the decline of homeownership among young adults are as follows:

1. Young adults are markedly less likely to be homeowners at a given age than their counterparts born five or ten years earlier. According to IFS calculations, for example, there is a 25 per cent homeownership rate among 27 year-olds born in the late 1980s. The rate for 27 year-olds born in the late 1970s and early 1980s was 33 and 43 per cent respectively. As troubling as these figures might be, they are easily verified and therefore probably the least controversial of the study's assertions.

2. The most striking decline in homeownership has been among young adults on middle incomes. As an example, in 1995-96, 65 per cent of those aged 25-34 who were in the middle 20 per cent of earners for their age group were homeowners. The figure now is just 27 per cent.

3. The main reason for the decline in homeownership among young adults is the sharp increase in house prices in the UK, relative to incomes. The IFS says that in 2015-16, nearly 90 per cent of 25-34 year-olds encountered regional house prices that were at least four times average earnings. As recently as 20 years ago, less than half of young people were in this position. Even more worryingly, some 38 per cent of people in this age group are facing the challenge of a house price to income ratio of over ten. This compares with just nine per cent in the mid-1990s.

4. A young person's likelihood of becoming a homeowner is closely linked to his or her parents' occupations.

Nethouseprices view?

Each of these findings is deeply thought-provoking and we will revisit them in a future column. But today, we'd like to look at the contention that house prices in the UK are the biggest obstacle to homeownership among young adults. In a sense, this isn't a point for debate. No-one is seriously going to argue that the inflated cost of residential property doesn't present a real - and often insurmountable - problem for aspiring property owners. One of our frequently made points is that, as depressing as existing homeowners might find the current sluggishness of the housing market, first time buyers are no doubt relishing the breathing space they are being afforded by house prices stagnating.

We do, however, think that there are several other factors curtailing homeownership among young adults. Firstly, soaring house prices wouldn't be quite such a problem if wage growth hadn't stalled so dramatically in the ten or so years following the financial crisis. This is an ongoing problem: consumer price inflation was still outstripping wage growth at the end of February 2018. Young people naturally enough struggle to meet the everyday cost of living and find saving for a deposit virtually impossible.

Secondly, low interest rates have been at best a mixed blessing. True, they make mortgages more affordable. On the other hand, saving for a deposit becomes a frustratingly lengthy process, with savings being boosted only minimally by bank interest payments.

There is also a well-documented shortage of affordable homes, a characteristic of the market occasioned by a rising population and the failure of governments of all colours to build new houses on the required scale. This is admittedly being addressed by the Ministry of Housing, Communities and Local Government, which has announced a massive programme for increasing the country's housing stock. Ambitious as this project unquestionably is, it will take years to bear fruit.

Crucially, mortgage-lending rules have been tightened, making it appreciably more difficult for young people to obtain home loans. This measure was a response to the financial crisis, which is blamed - in some quarters, at least - on irresponsible lending practices. The collapse of Northern Rock, for example, is attributed by many people to the institution's liberal mortgage-lending model. Whether this is correct is a debate for another occasion, but the inescapable upshot is that young people have to jump through far more hoops to be approved for a mortgage than their predecessors. There is apparently little appetite for relaxing financial regulation in the short term, so this might well become a permanent feature of the landscape for young adults.

Which brings us to the value of the private rental sector which provides safe and secure housing for young people who are unable to buy a house or who, for whatever reason, prefer to rent. Clearly, homeownership speaks to something deep in our national psyche, but let's remember that renting is a decent and respectable option for many people.

We hope you have found this article interesting. Coming up at Nethouseprices this week: Halifax index of house prices in the UK, our guide to living in Edinburgh and much more.
You can also sign up to our newsletter and join Nethouseprice's community of over 190,000 members who get regular property tips, relevant offers and news, click here http://nethouseprices.com/auth/user-register
Source: Nethouseprices.com 05.03.18