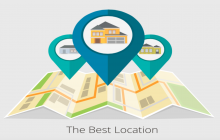 If you're looking to move to London but don't want to be in the centre of town, Richmond-upon-Thames could be the perfect solution. This leafy village suburb in the South West of the capital bordering Surrey is an exciting borough where there's always something going on. According to its residents, it's also one of the best places to live in the UK. In a survey carried out in 2016, they gave it an approval rating of 92.4%.
Historical Roots
Richmond's history goes back a long, long way. Interestingly, compared to the rest of the capital, Richmond developed relatively late. It was originally a royal retreat – Henry VII built Richmond Palace by the riverside in the 15th century.
But it wasn't until the 18th and 19th century that the area became fashionable with the aristocracy as a retreat from London. Ham House, Petersham House, Marble Hill House and a number of grand properties at the top of Richmond Hill were all built during this period, while the railway finally arrived at 1846.
Richmond Park
In terms of landscape, Richmond Park is London's second biggest park boasting over 2,500 acres of green space. It was King Charles I who turned this area of medieval farms and pasture into a royal park in 1625 – Richmond Park is now the largest of London's Royal Parks.
For local residents, it's one of the borough's best loved amenities and a key part of the Richmond lifestyle. Whether you stroll or cycle through the peaceful woodland and almost unspoilt countryside, it's easy to forget that you're only 8 miles or so from the heart of the capital. Keep an eye out for wild red and fallow deer that roam freely in the park.
Richmond Hill and the River
The Arcadian Thames – spanning all the way from Kew Gardens to Hampton Court and taking in the breathtaking view from Richmond Hill towards the west – is arguably one of the country's greatest treasures. The panoramic view has inspired artists such as JMW Turner and Sir Joshua Reynolds, while the vista is so special that it is protected by an Act of Parliament.
Descending down to the River Thames, you'll find an array of riverside bars and restaurants making up the borough's picturesque riverside setting. There's a rowing club for those who want to experience the River first hand, or riverboat cruises to Westminster or Hampton Court, while walkers can join the Thames Path, a 184 mile walking route that follows the River from its source in the Cotswolds all the way to the sea.
The Town
Richmond-upon-Thames is a small borough with much charm and many amenities for the whole family. There are several superb schools, two theatres, three cinemas, a wide choice of upscale and designer shops. For socialising and entertaining, Richmond has many excellent bars and restaurants including the superbly positioned The Roebuck public house at the top of Richmond Hill, Gaucho Argentinian Restaurant on the river bank, and the beautiful greenhouse restaurant destination, Petersham Nurseries.
Tucked away behind the high street is the charming Richmond Green, the heart of the old village. It's a welcoming spot to relax on a sunny day that's framed by some of the area's finest period buildings and Richmond Theatre on the adjacent Little Green.
Transport and Connections
Richmond is strategically situated for the capital, with great connections to Central London via the District Line Underground, national rail services into Waterloo (21 minutes) and the Overground for a fast way to North and East London. Heathrow Airport is 11 miles away and can be reached by car in just over 20 minutes.
For London commuters who prefer a quieter life, with a peaceful and more family oriented ambience, Richmond would seem to tick a lot of boxes.
No wonder that the area is a regular location for film and TV shoots, and that many famous people have made their home here over the year. The long and illustrious list of famous residents includes Mick Jagger and Jerry Hall, David Attenborough and Sir John Mills, Ronnie Wood and Pete Townshend, Brad Pitt and Angelina Jolie, Richard E Grant, Sandra Bullock, Tom Hardy, Colin Firth and Keira Knightley.
Richmond Property
Many Richmond fans would argue that it's a special place offering high quality Georgian and Victorian houses, delightful riverside settings and views and a village atmosphere that belies its proximity to Central London. Richmond has a sense of space and history that's hard to find anywhere else in London.
Unsurprisingly, property in Richmond comes at a price. Average property prices in the area stood at £947,075, more expensive than nearby Kingston-upon-Thames (£574,568), Merton (£639,828) or Wandsworth (£786,571). Flats in Richmond fetched an average of £743,232), with semi-detached properties selling for an average of just 1.5 million. The most desirable areas comprise Richmond Hill, Richmond Green and the village of Petersham. Property prices were up 11% on the previous year.
Source: Dakota Murphey, 07 March 2018