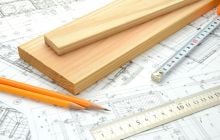 Isn't planning permission annoying? So many stupid hurdles like….
Well, if you're looking to expand your home or build some extra space in your garden, you'll be pleased to know that there are actually plenty of ways you can do it without having to bother with the planning department.
This is because certain residential work falls under "permitted development", put in place in the Town and Planning Act of 1948. This legislation was put in place so that planning departments would not have to deal with requests to make only minor changes to a building, and as a result, homeowners can make certain modifications without having to jump through hoops.
Permitted development can vary from area to area, so don't plan your renovation solely based on the information we give you here – always check with your local planning department before carrying out any work. It's also important to note that the guide is not intended for homes that are:
A listed building
In a conservation area
In a National Park or Area of Outstanding National Beauty (AONB)
Part of a World Heritage Site
Specific rules apply to these properties and you may find that modifications are strictly regulated. Assuming your home does not fall under any of these categories, here are some of the changes you can make without worrying about pesky planning permission.
Porches
Building a porch on the front or back of your property falls under permitted development as long as the ground area does not exceed 3 square meters and it's no more than 3 metres tall. You will also need to make sure that no part of the porch is within two metres of the property boundary or a public road.
Garages
Providing that you plan your garage extension carefully, you won't need to worry about obtaining consent before building a domestic garage. There are several criteria that the design must meet, however, including:
No part of the garage extends beyond a front or side wall of the house that faces the road;
No part is within 3.5 metres of the boundary with a road to the back of the house;
The ground area of any outbuildings is not more than half of the total property size; and
It is less than 4 metres tall, or 2.5 metres if it is within 2 metres of a boundary line.
If your home is within one of the conservation areas listed above, be aware that any outbuildings more that 20 metres from the house must have a maximum total floor area of less than 10 square metres, which can greatly affect your building plans.
Garage conversions
Does your family need room to grow? Think about converting the garage. The average garage conversion costs between £5,000 and £8,000, making it far cheaper than moving to a bigger house. Even if you're set on moving, a well-executed garage conversion can boost the value of your home by up to 10%, making it one of the most cost-effective improvements you can make prior to putting it on the market.
As long as you don't plan to alter the structure of the building, most garage conversions won't require planning permission before being carried out. You might want to double-check this if you live in a new-build home, as some were constructed with a condition that requires the garage to be kept as parking – you'll need to submit an application to lift this condition if so.
Loft Conversions
Still feel like your home is bursting at the seams? A loft conversion typically costs around £30,000, although adding features such as an en suite can push the price up to £40,000. A simpler conversion where you carry out most of the internal labour yourself might be achieved on a budget of £20,000 or so.
If you can convert your loft without altering the roof space (dormer windows up to a certain size are usually acceptable) then you usually won't need planning permission. However, there are restrictions about extending beyond the existing plane of a roof that faces a road, and several considerations that need to be taken into account regarding windows.
Single-storey extensions
You don't even need planning permission for a single-storey extension to your home, as long as it meets certain requirements, including:
No more than 50% of the original land is covered by outbuildings or extensions;
The extension does not come further forward than the front or side elevation of a property facing a highway;
It does not exceed the highest part of the roof – the maximum height for a single-storey extension is 4 metres or 3 metres if it is within 2 metres of a boundary;
It does not extend further than 3 metres from the rear wall of a terraced or semi-detached house, or 4 metres of a detached house (temporary changes have increased this to 6 metres and 8 metres, as long as neighbour consent is given);
Side extensions must be 4 metres or less in height;
Materials are visually similar to the existing house.
There are currently temporary size limit increases in place, which pertain to single-storey rear extensions as long as they will be completed by 30th May 2019. Be sure to check plans with your local authority before proceeding.
Conservatories
Conservatories are another permitted development that can help your family have a bit more space. Similar to building a garage, conservatories must not extend past the front elevation of your home, or beyond the side wall if it faces a highway. The temporary size limit increases affect a conservatory design in the same way as a single-storey extension too, meaning that until 30th May 2019, you can build up to 6 metres beyond the rear wall of a terraced or semi-detached home, or 8 metres of a detached building.
Building Regulations
Don't forget that Building Regulations are not the same thing as planning permission and you will need to check whether your planned development is exempt or not. Using professional contractors should ensure that your conversion or extension adheres to regulations, but it's easy to forget these rules if you're doing the majority of the work yourself.
Source: Dakota Murphey, 09 March 2018