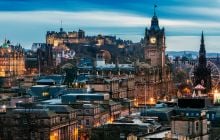 Regular readers will be aware of our great affection for Scotland. We aren't alone in holding the country in such high regard - its unrivalled natural assets, vibrant cities, flourishing economy and rich cultural heritage are renowned across the globe, to such an extent that, as recently as last year, Scotland was voted the best place in the world to live. That's quite some accolade! In the available space, we can't provide a comprehensive survey of the entire nation. It's simply too diverse for so straightforward a treatment. Instead, we thought we would start our new series on the UK's greatest locations to live and work with a discussion of the many upsides - and occasional disadvantages - of living in the glorious city of Edinburgh.

In a nutshell

In a sense, Edinburgh needs little in the way of introduction. It is, of course, the capital of Scotland and the seat of that country's government and administration. With a population of around half a million lucky souls, it isn't the biggest Scottish city - Glasgow holds that distinction - but it is the centre of finance and commerce. Its financial services sector, for example, is second only in size and wealth generation to the City of London.

Outside of its buoyant business environment, Edinburgh has an enviable cultural and intellectual tradition, being host to several world class museums, galleries and theatres. The National Museum of Scotland, by way of example, is comparable to institutions in Europe's greatest capital cities. Similarly, UNESCO regards the Old Town and New Town as being of such historical importance that they have been given the most prestigious World Heritage Site designation.

As beautiful as Edinburgh's man-made attractions might be, they are surpassed by its natural glories: Arthur's Seat and the breathtaking volcanic hills, for instance, and the wild, unspoilt surrounding countryside. As if these attributes weren't sufficient, the city is within comfortable travelling distance of several national parks.

These are features, of course, which appeal to the million tourists who visit the city on an annual basis. But what's it like to live and work in Edinburgh?

The pros

1. Diversity

Edinburgh is one of the UK's most culturally diverse cities, with representatives of most nations living within its boundaries. While many of the non-native citizens are of European and Asian provenance, the city boasts Britain's second highest concentration - after Central London - of American-born residents. Welcoming and receptive to fresh influences, Edinburgh will make you feel at home whatever your background.

2. Communications and transport

In comparison to some of the UK's other major cities, which are frequently rather unwieldy, Edinburgh is a compact city, meaning that you can find your way around easily and quickly. Transport links across the city and to other centres across Scotland, the rest of Britain and indeed Europe, are excellent, and residents are usually spared the woes befalling commuters elsewhere.

3. Quality of life

We've all seen the annual surveys purporting to identify the best places to live. These commercial indices use different metrics and their findings vary so, as interesting as they are, they need to be read with a degree of caution. Official data are more reliable, though, and they consistently find that Scotland outperforms the rest of the UK for quality of life, equality, social justice, education standards and access to healthcare. See: http://www.bbc.co.uk/news/uk-scotland-37616226 for more information. And Edinburgh is no exception, coming in at a creditable second in a recent international quality of life study (https://www.scotsman.com/regions/edinburgh-fife-lothians/edinburgh-ranked-second-in-the-world-for-quality-of-life-1-4436407).

4. Facilities and amenities

As well as having the cultural and natural resources highlighted above on their very doorstep, Edinburgh residents enjoy some of Europe's finest shopping thoroughfares, with chains and independent stores both well represented, clubs and bars that are legendary for their conviviality, and a formidable gastronomic scene. Foodies, for instance, will be fascinated to read this: https://foodanddrink.scotsman.com/food/why-edinburgh-has-the-best-restaurant-scene-in-scotland/.

5. Prosperity

Edinburgh is one of Scotland's - and the UK's - most prosperous and affluent cities, with a healthy jobs market and higher than average wages. Its current economic success is believed to be sustainable. You might recall a Nethouseprices feature from late last year in which we looked at the findings of the Barclays Property Predictor. Edinburgh, with its strong business start-up climate, growing population and highly educated workforce, was tipped for significant growth in the next five years. See, for example: https://nethouseprices.com/news/show/2473/uk-property-prices-the-next-five-years-part-2.

6. Raising a family

Educational standards across Scotland are very good and, in Edinburgh, they excel. There are numerous outstanding state and private schools serving all age groups, and, when it comes to higher education, the city's institutions are comparable to - and even surpass - some of the most prestigious universities in the world. See: https://www.topuniversities.com/university-rankings/world-university-rankings/2016. Whether you plan to raise a family or pursue studies yourself, you will find your needs amply accommodated in Edinburgh.

In common with most major cities, Edinburgh does have a slightly elevated crime rate but - on most measures - it is safer than Aberdeen and Glasgow in Scotland and London, Manchester, Birmingham and Liverpool in England. At least one resource identifies it as being one of the safest destinations in Britain ( http://www.independent.co.uk/news/uk/these-are-the-15-safest-cities-in-britain-a7236726.html). It's also comparatively easy to find the safest neighbourhoods when you are house-hunting. For example, see: https://niceareas.co.uk/crime-map/for/edinburgh/city/eh/eh1/eh1-3/crime-types/all/time-period/last-30-days/55.953350/-3.189110/.

On the downside

Edinburgh essentially has the defects of qualities. In other words, it is so appealing to house-hunters and investors that it reports some of the highest house prices in the UK. According to the most recent Office for National Statistics index, the average cost of a home in the city is £247,842, a staggering increase of 10 per cent in a year. To put this into context, the average price in Scotland at large is just £148,783 and the annual rate of growth is 7.7 per cent. If the projections of several noted property analysts are to be believed, the cost of residential property is poised to soar even more spectacularly in the coming few years, with investors who are abandoning London being attracted by the opportunities afforded north of the border in the Scottish capital.

We hope you found this article interesting, although we are conscious of only having scratched the surface of this fascinating and beautiful city. In the next instalment of the series about great places to live, we will turn to Bristol. Visit us again soon for this and for our news coverage of the UK property market. Coming up this week: Halifax index of house prices in the UK.
You can also sign up to our newsletter and join Nethouseprice's community of over 190,000 members who get regular property tips, relevant offers and news, click here http://nethouseprices.com/auth/user-register
Source: Nethouseprices.com 07.03.18