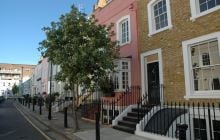 Is the rest of the UK influenced by the London property market? Does it really take the rest of UK up and down by dragging the outside markets up in the good times and down in the bad times. Many people believe this to be the case, however, FJP Investment seems to imply the London property market is now under severe pressure.
London house prices
There has been a fall of 2.6% over the past 12 months in the Capital, albeit areas such as Islington, Wandsworth, Southwark and indeed South London have seen mightier drops in value, as much as 15% in some of these areas. Nationally house prices have increased by just 0.6% during the past 12 months, but this is a significant difference to the London markets. It is quite obvious that the influx of investment in recent times has declined and therefore it has resulted in the property sector starting to cool, the evidence can be seen where developers have mothballed new apartments going onto the market at £1 million pounds as they deem the market not to have an appetite for them at this time, no doubt they will be released at some point but it would seem that time is not now.
North West of England
We cannot write London off when it comes to property investment, having held centre stage for so long, it would be premature, however we now see the North West of the UK having a resurgence in the property markets, now seen as the fastest growing property market in the UK.
Let's look at the statistics; Blackburn has seen an increase of 16.4%, Warrington by 10.3%, Merseyside by 8% and Greater Manchester house prices have increased by 4.3%. FJP Investment has concluded that the markets above have moved from relatively low prices so it would be unfair to compare like on like with London, but, does this mean that investors are now looking outside the capital to invest.
Signs of encouragement
Brexit has of course had an impact on the London property market, making investors nervous and large companies wary of the implications ahead, causing in some instances, relocation for some major players in the Financial sector to possibly Ireland, France or Germany to enable them to remain and trade in the EU.
In a surprise development, recent economic data shows that earnings growth is now averaging 2.5% per annum and we are in a situation where earnings are growing faster than average UK house prices.
Conclusion
It would seem then that there is no correlation between London and the rest of the UK property markets and we really cannot compare them. London is always seen to be moving ahead of the rest of the UK, whether it be upward or downward. There is debate that having seen the recent fall of property prices in London it is simply a case of "blowing the froth off the market" well, only time will tell.
FJP Investment is a property investment company sourcing a wide range of investment opportunities both in the UK and overseas.
Source: FJP Investment 11.5.18