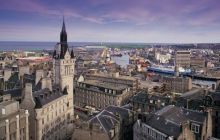 Although it is often eclipsed in the media, and hence in the public's mind, by Edinburgh and Glasgow, Aberdeen is one of the most fascinating cities in Scotland and indeed in the UK. Known affectionately as the Granite City owing to its delightful stone architecture, Aberdeen occupies a central role in Scottish history and enjoys the commercial, cultural and intellectual trappings that accompany such a proud tradition. A fishing port, a seat of learning with its great universities, and an important cog in Scotland's administrative and economic machinery, it is probably most famous for being the epicentre of the North Sea oil industry. For many years, that industry gave the city unprecedented wealth, but the ongoing volatility of the international oil market and dwindling offshore supplies have, to an extent, eroded that prosperity in recent times. This has, of course, impacted on sold house prices, but to what extent and for how long? We address these questions in this Nethouseprices article.

The current state of play

There are various indices purporting to measure house prices in the UK, each of which paints a slightly different picture of the market. To exemplify, the latest Hometrack Cities Index finds that the cost of a home in Aberdeen dipped by 6.9 per cent in the last year, while the Office for National Statistics (ONS) says that the price drop was just 1.5 per cent. Both studies have their merits but, for these purposes, we will use the ONS index which is collated from Land Registry sold prices and Registers of Scotland statistics. The most recent version states the following as the state of play in Aberdeen:

- Average house price in February 2018 = £159,653.
- Average house price in February 2017 = £162,123.
- Annual change = -1.5 per cent.

But, how does this compare with the UK, Scotland and - crucially - other major cities?

1. UK:

- Average house price = £225,047.
- Annual change = 4.4 per cent.

2. Scotland:

- Average house price = £144,377.
- Annual change = 6.2 per cent.

In general, then, Scotland's housing market is outperforming the rest of the UK. The reasons for this disparity aren't entirely clear, but such factors as affordability, Scottish government initiatives to help first time buyers and the adverse effect of property tax changes in England are likely to be key.

3. Other Scottish cities:

Dundee

- Average house price = £116,910.
- Annual change = 0.4 per cent.

Edinburgh

- Average house price = £250,986.
- Annual change = 11.2 per cent.

Glasgow

- Average house price = £126,216.
- Annual change = 7.7 per cent.

Edinburgh can do no wrong just now - certainly if we use sold house prices as a measure - and Glasgow is also faring very well. Both cities are benefitting from relative economic booms, with the attendant job opportunities and wage growth. Equally, they are thought to be attracting those investors who are abandoning the more costly cities in England. Dundee's showing is disappointing, although any growth is welcome, and it was named one of the best places in Scotland to live by the Sunday Times, so we might well see house prices rising more rapidly in the next few months. In contrast with its Scottish counterparts, then, Aberdeen is clearly struggling, but how is it doing in comparison to cities in the wider UK?


4. Selected UK cities:

Birmingham

- Average house price = £179,201.
- Annual change = 6.6 per cent.

Cardiff

- Average house price = £201,561.
- Annual change = 6.0 per cent.

Leeds

- Average house price = £178,607.
- Annual change = 5.7 per cent.

Liverpool

- Average house price = £132,804.
- Annual change = 10.5 per cent.

London

- Average house price = £471,986.
- Annual change = -1.0 per cent.

Manchester

- Average house price = £171,456.
- Annual change = 7.4 per cent.

Newcastle

- Average house price = £161,211.
- Annual change = 4.1 per cent.

The most interesting point here is that house prices in the UK cities are, in general, outpacing other parts of the country. You could argue, in fact, that they are driving overall growth figures, with the North West making a particularly impressive showing. London, a city whose woes have been extensively documented and explained elsewhere, is the most high profile exception, but we also see comparatively sluggish growth in Newcastle. Generally, though, the cities are enjoying a renaissance which isn't, on the face of it, being shared by Aberdeen.

At Nethouseprices, however, we are far from downbeat, for a number of reasons:

- While sold property prices in Aberdeen continue to fall, the rate of the decline is slowing. In November last year, for example, the recorded annual drop was 4.2 per cent and, in December, it was 2.2 per cent. In other words, there are genuine signs that the market is bottoming out and we can look forward to better days.

- The wider county of Aberdeenshire is reporting growth of 2.8 per cent, after a lengthy period where prices were sliding. We regard this as a hopeful indication that the region is recovering and that the city of Aberdeen will soon be a beneficiary.

- Housing is more expensive than is typical in Scotland, but it is affordable in relation to such cities as Edinburgh where prices are increasingly eye-watering. This means that there is plenty of room for growth. Compare this situation with London, where prices are falling and affordability presents a significant bar to improvement.

- There is a major programme of investment in the city's infrastructure. This type of project does not deliver immediate results but will create jobs and will help to generate wealth. Perhaps even more importantly in the short term, it produces optimism - the so-called feel-good factor - that is so central to the health of the local housing market. The following is an interesting perspective: https://www.insider.co.uk/special-reports/aberdeen-city-looks-like-its-11046662.

- And finally, Scotland has a remarkable capacity for overcoming challenges and evolving. Glasgow's spectacular recovery from post-industrial decline to one of Europe's most vibrant cities is proof of this national characteristic - a trait that is surely shared by Aberdeen.

Don't forget: the full range of Nethouseprices services are now available to readers in Scotland. Why not try our free instant house valuation tool today?

You can also sign up to our newsletter and join Nethouseprice's community of over 190,000 members who get regular property tips, relevant offers and news, click here http://nethouseprices.com/auth/user-register
Source: Nethouseprices.com 14.05.18