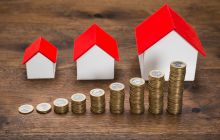 If football isn't your bag, you are probably breathing a sigh of relief that the season is essentially over and done with and we are all set for the return of the civilised summer sports like cricket and tennis. We hate to be the ones to remind you that this is a World Cup year! If you love football and follow a particular Premier League team, however, you are probably already counting the days until the big kick off in August. Some of you will be delighted with your club's performance this season, while others will be distinctly underwhelmed and hoping for better things next time around. In this article, Nethouseprices looks on the lighter side and asks: what would the final league table look like if it were decided on property prices? We tackle the question from two angles. Firstly, we look at current average sold house prices, and then we turn to how much these have risen in the past year. We think you might be surprised.

The final Premier League Table

So, this is how the table shaped at the final whistle on the last day of the season.

1. Manchester City
2. Manchester United
3. Liverpool
4. Tottenham
5. Chelsea
6. Arsenal
7. Burnley
8. Everton
9. Leicester
10. Newcastle
11. Crystal Palace
12. Bournemouth
13. West Ham
14. Watford
15. Brighton and Hove Albion
16. Huddersfield
17. Southampton
18. Swansea
19. Stoke
20. West Bromwich Albion

Congratulations to Manchester City and the teams qualifying for European football next season. And our sympathy to the relegated clubs: we are sure you will return stronger than ever sooner rather than later. We expect it's small comfort right now, but you are doing much better when it comes to property prices, as the next two tables reveal.

League table of sold property prices

For these purposes, we used the latest Office for Statistics (ONS) house price index figures for the local authority areas in which football clubs are based. We have named the relevant council where this isn't self-evident.

Club Average house price

1. Chelsea (Hammersmith and Fulham) - £725,819
2. Arsenal (Islington) - £626,701
3. Tottenham (Haringey) - £564,338
4. Crystal Palace (Croydon) - £366,849
5. West Ham (Newham) - £365,486
6. Watford - £362,486
7. Brighton - £361,376
8. Manchester United (Trafford) - £268,338
9. Bournemouth - £241,836
10. Southampton (Southampton) - £209,471
11. Manchester City - £171,436
12. Leicester City - £163,912
13. Newcastle - £161,211
14. Huddersfield (Kirklees) - £144,755
15. Swansea - £141,908
16. West Bromwich Albion (Sandwell) - £141,130
= 17. Everton (Liverpool City) - £132,804
= 17. Liverpool - £132,804
19. Stoke - £105,870
20. Burnley - £79,208

In truth, there probably aren't too many surprises here. You would expect the top of the house price table to be principally occupied by teams in London and the South East. There are several more striking points, though:

- The difference between prices in, say, Chelsea and and those in Burnley is astonishing and we think it demonstrates quite graphically that the North-South divide remains firmly intact. As the next table indicates, the gap is narrowing. But parity seems to be a remote prospect.

- Much has been made of the recent strength of the housing market in the North West. Rightly so, in our estimation: that part of the country has seen consistent rises in sold property prices during the past couple of years. This being said, the disparity between the cost of a home in Trafford and that in, for example, Burnley, shows how misleading it is when we make generalisations about regional housing markets.

- Inferring a link between the cost of residential property and football success is a risky business. True, the top London clubs are each located in areas where housing is expensive and, to the extent that this speaks to fans' affluence, it might mean that these teams can charge more for tickets and, in turn, invest the proceeds in squad development. But the success of such clubs as Liverpool and Manchester City, where the cost of homes is comparatively low, shows that there are many other factors at play.

The form table

Here, we look at the latest ONS annual rates of growth in the respective local authority areas. In other words, the form table.

Club growth in past year

=1. Everton - 10.5 per cent
=1. Liverpool - 10.5 per cent
3. Leicester City - 8.3 per cent
4. Manchester City - 7.4 per cent
5. West Bromwich Albion - 7.3 per cent
6. Manchester United - 5.4 per cent
7. Southampton - 5 per cent
= 8. Brighton - 4.1 per cent
= 8. Newcastle United - 4.1 per cent
=10. Huddersfield - 3.9 per cent
=10. Stoke City - 3.9 per cent
12. Bournemouth - 3.4 per cent
13. Swansea - 3.0 per cent
14. Burnley - 2.9 per cent
15. West Ham - 1.7 per cent
16. Arsenal - 0.7 per cent
17. Crystal Palace - -0.1 per cent
18. Watford - -0.2 per cent
19. Tottenham - -0.4 per cent
20. Chelsea - -5.0 per cent

The North West's football success, then, has largely been replicated in its housing market, with Liverpool's star in particular being very clearly on the ascendant. With the exception of Tottenham, the London teams have probably underperformed this year - at least by their own lofty standards - and a glance at the house price form table won't cheer up their fans. Although they can rest assured that it will take some time before actual sold property prices elsewhere in England match those in London! And finally, what of the relegated clubs? Well, in common with the rest of the West Midlands, Sandwell is reporting extremely healthy house price growth: West Bromwich are firmly in the European places. Swansea and Stoke City aren't doing quite so well, but have achieved mid-table safety.

As we stated earlier, this is a little more light-hearted than many of our features and we are aware of the limitations of our methodology. But, there is an important point buried in the levity. When we see newspaper headlines stating that the cost of housing in the UK is rising or falling, we need to view them with appropriate caution: as these tables demonstrate, there are many micro-markets, all of which are behaving differently at any given time and very few of which reflect the UK average growth figures.
Source: Nethouseprices 14/05/2018