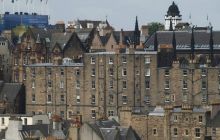 Landlords in Scotland could be offered a helping hand in late June, with a conference designed to give them useful advice and guidance ahead of some big changes in the lettings industry. Scheduled to be held on June 28th at the Radisson Blu on Edinburgh's Royal Mile, the conference will help landlords in the Scottish capital and beyond understand some of the biggest industry shake-ups of the past three decades.

A whole slew of changes to tax and lettings legislation have been causing a real headache for Scottish landlords, and it's hoped that this free event will help those with a property portfolio in Scotland wrap their heads around the new rules and regulations.

What can landlords expect?

The conference is to be held at the Radisson Blu on the Royal Mile, and will be hosted by tax experts from Anderson Anderson Brown LLP, in conjunction with specialists from the lettings industry. The event will be free to attend, and will offer advice and guidance to help landlords negotiate a constantly changing lettings market.

Property sales have decreased in recent months as a result of various new pieces of legislation, many of which property experts have warned could have a detrimental impact on the Scottish housing market. A perfect storm of new regulations has been creating some big problems for landlords in Scotland. If you're a landlord with properties in Edinburgh or elsewhere in Scotland, understanding the new legislation will be crucial to managing your portfolio in the coming months.

Big changes to the Scottish lettings market

In 2016, the Scottish government introduced a 3% additional levy on second homes, which has put large numbers of people off investing in second properties to let, even in places where sold property prices remain low. Combined with the planned withdrawal of mortgage payment tax relief phased in by the UK government, sales of property in Scotland and elsewhere in the UK have been significantly down. Many wanting to dip a toe into the lettings market have, it seems, been put off by new laws from Westminster and Holyrood.

Scottish landlords are a sizeable force in the property sector, and many have felt unfairly targeted by this raft of new legislation. The tax and the cutting back of mortgage relief has deterred many from investing in second homes and properties to let, which in turn has lowered the amount of housing stock available to tenants both north and south of the border.

This is both good and bad news for landlords in Scotland. Less affordable housing to rent means rental prices and property prices almost always increase, with tenants willing or forced to pay more for the few homes which do come onto the rental market. Landlords who can understand and adapt to these new changes in the lettings market could find themselves at a significant advantage, but gaining the upper hand means getting to grips with often complex rules and regulations.

A major shake-up

As well as the tax changes, Scottish landlords have had to deal with one particularly controversial piece of legislation in recent years. The 2016 Private Housing (Tenancies) (Scotland) Act introduced a new form of private tenancy which has caused some major upheaval for landlords.

The Act introduced a new form of private residential tenancy with no minimum period, meaning tenants could stay in a property as long as they wanted unless the landlord had very specific grounds for eviction. With the removal of the 'no fault' grounds for termination of a contract, landlords could find themselves stuck with tenants in a property they might have wanted to repurpose or sell.

On top of this, extra land and building transaction costs have recently been introduced and landlords have also seen the 'wear and tear' allowance scrapped. Coupled with higher capital gains taxes, figures suggest that some landlords are now struggling with tax liabilities that are twice what they were back in 2016.

Edinburgh conference: should you be going?

If you are a landlord in Scotland, then getting a ticket to the landlords' conference this June should be high on your agenda. Lettings laws can be a minefield, particularly for those with less experience in the property sector, so any opportunity to get useful advice should be seized with both hands.

Sold property prices in Scotland have, on the whole, been on the up. House prices in the UK are growing across the board, but Scotland has recently outperformed England, Wales and Northern Ireland when it came to house price inflation, according to recent figures published by the Office for National Statistics. For anyone looking to expand their property portfolio in Scotland, now seems like a perfect time to invest if you are sure you fully understand all the tax implications and tenancy law.

Demand for affordable and high-quality homes in Scotland is high at the moment, so savvy landlords would be making a wise move if they invested in a second or even a third home. For those thinking about becoming landlords for the first time, attending the Edinburgh conference could give you the heads-up and the headstart you need to decide on your next steps.

This conference will follow a similar event to be held in Aberdeen on 22nd June. The Aberdeen Landlord Conference will take place at the Radisson Park Inn on Justice Mill Lane, Aberdeen, and will be free to attend. This event will also be hosted by Anderson Anderson Brown LLP, and will see tax experts from the specialist legal firm offer landlords in the granite city advice on dealing with the 100% tax increase they are facing as a result of these new capital gains rules.

Whether you make it to both events or just attend the one in the capital, the advice on offer will be invaluable to Scottish landlords and those hoping to break into the Scottish lettings market. We will be returning to the subject of lettings and landlord insurance in future posts, so be sure to visit Nethouseprices regularly if you want to keep up to date with the latest property news and advice on lettings.
You can also sign up to our newsletter and join Nethouseprice's community of over 190,000 members who get regular property tips, relevant offers and news, click here http://nethouseprices.com/auth/user-register
Source: Nethouseprices.com 29.05.18