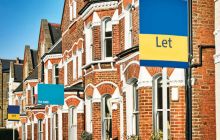 If you're thinking of becoming a first-time landlord and are on the lookout for a buy-to-let property to invest in, what are the top things you should consider? Buying a property to rent out is a little different to finding somewhere of your own, as what suits your taste might not have so much appeal to prospective tenants.

Sold house prices in the UK are continuing to increase despite slow economic growth, and many more people are deciding to invest in bricks and mortar rather than entrust their hard-earned cash to banks with their record-low interest rates. If you're thinking of starting your own property portfolio and becoming a landlord, here are the top eight things you should be looking out for in a buy-to-let property.

Is the property listed?

Listed properties should be a no-go for those looking to invest in buy-to-let homes. While they may ooze period charm and be perfect for your own family home, a buy-to-let property is, in effect, a 'product' you have to be able to sell. There are so many rules and regulations around developing or refurbishing a listed building that the time, energy and money you might have to pour into it would rarely be worth the investment. You'd be far better finding a property which is already used as rented accommodation and has a track record of being successfully let.

Does it have open rear access?

While having open rear access is great if you need to park a car, properties like this are also more susceptible to burglaries and break-in attempts. As a landlord, you will be responsible for fixing any damage caused by potential burglars, whether they actually make it into the property or not. Look for properties with an enclosed rear yard, as it puts one more obstacle in the way of thieves and will help deter opportunists from attempting to break in.

Is it a quiet neighbourhood?

You don't want to pick a property right next door to a nightclub or directly above the local kebab shop, because nobody wants to have to put up with such noisy neighbours. Researching house prices by postcode can reveal potential bargains if the house or flat you're looking at is in a noisy area, but it could be a false economy - tenants will be wise to the noise hot-spots in the area and probably won't want to touch your buy-to-let property with a barge pole if they know they won't get a good night's sleep.

Is there a school next door?

House prices in the UK are greatly affected by what sort of amenities are on the doorstep. Schools are great for those with a young family, but having a school right on the doorstep rarely sits well with prospective tenants. The school dropping off and collection times can make parking a nightmare, and there's always going to be constant noise from playtimes and outdoor PE lessons. Having a school nearby can work out well as it attracts families who want to stay for the long-haul, but having one right next door is a no-no.

Is it on a main road?

Buying a property on a main road is one mistake that new landlords often make, believing that being on the main road will leave tenants feeling safer. True, houses tend to be better lit after dark and are less likely to be broken into because they are so visible, but they also tend to be very noisy at night and families with younger children may be put off by all the cars zooming by. Finding a property on a cul-de-sac or on a side street off the main road is always a better idea, as they'll be quieter and safer.

Are there garage blocks at the back?

Garages are nice for parking your car in, but a garage block at the back of the property can spell trouble. Garage blocks tend to attract gangs of local teenagers, who will use them as a convenient place to have a few drags on those illicit cigarettes or use them for a football knockaround. Tenants won't want to feel frightened or intimidated in their own neighbourhood, so when you're viewing a property with an eye to renting it out, always have a good check around the back to make sure it looks like a nice area.

Are there any structural problems?

You should be checking this out whether you were buying a property for yourself or as a buy-to-let investment, but always have a structural survey done. Structural problems will affect a house valuation and you may think you're snapping up a bargain, but houses and flats with underlying issues can be a black hole for your budget. You might have to pour thousands of pounds into having the foundations underpinned or the roof replaced, so avoid any properties which have structural issues.

Are the rooms a decent size?

Nobody wants to live in a tiny box of a flat or house, so make sure the rooms are large enough to accommodate furniture and are bright and light. Tenants also really value storage space and far too few people pay attention to this when viewing a property that they're thinking of letting out. Tenants are probably used to having to box things up and move on now and then, but having somewhere to put the clutter, and rooms large enough to swing a cat in, are real selling points in a buy-to-let property.

Nethouseprices has been watching sold property prices increasing in recent months, and the rental sector is booming at the moment. The UK is suffering from a chronic lack of high-quality, affordable homes to rent, which means investing in property now is a great choice if you can afford to do so. If you want to make your money go further and see solid returns on your investment, then you need to monitor house prices in your local area and go to viewings with your eyes open. Invest shrewdly in property now, however, and you should soon be reaping the rewards of a wise investment.
You can also sign up to our newsletter and join Nethouseprice's community of over 190,000 members who get regular property tips, relevant offers and news, click here http://nethouseprices.com/auth/user-register
Source: Nethouseprices.com 29.05.18