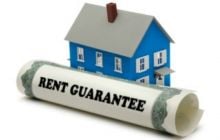 You're probably used to seeing your rental income hitting your account on a regular monthly basis. If you're a savvy planner, then the rent coming in will always be more than payments such as the mortgage or insurance premiums, but what do you do if the rental income suddenly stops with no warning?

If your tenants miss a payment or there's some other reason why the rental income tap is switched off, you could find you're left high and dry with no way of covering all those various costs that landlords have to deal with. Many landlords are now turning to rent guarantee insurance schemes to ensure they are covered in the event of a default on payment. Should you be thinking about rent guarantee insurance?

Why would the rent stop?

There are all sorts of reasons why you might find that rental money stops coming in. In a worst case scenario, the tenants might simply decide to stop paying or might withhold the rent because of some sort of dispute with you about some aspect of the property. It could be a more innocent reason, such as tenants struggling financially through no fault of their own, either because of illness or job loss.

Your rental income could also dry up if one set of tenants moves out and you struggle to find anyone else for some time, meaning a few fallow months where your property stands empty.

Whatever the reason, finding that the money has suddenly stopped can leave you with all sorts of problems. If you have a mortgage on your rental property, a gap in the rental income might mean you struggle to keep up with your monthly instalments, and that could mean your mortgage provider looks at repossessing the property.

You might also find yourself struggling to pay basic bills, for example if you've had to change the locks after one set of tenants has left or you need to pay for a deep clean at the end of a tenancy. If you fall behind or default on payments, then you might be left with a bad credit rating, and that could affect your ability to borrow money in the future.

What is a rent guarantee scheme?

We're living in very uncertain economic times, which makes it all the more important that you can be sure of a steady and guaranteed income from month to month. House prices are increasing and rental costs are also on the rise, which may mean more tenants struggling to keep up with their payments to you. While higher UK house prices and rental costs may mean you can ask for more and enjoy a higher monthly income, it may also mean tenants being less able to pay.

It's for this reason that many landlords look to rent guarantee insurance. There are lots of insurance providers out there who offer rent guarantee schemes, so if you're thinking about letting your property or you are already a landlord, it may well be worth looking into them further.

A rent guarantee insurance policy means that your provider covers any shortfall in rent if your tenants cannot pay or refuse to pay for whatever reason. Such policies offer peace of mind, knowing that you'll always see some money coming in regardless of circumstances beyond your control. In the majority of cases, a provider will offer monthly protection up to £2,500 and may even cover the cost of legal fees if you find you need to take legal action against a tenant for the non-payment of rent.

They may also cover you if you need to start eviction proceedings or to take enforcement action if the property or any of the fixtures and fittings are damaged. Health and safety claims, disputes and tax issues are all routinely covered as standard by many policies, but it pays to look around and find a policy which gives you the best possible coverage for your individual needs and your property portfolio.

What's expected of you?

In return, the majority of rent guarantee insurance providers will expect you to be very careful in selecting your tenants. The majority of landlords will vet prospective tenants carefully anyway, but an insurance provider may ask for additional checks and guarantees on your part, to minimise the chances of taking on an unreliable tenant who is more at risk of defaulting on the rental payments.

You might have to carry out extra credit and ID checks, and find out whether there are any County Court Judgments against their names. Insurers may also demand to see proof of their salary, to ensure it is stable and adequate to pay the rent.

Should you be thinking about rent guarantee?

Nethouseprices offers great advice to landlords, to ensure you're kept fully up to speed on the latest developments in the lettings and property markets. Uptake of rent guarantee insurance has been increasing in recent years for a number of reasons.

These days it is much easier for landlords to carry out background checks on prospective new tenants, but an increasingly difficult economic situation has left many landlords feeling more vulnerable. Sold property prices have been rising despite fears of the property bubble bursting, which means many landlords are still covering the cost of mortgage repayments with the rental income they get from letting out their properties. Just as landlords can struggle to cover costs, tenants are also feeling the pinch.

With incomes squeezed and many people finding they can no longer afford to buy, as sold property prices continue to rise, more people are renting homes across the UK and inevitably some will struggle. If you want the peace of mind which comes with knowing your rental income is protected should the worst happen, then shopping around for rent guarantee insurance could be a wise move.

To keep up with the latest rental sector news, visit Nethouseprices often for further advice and guidance on getting the most from your property portfolio. We may well be returning to the subject of landlord insurance in the near future.
You can also sign up to our newsletter and join Nethouseprice's community of over 190,000 members who get regular property tips, relevant offers and news, click here http://nethouseprices.com/auth/user-register
Source: Nethouseprices.com 29.05.18