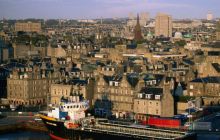 As is so often the way in life, if you put a brave face on then things do tend to go your way. With a new report finding that Scottish homeowners are confident the value of their homes is set to increase over the course of this year, we ask whether renewed confidence in the Scottish property sector might in fact drive a boom.

The study carried out by online property portal Zoopla found that almost 90% of Scots believed the value of their property would increase in 2018. Could high confidence push up prices north of the border this year?

Focus on Scotland

Zoopla found that 87% of the Scottish homeowners they surveyed thought house prices would rise in 2018, a figure which was 17% higher than it was last November, when a similar survey was carried out. Overall, only 8% of people across the UK as a whole believed they would see their house valuation fall within the next six months, meaning consumer confidence remains high despite warnings of an economic slowdown and a lack of clarity on Britain's position as it leaves the European Union.

Scots were in particularly optimistic mood, with many respondents believing their homes would increase in value by a healthy 8.6% in the next sixth months. That is considerably higher than predictions last November, when Scottish homeowners estimated the boost would only be around 4.9%.

Zoopla's spokesman, Lawrence Hall, said it was the largest surge in consumer confidence since 2016 and showed that sellers were regaining confidence after many years of pessimism in the housing market.

Good News for Scottish Homeowners

The report is backed up by figures recently released by the Office for National Statistics (ONS), which showed that property prices in Scotland increased by 6.2% in the first quarter of 2018. England, by comparison, saw a rise of just 4% and Wales a rise of 3.2%, putting homeowners in Scotland well ahead of those living south of the border.

Edinburgh and Glasgow, in particular, have seen phenomenal growth over the past year or so, with many buyers willing to pay far above the asking price to secure their dream homes in Scotland's two largest cities.

While the Scottish capital basks in this improved consumer confidence, homeowners in London were not so cheerful about the state of the housing market in their city. Here only three-quarters of homeowners expected to see their house valuation increase in the coming months, putting the English capital bottom to last in the confidence stakes. The most pessimistic region in the country as a whole was the North East of England, with a little under two-thirds of homeowners here expecting property prices to pick up.

Could Confidence Fuel a New Boom in Scotland?

With so much good cheer about among Scottish homeowners and landlords, could all this optimism be misplaced? Property experts often talk of there being a 'expectation gap' between what a homeowner believes their property to be worth and what it might realistically achieve as a sold price. Sold property prices are often considerably lower than the original house valuation, with sellers finding themselves beaten down on price.

That said, ONS data shows that property prices in the UK are on the rise, and the outlook in Scotland has been particularly rosy of late. As we at Nethouseprices have mentioned in previous posts, properties in Scotland are selling for around £9,000 above their asking price on average - a profit not to be sniffed at if you're lucky enough to own a home in one of the most sought-after areas of the country. Flats in Scotland regularly command £29,000 above their initial market valuation, with homes in Edinburgh, Glasgow and Dunbartonshire seen as the most desirable and netting their owners a tidy sum above the asking price.

Buyers' willingness to pay above the asking price is largely down to the fact that there is a shortage of properties coming on to the market at the moment. With Scotland's economy outperforming expectations, more and more people are looking to relocate to major Scottish cities, and that is driving up demand for affordable high-quality housing. With stocks running short, people are more willing to up their offer rather than risk losing out on one of the few homes becoming available.

There's something to be said for adopting a confident manner when it comes to selling houses, and if Zoopla's report is to be believed, Scottish homeowners are among the most confident in the country. If you put your home on the market at a higher than average price and expect it to sell quickly, you could be more likely to achieve your goals than if you put it on for a lower figure and try to negotiate your way up.

Buyers seldom want to enter into a bidding war with either the seller or other competitors for the property, so if they think your house valuation is accurate and reflects the true value of your home, they're more likely to come in with a higher offer.

Could Landlords Reap the Rewards too?

The rental sector in Scotland is also buoyant at the moment, with landlords riding the high and taking an optimistic approach to the future of the lettings market north of the border. Many more people are investing in buy-to-let properties in the major cities, but with fewer properties making it on to the market, landlords can command a high premium if they invest wisely.

Family homes to rent in some of the more desirable towns and cities are being snapped up quickly, and that in turn is fuelling confidence amongst those investing in buy-to-let properties.

Confidence in the Scottish property market does, therefore, seem well placed. With house sold prices in Scotland remaining high, it seems unlikely that anything can dampen spirits in the coming months. Nethouseprices will be keeping an eye on what property prices in Scotland do throughout the rest of 2018, but there seems little doubt it will be a bumper year for homeowners in Scotland.
You can sign up to our newsletter and join Nethouseprice's community of over 190,000 members who get regular property tips, relevant offers and news, click here http://nethouseprices.com/auth/user-register
Source: Nethouseprices.com 30.05.18