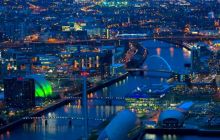 Glasgow has just been crowned Britain's most affordable city for people on a low or medium income who are looking to buy their first home. Houses in Scotland's second city are among the most affordable for low earners who may find themselves priced out of other regions as property prices in the UK rise.

With homes in Edinburgh commanding ever higher prices, first time buyers are setting their sights on Glasgow as the best place to find their first home. Here we shine a spotlight on Glasgow, to find out why the city is proving increasingly popular among first time buyers on a limited income.

Glasgow: A Housing Success Story

Research into house prices in the UK has shown that Glasgow is the most affordable place for low and medium income families to get a foot on the housing ladder. UK house prices have been on the rise despite the economic downturn, but with ever-growing numbers of people finding themselves unable to afford a deposit, home ownership remains little more than a distant dream for many on a modest income.

Taking newly released data from the Office for National Statistics (ONS) and the records of land registry sold prices, Glasgow came out as the most affordable city for lower earners such as public sector workers and those working in retail.

The average price of a property in the city came in at £145,000, within the price range of many first time buyers and significantly lower than many other major towns and cities in the UK. The cost of an average home here has, however, increased considerably. In 2016 the average price tag of a house in Glasgow was £127,000, meaning the cost has risen by around £18,000 in just a couple of years.

Who Can Afford to Buy

A sales assistant on a yearly wage of £16,200 would be able to afford around 8% of homes in the city, compared with a sales assistant in London who could only expect to afford around 2% of the Capital's housing stock.

A Glaswegian taxi driver taking home a little over £25,800 per annum could expect to be able to afford 42% of the city's homes, while a car mechanic on just over £27,000 could reasonably expect to be able to afford 46%.

Take a step further up the salary charts and a nurse on an average wage could potentially afford just over half of the city's houses. Teachers could expect to afford around 65% of Glasgow's houses and a police officer around 68%. Train drivers whose average salaries come in at around £51,100 per year could afford a staggering 82% of all homes in the city, with CEOs on an average yearly income of £86,758 could take their pick from 93% of the city's houses. Doctors also fare well, with 91% of Glasgow properties falling within their price range.

How Did Other Cities Fare?

Unsurprisingly, London came out as the least affordable city in the United Kingdom. Despite seeing a fall in property prices in recent years, homes in London were considerably more expensive than any other city in the UK and are among the most expensive in Europe.

Police officers in London could expect to afford just 8% of homes in the Capital, compared to 68% for officers in Glasgow. Teachers in London could only afford 7% of homes, meaning many working in the public sector simply couldn't afford to climb onto the first rung of the housing ladder whilst living and working in the Capital.

Even further down the pay scale, the lowest earners such as bar staff, waiters and those working in the retail sector were priced out of the London housing market altogether, with few able to put aside enough in savings to afford a deposit or mortgage repayments on their first place.

Overall, the picture of home ownership in the UK is poor. As sold house prices continue to climb year on year, more and more people are being priced out of the market and forced to remain living in rented accommodation. The average age of a first time buyer is now significantly higher than it was a decade ago, and there has been a huge increase in the number of middle-aged and older people moving back into privately rented homes.

Rental prices have also risen as a result, and Glasgow hasn't been immune from the increase in property prices and the rising cost of renting a home. There is a chronic shortage of housing in Glasgow, as there is right across Scotland and the rest of the United Kingdom. Lower stocks of affordable housing mean soaring costs, which is great news for those already lucky enough to own their own home or a buy to let property, but not so positive for those looking to buy for the first time.

In addition to seeing house prices in the UK shoot up, there has been a noticeable slide in the take-home pay of many workers. Salaries have been stagnating at the same time as price inflation, making all aspects of living - not just housing - increasingly difficult. Those on lower and middle incomes have certainly been feeling the pinch since the financial crash of 2007, and Glasgow has been affected just as much as any other city.

A Good Time to Buy?

Glasgow is one of the UK's most exciting and dynamic cities, and it has a lot to recommend it to first time buyers. House prices in Scotland have outstripped all other areas of the UK, performing far better than England, Wales and Northern Ireland according to the latest figures from the ONS. As prices across the rest of Scotland steadily climb, investing in a home in Glasgow could pay off for those who can afford it.

Nethouseprices will keep you posted as to how the Scottish housing market performs in the second quarter of 2018, but for now things are looking up for Glaswegians on low and middle incomes.
You can sign up to our newsletter and join Nethouseprice's community of over 190,000 members who get regular property tips, relevant offers and news, click here http://nethouseprices.com/auth/user-register
Source: Nethouseprices.com 30.05.18