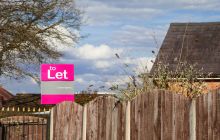 Towards the end of May all thirty-three London boroughs pledged to sign up to a rogue landlords database, designed to name and shame criminal landlords and suspect lettings agencies. Landlords and lettings agents who have been taken to court for housing offences will be added to a list so that tenants can check them out before signing a contract, paving the way for greater controls over unscrupulous landlords.

While the scheme is currently limited to the Capital, there is scope to roll out a similar system on a national level. With a limited number of rogue landlords giving the lettings market a bad name, could a national database benefit good landlords and tenants alike?

A Few Rotten Apples

It's safe to say that the vast majority of people who become landlords and rent out property are decent people just trying to make an honest living, but there are - as in any walk of life - a few bad apples threatening to tarnish the industry. Rogue landlords are the scourge of tenants up and down the United Kingdom, letting out sub-standard properties and often flouting health and safety law.

House prices in the UK are increasing, and as they rise, there are more and more people turning to privately rented accommodation. Families being forced to live in poor-quality housing are exposed to all manner of risks to their health, including lung conditions brought on by damp through to appliances which do not comply with lettings laws and pose a fire hazard.

More landlords are, however, being caught and prosecuted, as the Government attempts to crack down on those who break the law and treat their tenants unfairly. Many would say that the introduction of a rogue landlords database in London is just the next logical step.

The London Database

The rogue landlords check was first announced by London Mayor Sadiq Khan a little over a year ago, with just six councils signing up for the database. That number has now risen to include every borough in the Capital, a move welcomed by the Residential Landlords Association (RLA).

Property prices in London have fallen in recent months, but there are still record numbers of people living in privately rented homes. Rental costs remain higher than anywhere else in the country, a fact which has concentrated minds on the quality of the housing stock available and the trustworthiness of landlords in the Capital.

The database information will be published on the City Hall website and will give tenants the power to check out their potential future landlord before they sign a tenancy agreement, hopefully giving them greater security when they rent a property. The mayor has said that he is confident that the database will act as a strong deterrent to rogue landlords who might be tempted to cut corners or break the law, stamping out those few bad apples who behave dishonestly and bring the whole lettings industry into ill repute.

Could it Work at a National Level?

Sadly it is not just the Capital which sees unscrupulous landlords letting out sub-standard properties at sky-high rents. Right across the UK, there are tenants forced to live in horrendous conditions and pay far more than they should for the standard of property they receive. While London is the only city to have adopted a rogue landlords database thus far, there are hopes that a national scheme could soon follow.

This can only have a positive impact on those landlords who do serve their tenants well. Tenants will be able to check their landlords do not have any court judgments against them and can sign a tenancy agreement in full confidence. For landlords who obey the law and invest in high-quality buy to let properties, there is nothing to fear from a national database naming and shaming those who attempt to cut corners.

The Bigger Picture for Landlords

In recent months there has been a steady rise in the number of landlords renting out between six and twenty properties, with a corresponding fall in the numbers of larger players with more than sixty properties on their books. Smaller landlords have the advantage of being closer to their tenants and having a better idea as to the condition of their properties, often spending more time and money in seeing that their portfolio is maintained to a higher standard.

Overall the number of people living in privately rented accommodation has risen significantly in recent years, with the rise of the middle-aged or older tenant putting greater strain on the lettings industry. With increasing competition for the limited housing stock which does become available, rents are being pushed up. Around a quarter of landlords have said that they have been forced to put up the rent over the past three months to cover the cost of mortgage repayments and increasing house prices in the UK, according to figures released by Paragon Bank in May.

The rapid rise in rental prices means that tenants are coming to expect more from their landlords, demanding a better quality of buy to let property in order to justify the increased cost of renting a family home.

The Residential Landlords Association has broadly welcomed the introduction of the rogue landlords database in London and has supported calls for a similar scheme to be rolled out nationwide. Carrie Kus, director of the RLA, said the database was 'good news' for those renting in the Capital, helping them distinguish between the law-abiding majority of landlords and the few law-breakers who show a flagrant disregard for tenant's health and safety.

Nethouseprices has seen some significant changes in the rental industry in recent months, with new tax rules making things increasingly difficult for landlords. We'll be keeping you up to date on future changes in the lettings world and will be watching with interest to see just how successful the rogue landlords database will prove to be in London. For landlords who obey the law and treat their tenants well, a nationwide scheme would be only too welcome.
You can sign up to our newsletter and join Nethouseprice's community of over 190,000 members who get regular property tips, relevant offers and news, click here http://nethouseprices.com/auth/user-register
Source: Nethouseprices 31.05.18