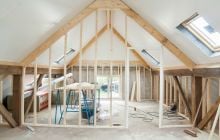 When it comes to buying your first home, your budget is probably already maxed out. Scrimping for a deposit, coughing up for a survey, shelling out for a solicitor and somehow scraping together estate agent fees doesn't come easy. It might seem like the struggle is over when you finally have the keys in your hands… until you walk in the front door and realise you've got no furnishings and nothing in your bank account to buy any with.
While the prospect of furnishing an entire house or flat might seem exceptionally daunting when you're on a shoestring budget, don't worry. Make sure you've got a box of the essentials ready for when you move in, then read these X tips to help you make the most of your cash and have your place feeling like home in no time.
1. Start with a blank canvas
Even if you have big plans for a vibrant, colourful and themed home, at this stage you simply won't have the cash to execute the design properly. For the time being, it's much better to start with a plain white (or cream, or grey) backdrop and build up to bolder schemes. Grab a bucket or two of emulsion and give yourself a fresh, clean slate to start with.
2. List your priorities
You might be bringing a few bits and pieces from rental accommodation or your room at your parents' house, but there will always be a few essentials that you're missing. Write a list of everything that you desperately need (cooking implements, somewhere to sit, somewhere to sleep etc.) and a separate list of items that would be nice to buy or upgrade when you've got more breathing space in your budget. This will help you stay focused and stop you from splurging on the stuff you can do without.
3. Be Second-hand Savvy
Pre-loved homeware is going to be your best friend when it comes to cost-effective furnishing. Talk to any friends or family that might be replacing old items or decluttering, then head to the shops for bits you're still missing. Certain charity shops focus on refurbished furniture and you might be able to source something functional from Gumtree or Freecycle. If you're looking for something with a bit more style, flea markets can be a great place for unique finds in quirky and classic designs.
4. Build it yourself
You will probably reach a point where a trip to a big blue furniture store becomes inevitable. Even if you kind of hate the fact that flat-pack IKEA furniture pervades almost every home in the UK, the cheap, functional and design-led options make the store a haven for first-time buyers on a budget. Plus, if you really want to have unique items in your home, there is a whole online community based on "hacks" to change up your IKEA homewares into something unique. Don't forget that with any cheap furniture, a lick of paint from an inexpensive sample pot can go a long way!
5. Look out for sales
If you're desperate to treat yourself to some brand-new, non-flat-packed furniture, wait for the sales to snag a bargain. Don't get carried away for the sake of a slashed price though – panic buying will end up costing you more in the long term when you realise that your "bargain" sofa or dining table doesn't suit (or fit) the room you're buying it for.
6. Negotiate at every opportunity
When you're really feeling the pinch, shaving off a few pounds here and there can quickly add up. Big retailers can usually shave 5% or 10% off the price with next to no effort, and you might be able to haggle a little bit more if you're buying multiple pieces from the same shop. Try going into a furniture shop midweek when sales are slower and staff have more time to work with you.
7. Get artwork on the walls
Compared to buying a microwave and sorting out a mattress to sleep on, putting up artwork in your new home is probably quite far down your list. However, once you've got the basics sorted, don't underestimate how effortlessly a couple of framed prints can make a room look "put together". Blank walls look cold and uninviting, while paper posters scream "student living". Head to a discount homeware store to grab some simple monochrome frames and fill them with posters you already have, eclectic vintage prints from charity shops or these cool, retro-futuristic designs from NASA (totally free for personal use).
The most important thing to remember is to take your time. It might be tempting to buy as much as you can to make your new home feel "finished" as quickly as possible but, in reality, you're going to accumulate enough things over the years as your tastes and lifestyle change. Build your empire slowly and embrace the minimalism while you can!
Source: Annie Button, 12-June-2018