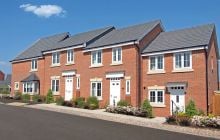 With the promised ban on short leaseholds on most new build homes, the property market is looking slightly more welcoming to a particular segment of would-be buyers. For others, however, the proposed ban threatens rather more than it promises, at least in the short term.

Feudal practices

It is the norm for most home buyers to finance their purchase with the assistance of a mortgage. This means that, for the duration of the mortgage (and any subsequent re-mortgage), the lending institution retains a financial interest in the property. However, this does not prevent the home buyer from calculating what they must repay in order to own the property outright. Unfortunately, some home buyers of new build properties have found themselves caught in a trap that has been variously described as "feudal", "abusive" and "unfair".

These purchasers bought their properties on a leasehold basis, meaning that their ownership extended only for as long as the duration of the lease. Sales representatives from the developers told many of these leasehold purchasers that they would be able to purchase the freehold for a small amount (for example, £2,000 or £3,000) after a couple of years. Some were able to take advantage of this. Others, however, found that the freeholds of their properties had been sold to investment companies. The prices for purchasing these freeholds leapt, with some homeowners being quoted figures four or five times in excess of what they were expecting to pay. Moreover, many of the new owners of the freeholds increased both the annual ground rent and the service charges that their leaseholders had to pay. Anecdotal reports suggest that some leaseholders whose freeholds have been sold on are facing ground rent charges that will double every decade.

Unpopular as these practices were, in England and Wales they were not illegal when applied to houses. It was a different story for flats, where leaseholders have always been entitled to the "right of first refusal" when it comes to buying the freehold. They were also very popular with both investment companies and developers. Investors were attracted by the steady and reliable incomes to be made from ground rent, while developers frequently argued that it was the sale of freeholds that made many developments financially viable. Unfortunately, many leasehold purchasers were not warned that the freehold to their home could be sold to a third party. Also, within the first two years of purchase of the freehold, those third parties have no obligation to sell the freehold on to the leaseholder. After two years of occupation, the leaseholder can force the freeholder to sell, if necessary using a tribunal to determine the sale price. However, a major deterrent to this line of approach is the fact that the leaseholder can be made liable for both sides' legal fees. A further impediment is that many of the investment companies that have purchased these freeholds are offshore entities. This almost inevitably increases the costs for a leaseholder looking to purchase the freehold. It has also made many mortgage lenders extremely reluctant to lend on new build leasehold houses, effectively quashing an existing leaseholder's hopes for a sale.

This is the position that an unquantified number of leasehold purchasers have found themselves in. Many were first time buyers who had been saving hard and watching property prices anxiously before finally being in a position to take the plunge and purchase a property. With limited resources, paying out further large sums of money to buy the freehold - always assuming it was for sale - rarely proved possible. Public consternation was eventually sufficient to force the government to act.

Proposed reforms

Earlier this year, Sajid Javid, the then Communities Secretary, announced plans to reform the leasehold system as it applies to new builds. This announcement followed a consultation that drew almost 6,000 responses. The majority of these were in favour of reform. As a result, the government intends to:

- prohibit most new build houses from being sold as leasehold properties
- fix ground rents at zero on new long lease properties
- implement measures designed to make it easier and cheaper for leaseholders to purchase their home's freehold

Reaction to the proposals

By and large, prospective purchasers worrying about house prices have welcomed the proposed changes. Those already caught within the trap have reacted with more caution. Some fear that, when implemented, the changes will not only do little to help them, but actually may harm them and, in particular, their prospects of selling their properties. Once implemented, the changes will mean that affected properties can no longer be sold as leasehold. Whereas in the past, leaseholders may have been prepared to take a hit on sold property prices in order to offload their home, this will no longer be an option. If they want to sell their house, they will have to purchase the freehold first. Sadly for these would-be sellers, it is unlikely that the cost of doing this will be reflected to any great extent in sold property prices. In the short term, the forthcoming reforms are likely to make affected properties less desirable to potential purchasers.

The reforms require Parliament to enact primary legislation. As yet, there is no timescale set for this. With Parliamentary time increasingly squeezed by Brexit, immediate change looks unlikely. However, even before enactment of this new legislation, the government is due to write to developers in order to warn them against Help to Buy equity loans for purchases of leasehold homes. It also wants to encourage developers to implement compensation schemes for existing leaseholders who are facing weighty ground rents. There is also the underlying suggestion that those developers that do not take the government up on its hints may find themselves on the receiving end of further, as yet unspecified, action.

It is thought probable that further delays may result from the need to assuage investment companies, many of which are pension fund managers or other institutional investors who are likely to be unhappy about the removal of a stream of secure, long-term investment that ground rent portfolios represent.
You can sign up to our newsletter and join Nethouseprice's community of over 190,000 members who get regular property tips, relevant offers and news, click here http://nethouseprices.com/auth/user-register
Source: Nethouseprices.com 12.06.18