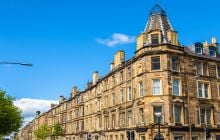 Perhaps you've holidayed in the Highlands, fallen in love with the scenery and the isolation - and, midges notwithstanding, you are now contemplating a move northwards. You might already have an area in mind or you might be planning further reconnaissance trips. Schools and the availability of work (including wifi and broadband if you work from home) may factor in your decision making. It goes without saying that the larger conurbations, such as Glasgow, Dundee, Aberdeen and the ever-popular Edinburgh offer the greatest choice. However, many of them also come with the highest property prices, which even a quick search on Nethouseprices will amply demonstrate. Moreover, even if they are only a short drive away, Scotland's cities and larger towns tend not to feature the glens, grouse moors and quiet lochs of your dreams. If these are what you seek, you will have to contemplate looking somewhere more rural.

Before you proceed any further with your search, it makes sense to ensure you've weighed up the advantages and disadvantages of a potential move.

Advantages of moving to Scotland

- House prices
Although Scottish house prices are currently outstripping average UK rises, overall, Scotland's housing stock tends to be more reasonably priced, particularly in rural areas and outside of hotspots such as much of Edinburgh. Although finding out house values by postcode can be a challenge if there are only a few houses in a particular postcode, it's a challenge that is worth rising too. Visiting in person is of course the best option, but searching house values by postcode on Nethouseprices can be a good way of narrowing down your search area.

- A more transparent house buying process
Scottish buyers who experience the house market in the rest of the UK are frequently more perplexed and frustrated than the average home buyer - and with good reason. The Scottish system is a good deal more transparent, and offers far less scope for gazumping and gazundering. Once an offer is made, the individual who made the offer is legally bound by the terms of that offer. All of this tends to make the process much quicker than comparable sales and purchases in the rest of the UK. Would-be buyers must appoint a solicitor even before making an offer on a property, and that solicitor is then able to guide them through the entire process.

- Space
With more than 30% of the UK's landmass, but only 10% of its population, it's no wonder that large parts of Scotland are sparsely populated. If it's splendid isolation you seek, you'll almost certainly find it in Scotland and its unspoilt uplands. At the other end of the spectrum are the country's busy, cosmopolitan cities. Somewhere in the middle lie quiet towns and the picturesque lowlands. There really is somewhere for everyone.

- Outdoor activities
Scotland is world-famous for its mountains, its moorland, its islands and its seascapes. Walking, climbing, shooting and fishing are all well catered for.

- Long, light summer days
Daylight saving and Scotland's northerly position means it benefits from longer summer days than the rest of the UK. In high summer, the further north you go, the longer the daylight lasts.

- The Northern Lights
If you're very lucky, Scotland may offer a glimpse of the aurora borealis, or "Mirrie Dancers". Although the most northerly parts of the country offer the best chances of viewing this spectacle, you may see it anywhere when climate conditions are right and where there is minimal light pollution


Disadvantages of moving to Scotland

- Offers over
The offers over system causes a degree of consternation among non-Scottish buyers, who are often unsure how much to offer on a property. However, a good solicitor will be able to advise on a sensible price.

- Distance and accessibility
Scotland stretches approximately 275 miles from Cape Wrath in the north to the Mull of Galloway in the south. At its narrowest, it is only 25 miles across, and at its widest, it is 154 miles. That might not sound like a lot, but there's an overall land area of a little over 30,000 square miles and 6,200 miles of coastline. There are also 790 islands, only 130 of which are currently inhabited. Away from the large urban centres, much of the road network consists of single carriageway - and even single track - roads, with plenty of steep gradients, twists and turns, and a propensity to become snowbound in the long Scottish winters. None of this is meant to put you off - indeed, it may be part of the attraction - but it is meant to highlight the fact that getting around this beautiful country is not necessarily quickly or easily achieved.

- Delivery charges
Expect extra charges for certain deliveries if you live in the Highlands or Islands. Some companies may refuse to deliver to you at all.

- Snow
It might be picturesque, but it can be a real handicap when it comes to getting around in the winter. If you've visited at more clement times of year and wondered about the poles alongside some of the roads, the answer is that they are snow poles, designed to mark the edge of the road when the white stuff covers the ground thickly. Of course, unless you have a four wheel drive, snow tyres and the like, you can forget even trying to drive in the snow.

- Schools
In the more remote areas, your child may be one of only a tiny number of pupils at their primary school. Secondary schools in very rural areas can serve a vast area and it is not uncommon for children to have to board.

- Midges
This Highland menace makes its present felt from late spring and on into the summer. Avoiding them is tricky but, insect repellant aside, it's worth knowing that they cannot take off and fly in wind speeds of above around 5mph. They're also attracted to dark colours, so wearing lighter coloured clothing can provide a measure of protection.

- Private land
Fewer than 500 people own more than half of Scotland. While there's still plenty of land left, this inevitably adds up to a considerable acreage in private hands. The large grouse moors are typical examples of land that is privately owned and consequently inaccessible to the general public.
You can sign up to our newsletter and join Nethouseprice's community of over 190,000 members who get regular property tips, relevant offers and news, click here http://nethouseprices.com/auth/user-register
Source: Nethouseprices 29.06.18