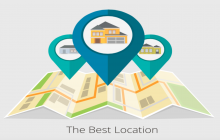 With one in ten children currently failing to get a place at their first choice of school, it's no surprise that recent reports suggest that a quarter of UK parents move house in order to live in what they perceive as the best catchment area. In some cases, the premium they pay on house prices can be sizeable. They may also face significant jumps in stamp duty. So why do it? For most, the answer is simple: the desire to obtain as good an education as possible for their children. And, with private school fees having increased by a massive 553 per cent since 1991 (source: the Independent Schools Council), they are now far beyond the means of those who once would have formed their core demographic. For many, moving into the catchment of a successful state school is the obvious solution, given that average sold property prices have increased by considerably less, at 237 per cent over the same period (source: the Office for National Statistics).

Although house prices themselves do no more than hint at the fact, recent figures from the Department for Education confirm that those seeking to buy within the catchment of the best-performing primary schools must swallow an 8 per cent uplift to current average property prices, while those looking in the catchment of similarly good secondary schools can expect to pay 6.8 per cent more. Averaged out across the UK, this equates to an extra £18,000 per property. In property hot spots such as London, parents of primary school children can expect to pay almost £40,000 more in their quest to secure a place at a desirable school.

In such a heated housing market, not everyone can afford to buy a house in a preferred catchment area. For this group, renting can sometimes provide the right solution.

There are several points that those who do decide to buy in a good catchment area should consider.

Plan ahead
With the average house sale and purchase taking 12 weeks from initial offer to completion, buying in a specific catchment area is unlikely to be something you can do on a whim. Planning ahead is crucial. This means visiting likely schools and researching their admissions data. There's no point, for example, in buying a house just inside the catchment boundary if no-one living more than 100 metres from the school has been admitted in the last couple of years. Similarly, if you're targeting a single class entry school, be aware that an above average number of sibling links may be enough to deny your child a place.

Read Ofsted reports and league tables with care - and a pinch of salt
Some people set great store by a school's Ofsted report or its position in league tables. Others prefer to follow their gut instinct. In most cases, there is no real alternative to visiting a school for yourself, seeing it in action and speaking to some of the people who will be responsible for your child's education. If a school feels like it would be a good fit, it may well be just that. If league tables and Ofsted reports are important to you, it can be worth paying particular attention to the "value added" sections, which detail exactly how well the school has done with a particular intake of pupils.

Watch out for....
Buying in a good catchment area offers few guarantees. Would-be buyers steeling themselves to pay the premium demanded in their particular catchment should bear in mind that:

- Catchment areas change - and sometimes with very little warning. As well as no school place, the frustrated home buyer then risks seeing the devaluation of their property, as new buyers go elsewhere.
- Even living in a catchment area may not be sufficient to win a place at the school. Many schools use "straight line" distances, even within catchment areas, in order to determine who will receive a place. If a school is over-subscribed within its own catchment, you risk not getting a place if you do not live close enough. A high number of in-catchment siblings (usually ranked higher in the allocation of places list) can also thwart catchment area success.

Research the alternatives
It can be difficult to face facts - but, if your child doesn't get a place at your preferred school, make sure you have a good back-up. This means choosing schools you are at least reasonably happy with for options two and three on the education authority admission form. It also means picking schools you have a reasonable chance of getting a place at. Choosing no second and third option, or picking unrealistic ones, increases the chances of your child being given a place at a school you do not want.

Where to buy for the best schools
Of course, many people's moving aspirations are constrained by the necessity of staying within a sensible commute of work or within easy reach of family. However, the UK has several "sweet spots", or areas with more than one good school. The choice and reassurance that, almost no matter where you live, you are guaranteed a good school, makes these places especially desirable. Unsurprisingly, this desirability tends to be reflected in sold property prices. If you're considering buying in an area known for its excellent schools, here are just a few areas you might want to look at:

- Winchester: almost every school is rated 'good' or above by Ofsted and its three state secondary schools regularly feature high in the league tables. It also has a very well-regarded sixth form college and is on the mainline to London.
- Buckinghamshire: popular for its good links to the capital and its grammar school system, top-performing schools tend to be surrounded by commensurately costly housing.
- Wirral: a natural home for commuters to both Liverpool and Manchester, the Wirral retains several grammar schools and other high-performing non-selective state schools.
- Broadstone. This small Dorset town features in the Royal Mail's annual rankings of the most desirable places to live and work. It's noted for its attractive town centre and some excellent schools.
You can sign up to our newsletter and join Nethouseprice's community of over 190,000 members who get regular property tips, relevant offers and news, click here http://nethouseprices.com/auth/user-register
Source: Nethouseprices 02/07/2018