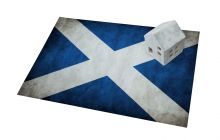 With much of Scotland currently bucking the trend for falling or stagnating house prices across the UK, it's clear that demand for homes remains strong north of the border. Some of those buyers may be from elsewhere in the UK. For them, the Scottish system can seem complicated and quite unlike that of England, Wales or Northern Ireland. Overall, the Scottish system makes for a quicker process and one in which transactions are far less likely to fall through.

If you're thinking of buying your first residential property in Scotland, here's a guide to what you need to know.

Appoint a solicitor
If you are serious about buying, you need to appoint a solicitor early in the process. While you may not wish to do so if your quest has not yet gone beyond perusing sold property prices in your target area, you should consider doing so as soon as you spot a property you would like to view. Legal fees vary considerably, but £400 to £1,500 is a good benchmark. The precise amount will depend on your location, the size of the firm and the complexity of your proposed transaction. As is often the case, cheapest is not always best and word of mouth can be an excellent means of finding a good legal adviser. Local solicitors may make the process more efficient and timely. Choosing a firm that offers a dedicated case handler, which gives the buyer a single point of contact, can offer many of the same advantages.

Home reports
Every seller in Scotland is required by law to provide potential buyers with a home report unless the property for sale is a new-build or a building that has been converted only recently into residential accommodation. This home report consists of three documents: a survey, an energy report and a property questionnaire. It is regarded as an essential tool for buyers assessing how much to offer on a property and ensures they are as fully appraised as possible on its condition, meaning they are less likely to pull out of the transaction at a later date. Sellers are also less likely to be 'testing the waters' than their counterparts south of the border, as commissioning a home report costs money.

The survey includes both a valuation and a detailed examination of the structural and physical condition of the property. For very old properties or those that are not of standard construction (for example, timber), it is sensible for a would-be purchaser to instruct a qualified professional to undertake a more detailed survey.

The energy report states the property's energy efficiency rating and contains information about its carbon dioxide emissions.

The property questionnaire is a bit of a catch-all. As well as pertinent information such as council tax banding and parking arrangements, it details whether, for example, the property has ever suffered from subsidence or flooding.

Your solicitor should be able to provide further details on the home report and answer any questions you may have.

Making an offer
Scottish properties are usually advertised either at a fixed price, for 'offers around' or for 'offers over' a particular price. It is these last two categories that confuse some would-be buyers. It is important to know that properties marketed as 'offers around' or 'offers over' are subject to a closing date. Interested purchasers must submit their sealed bids before this date. A potential purchaser works in partnership with their solicitor to prepare the offer. This offer includes not only the price that is being offered, but also a proposed 'date of entry' or, in other words, the date that they wish to receive the keys to the property. The offer may also include other terms and conditions of purchase. Exactly how much to offer depends on the contents of the home report and an analysis of local recent sold property prices. Once the offer document is complete, the would-be buyer's solicitor passes it to the seller's solicitor. The seller then chooses the offer they wish to accept. If yours is successful, you are then bound by the terms of your offer. Money is not required at this point unless the offer has been made on a new-build property, when a deposit is usually required.

If you have made an offer, you can be reasonably confident that the seller will not either change their mind and withdraw the property from sale or offer it to a higher bidder. Once a price is agreed, properties are usually withdrawn from sale. Additionally, a solicitor is not allowed to continue to represent a seller who chooses to accept a new offer after already accepting a first one.

Negotiating the offer
The buyer's and seller's solicitors work together to agree the conditions of sale. Agreeing the contract is called 'concluding the missives'.

Settlement
This is where the seller's solicitor confirms that they have received funds from the buyer, and the buyer then receives the keys to the property. Meanwhile, the solicitor pays any Lands and Buildings Transaction Tax (LBTT) and registers the new ownership with the Registrars of Scotland. If the property is mortgaged, the deeds are then lodged with the mortgage company, and the buyer receives a copy. From offer to settlement takes an average of four to eight weeks in Scotland. The comparable process in England and Wales takes eight to twelve weeks.

Fees
As well as legal fees and the property's purchase price, buyers must also budget for LBTT. This is a tiered Scottish government tax that is levied on primary residence properties costing in excess of £145,000. The LBTT kicks in for second properties and buy-to-lets at the much lower level of £40,000. The overall amount of LBTT that must be paid depends on the property's price. In addition to the LBTT, registration dues must be paid to the Registrars of Scotland for registering the property's deeds. Finally, there is a telegraphic-transfer fee that is paid to the mortgage lender (if any), in return for sending the mortgage funds to the solicitor.
You can sign up to our newsletter and join Nethouseprice's community of over 190,000 members who get regular property tips, relevant offers and news, click here http://nethouseprices.com/auth/user-register
Source: Nethouseprices 02/07/2018