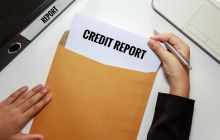 In these days of stringent mortgage application procedures, a squeaky-clean credit record has never been more crucial for the would-be home buyer. Banks and other lending institutions scrutinise income and expenditure and look out for debts, whether current or historic. Forget scanning property particulars and house prices in the UK, because aside from saving for a deposit, building a good credit record is the single most important preparatory step you can take if you are hoping to buy your first home. And, even once you have the keys in your hand, it is important to bear in mind that, at some point, you may need to remortgage or want to move up the property ladder. Once again, your credit history may dictate the remortgaging deals that will be open to you.

Credit scores explained
Your credit score is a number that is created from information held in your credit file. Contrary to many people's beliefs, you may have more than one credit score. This is because different lending institutions use different criteria in assessing your desirability as a potential customer. Your credit score is used to determine whether to lend to you and, if so, how much and at what interest rate. Generally, a higher credit score equates to a better range of borrowing options and lower interest rates. Credit information relating to the last six months is the most pertinent, but all your financial decisions from the last six years are recorded on your credit file.

Credit scores: what do they affect?
Credit scores have an impact far beyond property buying. A poor credit score can impact your ability in a range of areas, including what insurance you can buy and whether you can take out a particular mobile phone contract.

Credit scores: what to avoid
Missed or late payments are the most obvious negatives. They suggest to a lender that you may not be a safe bet for new or further borrowing.

Check your credit score
Everyone should make a point of checking their credit score regularly, whether or not they are planning to buy a home in the near future. Checking your score not only keeps you informed on your likely standing with financial institutions, but it can also alert you to fraud or identity theft.

The UK has three main credit scoring agencies. They are Callcredit, Equifax and Experian. Each allows you to access your entire credit file for £2. Alternatively, you can request your credit score for free. Each agency makes a charge for accessing their services, but each also has a partner site that permits free access. The partner site for Callcredit is Noddle, that for Equifax is ClearScore and Experian's is MSEs Credit Club.

What's in a credit report?
If you choose to obtain a copy of your full credit report, you can expect to see the following information:
- Name
- Address
- Date of birth
- Whether or not you are on the electoral roll
- Your financial links to others, such as a joint bank account or mortgage
- 'Hard' search footprints for, for example, credit card or loan applications
- How much money you owe to lending institutions
- Any late or missed payments
- Any County Court Judgments that have not been paid within one month of receiving them
- Details of any bankruptcy or Individual Voluntary Arrangement.

What's not in a credit report?
- Details of your salary or other income
- Any outstanding student loans
- Your medical history
- Any council tax arrears
- Any parking or driving fines
- Details of your criminal record.

However, lending institutions may request further information relating to some or all of these, before deciding whether or not to accept your application for credit.

What is a good credit score?
This is not an easy question to answer. All three credit scoring agencies have figures that generally constitute a "good" score: 4 out of 5 for Callcredit, 420 out of 700 for Equifax, and 880 out of 999 for Experian. However, different lenders have slightly different criteria as to what constitutes a good score. They will also take other factors into account when deciding whether or not to lend. This is particularly true when it comes to mortgages, when factors such as salary, size of deposit, age, number of dependents and health may all be considered as relevant factors.

How to improve your credit score
If you have checked your credit rating and discovered that it is lower than you had hoped, now is the time to take action. Go through your credit report with a fine tooth comb.

- Check your personal details. For example, does the report list you as living at the wrong address (perhaps an old one)? Does it indicate that you have financial links with someone that have since been dissolved? You can report any incorrect information.
- Ensure you are on the electoral roll. Lenders tend to regard an individual who is on the electoral roll as being someone who enjoys a certain degree of stability in their life. You can register yourself on the electoral roll either online or by post.
- Pay your bills on time. Missing a payment deadline by a day or so may seem like a small thing, but it can mark your credit record in a highly undesirable way. Conversely, paying on time demonstrates that you are responsible and efficient with your finances.
- Pay down debt. Ideally, you should pay off all outstanding debt before applying for new credit. This is particularly pertinent if you are seeking a mortgage. The new lending constraints oblige lenders to take a harder line on determining whether or not an individual can manage a mortgage as well as existing debt. Moreover, from a personal perspective, high levels of debt may make it more difficult to pay down a mortgage, particularly if interest rates rise. If paying off all your existing debt is impossible before applying for new credit, ensuring that you are not 'maxed out' and that you make more than the minimum monthly repayments can help.
- Do not make frequent house moves. Moving home a lot, whether that's through renting or buying, can unsettle lenders. It cannot always be helped but, if it can, it is a useful pointer to bear in mind.

It may take some months - or even years - of concerted effort, but if you can achieve a good credit rating, you'll eventually be doing more than merely looking at house prices in the UK.
You can sign up to our newsletter and join Nethouseprice's community of over 190,000 members who get regular property tips, relevant offers and news, click here http://nethouseprices.com/auth/user-register
Source: Nethouseprices 02/07/2018