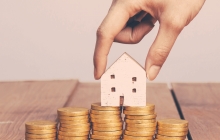 Property is frequently seen as a safer investment than the stock market or other forms of savings. Despite this, it still carries risks that every investor should be aware of and should take steps to guard against.

1. Know why you are a property investor
For a few, property investment is an enjoyable hobby with few financial consequences. For most, the primary function of property investment is to make money. Before looking at any property particulars, you need to be confident that your money would not be safer or perform better elsewhere. Even once you are sure, it is essential to be clear about what you want to achieve in financial terms. Balancing capital growth and investment income may be the holy grail for some investors, but many have a primary single goal. For example, your goal may be:
- Capital gain. If so, this may be achieved via 'flipping' (renovation and sale) or holding onto a property for the long-term
- Regular income. This is often achieved via investing in buy to let properties, although it is important to allow for void periods
- To provide a holiday home for the investor's own use. This may also generate an income via short term holiday lettings
- To provide a business asset, such as a workplace.

2. Know your timeframe
This should follow logically from your reasons for investing. For example, if you are investing with an eye to short term capital gain, you may be planning to 'flip' properties. In order to generate the necessary capital, you must ensure you can renovate and sell on a refurbishment property within a set timescale. This may mean picking your purchases carefully after a thorough exploration of the local market and its sold property prices.

3. Running before you can walk
If you're new to property investment, you might want to consider investing in a REIT (real estate investment trust) before proceeding to full ownership of a property. REITs are obliged by law to pay out 90% of their income to shareholders every year. They also tend to be highly tax efficient and offer good levels of liquidity to the holders.

4. Over-leveraging
Tempting as it may be to leverage, it is best to keep any mortgage to 50% or below of the value of your investment property. If this is not achievable at the outset, make it your goal. Furthermore, resist the temptation to remortgage without also shortening the term of the mortgage.

5. Shared mortgages
These require one person to be the main borrower, while the other borrows less. It is not possible to choose the main borrower - it is automatically the individual with the higher income, regardless of whose credit rating is best. This can affect the interest rates you pay on the mortgage. Shared mortgages can also make it difficult to arrange for split ownership.

6. Consider investing overseas
With UK sold property prices starting to stagnate in some areas and dip in others, you may want to look away from the domestic property market. Choosing to invest overseas may enable you to take advantage of favourable exchange rates or local markets that require lower capital investment. However, it is essential to think beyond the financial repercussions of investing overseas. Political and economic stability, and perhaps also geographical accessibility, are important additional factors. You may also want to investigate the local tourism market to gauge likely demand for a rental property. The uncertainties of Brexit may make investing in continental Europe seem dicey but, if you are so minded, Berlin is a current property hotspot. Further east, Sofia may also be worth investigating. Some countries impose restrictions or prohibitions on property purchases by overseas buyers, but Turkey is one that does not.

7. Property prices
Unless you are buying in Scotland, where there is more general acceptance that "offers over" means exactly that, don't be afraid to try to bargain when negotiating a purchase. Private sellers may be more open to this than corporates. It may be enlightening to find out what you can about a seller's reasons for putting the property on the market. If they're looking for a quick sale, they may be more likely to accept a below asking price offer, particularly if you are a cash buyer.

8. Yields and costs for buy to let landlords
If you decide that buy to let investment is for you, remember that rental income is your key return. It must not only cover the mortgage payments but also maintenance, an emergency fund and any void periods. Only once these are accounted for should you save or reinvest any of the income.

9. Accountancy and HMRC
Although the government has removed many tax advantages previously enjoyed by property investors, it is still possible to reduce tax payments lawfully by focusing on certain types of property and using appropriate investment vehicles. There is unlikely to be any substitute for expert accountancy and tax advice.

10. Watch the market and the economy
Even once you've bought your investment property, it is essential to monitor the fluctuations of both the property market and the economy. You need to know how projected interest rate rises will affect you, before they happen. Similarly, if property prices are dipping, you must factor this into your business plan. Even if you have no immediate plan to sell, it is impossible to know when circumstances might change and force your hand. Equally, a falling property market can offer opportunities for the confident and canny investor.

11. Know your exit strategy
It is one thing to be able to spot an investment strategy and entirely another to know when to pull out. Skilful investors who achieve long-term success do both. They do so by watching the market and having a constantly evolving business plan. They also understand that sometimes it is necessary to cut their losses in order to move on to the next opportunity. To do this, you will need to utilise trusted sources of information and learn to weigh up apparently contradictory opinions. This means learning to trust your own judgment.

12. Find a mentor
The investment property market can be a tricky beast. If you have a friend, relative or colleague who is a successful investor, they may be prepared to share tips and offer advice.
You can sign up to our newsletter and join Nethouseprice's community of over 190,000 members who get regular property tips, relevant offers and news, click here http://nethouseprices.com/auth/user-register
Source: Nethouseprices.com 09.07.18