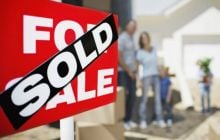 Getting your home sold has never been an exact science. However, with both buyer demand and UK house prices looking less predictable than ever, now might be a worrying time to be a house seller.

What's holding back the market?
With economists predicting that several years of very low interest rates may now be coming to an end, the era of cheap mortgage repayments may also be on its way out. Combine this with the general rise in the cost of everything from food to fuel, uncertainty over the country's future after March 2019 and its exit from the European Union, and growing concern over the jobs market and it's no wonder that many would-be buyers are holding back. Some are anticipating a housing market crash and hoping to benefit from its effects. Others are adopting a wait-and-see approach. So, too, are many sellers. Despite this, housing sales and corresponding sold property prices remain strong in many areas of the UK, driven by the ongoing and inevitable need of many homeowners to move up (or down) the housing ladder in line with their personal circumstances. If you're someone dealing with a divorce or wondering how much longer your home will be suitable for your growing family, you might be considering how best to beat the market and get your property sold. Here are seven tips - some of which cost money and others which do not - that may help you ensure your home moves into the sold property prices statistics sooner rather than later.

1. Identify your buyer
Working out who is the most likely sort of person to buy your home allows you to present it accordingly. Even if you've squeezed a baby (or two) into your one bedroom city centre apartment, the chances are that a prospective buyer will be a young professional couple, or perhaps a retiree looking for a city bolthole. Difficult though it may, presenting the property as easy to maintain, uncluttered, stylish and representative of a certain lifestyle might be key. Inevitably, this will mean putting into storage anything that doesn't absolutely have to be there and perhaps removing other things for the estate agent's photographs and subsequent viewings. If you're not convinced, have a look at the particulars for similar properties in your area and see how they are presented. Larger properties offer more scope for personalisation. However, identifying your buyer is a principle that still holds good. For example, if your target buyer is a young family, presenting a reception room as a playroom can be a great idea.

2. Defining a room's use
Many of us have rooms that are used for multiple purposes or that become dumping grounds. Perhaps your dining room is home to the ironing piles, the easel you like to paint at when you have the time and the music stand that rarely gets used now that your children's first enthusiasm for their flute or violin lessons has waned. Individually, any of these things could legitimately occupy a room. However, taken together, they dilute the room's apparent intended function. If you have an eat-in kitchen, you might decide to dispense with the dining room table altogether and turn the room into, for example, a music room. Similarly, try not to let your spare room serve multiple purposes of, say, gym, study and occasional place to sleep.

3. Space to relax
The demand for open-plan houses remains strong, particularly with buyers with young families and those who like to entertain a lot. However, a well-designed and spacious combined living, kitchen and dining area does not obviate a potential need for a smaller, separate reception area. For many families, these come into their own as children turn into teenagers and want separate spaces in which to relax. Other people appreciate being able to retreat to a room that is away from the noise of kitchen white goods and the washing up. If your home offers a separate reception room, that will be a major plus point with many buyers.

4. Downstairs lavatory
Your home might have room for only one bathroom but if you can squeeze in an additional lavatory, many buyers will appreciate it, particularly those with young children. Understairs cupboards are a popular and often feasible location.

5. Laundry
In houses without utility rooms, this can be tricky to solve. If you're in the market for doing work to your home prior to sale, adding a utility room can be of considerable benefit. You might be able to do so by converting part of a garage, particularly if it's an old-fashioned garage that is too small for a modern car. If you can't dedicate a whole room as a utility room, think laterally. In continental Europe, many bathrooms are home to washing machines. This is difficult in the UK where stringent regulations govern the circumstances in which such installation is permissible. Complying with these generally requires both a large bathroom and a knowledgeable electrician. However, there may be other options, such as a downstairs cloakroom or even a capacious cupboard under the stairs.

6. Consider an extension
An extension may be very far from your mind now that you've decided to sell. However, if your home offers potential scope for one, it can prove a great selling point. Rather than rely on your estate agent to point out the possibility, you could instruct an architect to draw up plans. You can then ensure that these plans are available for inspection during viewings. Leaving them out on a kitchen worktop is a common choice. If you're happy to spend more money and are convinced that a would-be buyer would want to build an extension, you could even apply for planning permission.

7. Parking
Lack of dedicated parking is often cited as a reason why homes linger on the market. If your property lacks its own drive or garage but has a small front garden, it may be possible to apply for permission to drop the kerb and turn that garden into a parking area. Alternatively, if it's possible to rent or even buy parking nearby, make sure that your particulars mention this.
You can sign up to our newsletter and join Nethouseprice's community of over 190,000 members who get regular property tips, relevant offers and news, click here http://nethouseprices.com/auth/user-register
Source: Nethouseprices.com 09.07.18