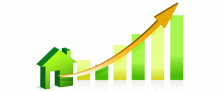 A house valuation plays a key role in property transactions for both buyers and sellers.

House valuations from a seller's perspective

Most people planning to put their house or flat on the market place a great deal of emphasis on the valuation received from estate agents interested in marketing the property. A house valuation may:

-influence which estate agent a seller chooses to market their property with
-determine the type and price range of properties a seller looks at for a follow-on purchase.

Valuation inconsistencies can be difficult to interpret. They may result in an overly-cautious seller pitching their property price at below genuine market price. Conversely, a bullish valuation may result in a would-be seller marketing a property at too ambitious a selling price. The result for both sellers may be similar: an inability to fund a desired onward purchase.

House valuations from a buyer's perspective

Property valuations are significant for buyers. Aside from a common desire to "snag a bargain", a valuation affects the mortgage that a buyer may be offered by a lender. Too low a valuation and the buyer may not be able to stretch to cover the entire purchase price unless they can persuade the seller to accept a lower amount.

Lenders and property valuations

Recent press reports show that increasing numbers of lenders are issuing "down valuations". In other words, they are valuing properties at less than the figures buyers have already agreed to pay. In many instances, this is resulting in sales and housing chains collapsing across the UK, as sellers refuse to take the hit and buyers are unable, or unwilling, to plug the financial shortfall with what may amount to thousands of pounds. So why is this happening?

Predicting a financial crash

Some lenders are apparently acting on advice from the surveyors who undertake the valuations that a financial crash is imminent. The precise consequential effects of any crash on UK property prices are, as yet, unknown and unquantifiable. However, of course, lenders have experienced property slumps and crashes before. As a result, they are keen to protect themselves and their customers from the damaging effects of negative equity, rising interest rates and stagnant or falling income levels. Anecdotal reports from London and County suggest that most of its advisors are now making down valuations every day. Meanwhile, Emoov, the digital estate agency, reports that a fifth of all of its sales now results in down valuations. Only two years ago, the figure was four times lower.

Down valuations explained

It is usually only the start of the process when a buyer agrees a sale price with a seller. Even a cash buyer may seek an independent valuation to ensure they will not be over-paying and that there are no hidden problems or defects with the property. Meanwhile, any buyer seeking a mortgage must accept that their prospective mortgage provider will use their own surveyor to assess the property's value. Unfortunately for both seller and buyer, national property prices often have little to do with the outcome of valuations. Sometimes these valuations are thorough, but often the surveyor does not even enter the property, doing what is known as "a drive by valuation". However the valuation is achieved, if the surveyor concludes that the property is worth less than the proposed sale figure, this amounts to a down valuation. The buyer must either plug the financial gap with their own money, persuade the seller to lower the price or lose the sale. People seeking to remortgage their properties are also finding themselves affected, particularly those who had small deposits and are now looking to remortgage after spending thousands on refurbishment and renovation. While they may not be refused a remortgage, they may find themselves unable to access the best interest rate deals and, in consequence, paying out considerably more each month than they were expecting. The impact on already straitened personal finances can be considerable.

How to respond if you receive a down valuation

Your response to a down valuation will depend on whether you are a seller or a buyer.

As a seller, you may first wish to sit tight and hope that your buyer has the financial recourse, whether personally or via family, to plug the gap - and that they like the property enough to do so. If they do not, you can expect to receive a request for a reduction to the agreed sale price. Whether or not you accede to the request will depend on your personal circumstances. This may include whether or not you expect the value of any property you hope to buy to be reduced in a similar fashion. If you want to refuse to lower the asking price, you may be in a stronger position if your property attracted plenty of interest from buyers and, ideally, more than one offer. If it did not or if it has been on the market for a long time, you may need to reassess the viability of your plans.

As a buyer, you may worry about losing the goodwill of your seller if you ask for a reduction to the agreed sale price. However, remember that, in England and Wales, this is a common negotiating tactic. The situation is different in Scotland, of course. It may not be viewed favourably by sellers - and some query its ethics - but it is a tactic that estate agents and many sellers are familiar with. It may also result in success, particularly if a seller knows their marketing price was ambitious or they do not need the entire proceeds of sale to fund an onward purchase. However, an intransigent seller may mean you will need to come up with the extra money yourself. Some may have savings they can turn to. Others might ask family for a loan. If neither of these is an option, you may lose the purchase. In this scenario, if you remain keen on the property, it can be worth watching what happens to it. If the seller does not re-market at a lower price, it is likely that future would-be buyers will run into the same problem. You may eventually find that the seller (or their estate agent) returns to you, asking if you are still interested in buying the property. Even if this does not happen, it may be that increasing numbers of down valuations will feed into the initial valuations that estate agents attach to properties - and this may bring more properties within your potential purchasing power.
You can sign up to our newsletter and join Nethouseprice's community of over 190,000 members who get regular property tips, relevant offers and news, click here http://nethouseprices.com/auth/user-register
Source: Nethouseprices.com 23.07.18