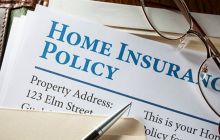 Landlord insurance is not compulsory in the UK. However, if you are a buy-to-let landlord or perusing property particulars or house prices in the UK with a view to becoming a landlord, it is certainly worth considering.

Landlord insurance: what is it?
As landlord insurance is not a legal requirement, it's not a daft question to ask exactly what it is and how it differs from regular buildings and contents insurance. In effect, it is home insurance on steroids. In addition to buildings and contents cover, it provides for protection from some of the worst events that can befall a landlord. For most buy-to-letters, these nightmare scenarios include tenants who withhold rent or those who damage the property - and these are exactly the sort of situations that landlord insurance can assist with.

Landlord insurance: the buildings element
If you own a leasehold property in an apartment block, before taking out buildings insurance, you should check whether the freeholder has insurance that covers the entire block. If they do, it should also cover you as a leaseholder. This should include cover for structural issues to the entire building that emanate from your flat, providing those problems are not caused by your own wilful negligence. Obviously, if your freeholder tells you they have buildings insurance that covers the whole building, you will want to see written verification of this fact - and your mortgage provider is highly likely to require the same assurance.

Landlord insurance: the contents element
It's not uncommon for new landlords to wonder why they need to provide contents insurance for a property they are renting out to tenants. However, if you are offering a furnished or part-furnished property, particularly if this furnishing is done to high standards, failing to take out contents insurance could be costly. Insurance will cover you in the event of fire, flood or theft by anyone other than the tenant. It will not cover the tenant's own possessions and this is a point that you may wish to make clear to your tenant.

Landlord insurance: the landlord-specific extras
Specialist landlord insurance policies cover policy-holders for a range of extras. These include:
- loss of rent when tenants withhold money or the property is uninhabitable as a result of damage
- theft of your furnishings or other goods by the property's tenants
- accidental or malicious damage of your furnishings or other goods by the property's tenants
- damage due to illegal cultivation of drugs on the premises by the tenant
- eviction costs
- legal expenses ensuing from tenancy disputes
- public liability arising from an injury to a tenant or visitor.

I'm a landlord. Can't I just rely on standard buildings and contents insurance?
In short, no you cannot. Although you would not be breaking any laws if you decided to rely on standard buildings and contents insurance, you are likely to be paying for something that will not actually cover you in the event of a problem. The reason for this is that insurers tend to put buy to let properties in a category of their own. On the whole, most insurers take the view that tenants are more likely to make a claim than homeowners living in their own property. Whether you agree or not with this point of view is irrelevant. If you have not declared the fact that you are renting out your property, you are giving your insurer the green light to wriggle out of any claim.

What will an insurance company want to know?
Aside from all the usual questions about size, age, condition and ownership status of the property, the insurance company may want more information about the tenants. Most insurance company pre-categorise tenants into groups such as:
- employed
- self-employed
- unemployed
- students
- retired
- asylum seekers
- in receipt of housing benefit (or Universal Credit)

Choosing to rent to certain categories is likely to cost more when it comes to the size of your annual premium. Tenants with lower or unstable incomes are deemed a higher risk. This is another consideration for the earliest stages of a property search. House prices in the UK are very much affected by the demographics of a particular area, and it pays to be very clear from the outset about which category of renters you plan to target.

I'm an accidental landlord. What do I need to know?
If you fall into the increasingly large category of landlords who never intended to rent out their property, but are forced to do so as a result of job relocations or other changes to personal circumstances, you may wonder whether your existing insurance policy will do the job. The answer is almost certainly not - and definitely not without notifying your insurance company that you intend to rent out your home. Your premiums are likely to increase as a result of upgrading what was a normal home insurance policy to a basic landlord one. However, this rise to your premiums does nothing other than reflect the perceived greater financial risk now assumed by the insurance company. If you want the benefit of extras such as a loss of rent guarantee or public liability, you may need to look elsewhere.

I want to rent out a room in my home. Do I need a different policy?
If you will still be living on the premises, the answer to this question is that you probably do not need to do more than phone your existing insurance company and notify them once a tenant moves in. Your premiums may not rise at all, particularly if you have only one tenant.

Anything else I need to know?
Although there are separate legal duties covering these issues, it is worth being aware that failing to install and maintain smoke and carbon monoxide alarms may invalidate your landlord insurance policy. Similarly, failing to ensure that all electrical and gas equipment meets current safety standards and is checked regularly can have the same result.
You can sign up to our newsletter and join Nethouseprice's community of over 190,000 members who get regular property tips, relevant offers and news, click here http://nethouseprices.com/auth/user-register
Source: Nethouseprices.com 30.07.18