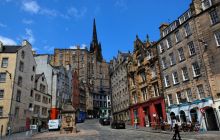 International investors are waking up to the potential for property investment in Scotland. After a slowing in UK-based interest thanks to the lingering effects of the 2014 Scottish referendum, the devaluing of Sterling following the 2016 European Union referendum and ongoing caution surrounding the likely financial effects of Brexit, these overseas investors are not only plugging the gap, but are also catching the attention of UK investors.

The figures support the important role that investors from overseas have been playing in the Scottish property market over the last two years. In 2016, total international investment in Edinburgh offices was an impressive 90 per cent. This represented an increase of 28 per cent on the figure from 2015 and 40 per cent from 2014. Unsurprisingly, there is also some evidence that London and Manchester, the cities traditionally targeted by foreign investors, are feeling the effects.

All of this begs the question as to whether this strong interest in commercial property is translating to the Scottish residential sector. If you're thinking of investing in the residential Scottish property market, what are the factors that might influence you as you weigh up sold property prices against possible future trends?

An independent Scotland?
Although a new referendum on Scottish independence is apparently not currently on the cards, the ruling SNP party remains focused on Scotland's eventual independence. No doubt the core group of pro-independence supporters has garnered more members as a consequence of the European Union referendum: the SNP remains keen for Scotland to stay a member of the European Union or, if, as is likely, this is not possible, to rejoin as a newly independent state. Even a remote possibility of this may be sufficient to swing a new referendum on Scottish independence to "yes". Voters may also be swayed by the number of financial institutions currently exploring Dublin as an alternative to headquarters in London. Edinburgh, with its existing strong financial sector, has the potential to offer another option.

Industrial Scotland
Almost certainly better known for its lochs and glens, not to mention its long and eventful history, Scotland is also proudly industrial. With its oil and gas industry centring on Aberdeen, that city has struggled in the face of the global slump in oil prices. Nevertheless, the country's oil and gas reserves are considerable and, in the view of many experts, would help bankroll an independent Scotland. The industry also means that there is a constant flow of workers seeking accommodation - and, currently, all the indications are that the Aberdeen property market is on the up. 2017 saw a growth in the city's property prices for the first time in over two years. At only 0.1 per cent, it was a modest rise but, by January 2018, average property prices stood at £221,546. These sold property prices represented an increase of 1.9 per cent since October 2017. And, with the prospect of more stable oil prices, new drilling projects and important infrastructure projects, such as the Aberdeen Western Peripheral Route, the future looks promising for the Aberdeen property market. This is certainly a city to watch if you are an investor with money to spend. Local property sellers note particularly strong demand from both first-time buyers and those looking to spend in excess of £500,000. Properties in the suburbs or the surrounding countryside are currently in the greatest demand, and selling fastest.

Financial Scotland
Just as with London, Edinburgh's place on the global financial scene has undoubtedly been threatened by an impending Brexit. However, Edinburgh remains Scotland's financial capital and welcomes visitors from across the European Union and beyond. It is also home to some of the country's most expensive properties.

A tourist's Scotland
Scotland is firmly on the international scene as far as tourism is concerned. Its popularity with Americans, in particular, shows no signs of waning. Helped by the devaluation of Sterling, tourists continue to flock to the country and, in doing so, seek accommodation at all levels.

Affordable housing stock
Outside of Edinburgh and parts of both Aberdeen and Glasgow, Scotland remains a relatively affordable destination for property investors. With areas that offer the twin potentials for double-digit rental yields for buy-to-let investors and scope for significant capital appreciation, it is no wonder that Scottish properties are in high demand from both home-grown investors and those from south of the border. Scottish investors may have the upper-hand when it comes to knowing which are the most desirable - or soon to be desirable - areas, but the newcomers are catching up fast. Moreover, if trends in the country's economy and population growth continue at current rates of growth, investors stand to benefit from significantly higher demand for housing stock of all kinds and at every price point.

What to watch out for
The continuing question mark over a future independent Scotland has been rather overshadowed by the Brexit negotiations and concurrent uncertainties. However, the issue has certainly not gone away. How quickly - and how strongly - it becomes a live issue once more may depend on the as yet unquantifiable Brexit effect, but it is clear that there remains considerable support for a "yes" at a second independence referendum. Once this is resolved one way or the other, the Scottish property market may be rather less likely to underperform in comparison with the wider (or rump) UK market. Would-be investors may also want to monitor the effect of the Scottish government's tax changes that put a three per cent levy on second home owners. Claims from some quarters suggest that not only are around two-thirds of homeowners put off from considering investing, the changes are also resulting in increasing numbers of landlords selling up in order to swerve the charges. Some parts of Scotland have seen so many homes come onto the market that sellers are struggling to attract buyers and rents are rising. Of course, this flood of additional properties onto the market also presents opportunities for those investors who are able and willing to absorb the extra costs.
You can sign up to our newsletter and join Nethouseprice's community of over 190,000 members who get regular property tips, relevant offers and news, click here http://nethouseprices.com/auth/user-register
Source: Nethouseprices.com 31.07.18