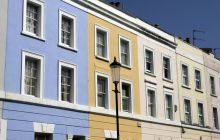 Property flipping is a type of property investment that tends to involve one of two scenarios:

(1) buying low and selling high, usually in a rapidly rising market; or

(2) buying a "doer-upper", repairing and decorating it, and selling it for a profit.

It has long been a pursuit for those comfortable with a degree of risk. There are no guarantees with property flipping and, particularly for the inexperienced or the unlucky, it can be easier to make a loss than a profit - and this is never more true than in an uncertain or volatile market. A key point for the successful flipping of off-plan property is that it works only in a rising market. Prudent investors also always have a back-up plan for what they will do if they are unable to flip the property within their desired timescale and for an acceptable price.

Flipping off-plan property


Not all developers (or mortgage lenders) permit the flipping of new homes. Even where they do, this is an inherently risky undertaking: there is no guarantee of selling at a profit. In particular, it pays to be cautious if the development is not complete. it is a well known phenomenon that those attempting to sell properties that are only a few years old struggle when in competition with newly-built properties, especially those on the same or neighbouring developments. More than ever, if this is something you are tempted by, it is essential to pay close attention to the sold property prices for both the new build properties and those that have been sold by their first owners. However, for a site with strong interest among potential purchasers and a property with particular selling points not necessarily shared by other properties on the development (for example, an impressive view, a garage, a particularly large plot or the fact that it is detached or a penthouse), flipping may be a calculated risk that is worth taking. Even where such advantages exist, would-be flippers should exercise caution if a development is attracting the interest of too many speculators due to the risk that supply will exceed demand. It is also almost always best to buy in the earliest stage of a development. This is when prices are at their lowest and the canny investor stands to benefit from their rise as completion nears.

Traditionally, investors involved with flipping off-plan property have targeted high-spec city centre properties with strong appeal for buyers from overseas. Many of the developments in London's Docklands are prime examples, but other parts of the capital and economically vibrant cities elsewhere in the country, particularly Manchester and Leeds, have also been popular. Demand has slowed recently, in line with the general economic stalling.

Property flipping: a new approach?

Despite the stagnation of the off-plan property flipping market, figures from 2017 showed that the year was notable for seeing the highest number of speculators flipping property for a decade. Land Registry data analysed by the estate agency, Countrywide, shows that around £5.5bn of residential property was bought and sold inside a twelve-month period in England and Wales within the twelve months to April 2017. While this is some way from the previous high point of £9.6bn, which was achieved in 2007, just before the crash, it shows a significant increase on the years from 2008 onwards. What is more, most of these 2017 property speculators decided against targeting their traditional stomping grounds in the capital. Instead, they chose to focus on regional markets. The reasons for this are varied, but stamp duty rises attached to higher value properties and stagnant prices in the capital are two of the most significant. In particular, some investors will have accelerated plans to flip property in order to evade the stamp duty surcharges on second and subsequent properties, which came into effect in April 2017.

Lancashire or London?

In 2017, the area of England and Wales that saw the most activity among speculators was Burnley in Lancashire. The town saw almost one in ten of its residential properties change owners more than once within the twelve month period up to April 2017. Other flipping hotspots included Hartlepool and Middlesbrough in the north-east, and Wakefield in Yorkshire. Conversely, of the top ten areas for flipping in 2017, only two were in London - and these were Newham and Waltham Forest, which are both a long way from the traditional high value investor territories of Kensington and Chelsea, Westminster or even Docklands. What all of the targeted areas have in common is their relative affordability. Although sold property prices may be lower than the national average, prices are nonetheless rising at above average rates and confidence in the local market remains buoyant. Whether the threatened interest rate rises and a consequent rise in the cost of borrowing will affect this remains to be seen.

Tips for property flipping in 2018

Assuming the uncertain economic situation is not enough to put you off, there are a number of points to remember in order to maximise your chances of a profitable flip.

1. Know what you are buying - and why it is priced as it is. This means you must investigate the local property market if you are to gauge whether you are pursuing a genuine bargain or an expensive dud. As a general rule, you will want to target areas where prices are rising - even if this is at a lower level than in recent years - and where buyer demand is strong.

2. Look for problems in the property. After completion is not the time to discover that your purchase requires complete rewiring or a damp course. It is, of course, a different matter if you knew about such issues prior to buying and factored them into your purchase price and ongoing plans. Getting a survey is crucial.

3. Funding a refurbishment. Bear in mind that you may not be able to get a loan for refurbishing the property. Make sure you know how you will pay for the necessary work and, ideally, if you will be borrowing the money, how you will repay it if the property either does not sell or fails to achieve the price you were hoping for.

4. Decoration. As with any sale, a fresh coat of paint can go a long way towards rejuvenating a tired property and helping to attract potential buyers. It also does not have to be expensive.
You can sign up to our newsletter and join Nethouseprice's community of over 190,000 members who get regular property tips, relevant offers and news, click here http://nethouseprices.com/auth/user-register
Source: Nethouseprices.com 01.08.18