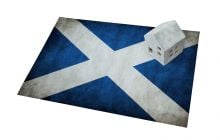 The Halifax building society is well-known for its annual quality of life surveys that identify the best places in the UK to live. In recent years, Scotland has performed strongly in the surveys, especially when it comes to the best places to bring up children. In calculating where places rank in this survey, Halifax took account of factors including class sizes, academic results and spending per pupil.

In light of these results, we take a closer look at ten of these Scottish star places - and, in particular, at what makes them such attractive places to live with a young family.

Orkney Islands
Scooping the overall top spot, the Orkney Islands may not be the most accessible part of Scotland, but small primary class sizes, high education spending per pupil, a low population density, low traffic levels and high numbers of adults in employment seem to be the magic ingredients that have won them this crown. There is also a good choice of property for sale at figures that may seem jaw-dropping to anyone accustomed to the sold property prices of so many places further south. As a tempting example, less than two years ago, buyers were invited to place offers for a pair of islands. Including a six-bedroom bungalow and a wind turbine to generate electricity, at £300,000, the islands were listed for sale at a price that was less than half the cost of the average London property.

Shetland
Taking second place in the survey, the long life expectancy enjoyed by the average resident, the uncrowded surroundings, high employment rates, wealth levels, excellent education and low property prices make Shetland very attractive to long-standing residents and incomers alike. It has a good and varied selection of housing stock. Some are still held in crofting tenure and, as such, are regulated by the Crofters' Commission. Croft houses are occasionally available on the open market, although purchase is always subject to approval from the Crofters' Commission. Crofts aside, there is a plentiful and regular supply of other properties coming onto the market. There is also a strong tradition of self-builds.

Western Isles
Coming in just outside the top three at number four, the Western Isles may be remote and often rainy but, according to the Office of National Statistics (ONS), they are also home to some of the happiest people in the UK. Inhabitants come up with different reasons for their satisfaction with their home, but their natural environment ranks high in most people's reasoning. Sometimes referred to as "blue space", the seas and skies of the Western Isles are undoubtedly beautiful. However, the sense of community is also very strong, contributing to a friendly, family-oriented lifestyle.

Highlands
At number eight, making a fourth entry for Scotland in the top ten, the Highlands is another Scottish place whose residents rate their own happiness levels highly on the ONS scale. A strong sense of community, small primary school classes and plenty of outdoor activities are three of the most important factors for parents choosing to bring up their children in this scenic part of the UK.

Perth and Kinross
Ranked thirteenth in the survey results, excellent facilities for children (including both educational and leisure institutions), spectacular natural surroundings and close-knit communities are three of the reasons why Perth and Kinross rates so highly.

Argyll and Bute
While the Kintyre Peninsula has enjoyed several decades of wider acclaim thanks to the Paul McCartney song, "Mull of Kintyre", the Halifax survey makes clear that the whole of Argyll and Bute has much to recommend it. Placed at number 23, the area has some very good schools, castles, beaches, glens aplenty - and, thanks to its standing as Scotland's Whisky Coast, a good selection of distilleries for tired parents. Sold property prices in the region have fallen by around 3 per cent over the past 18 months, making the possibility of snaffling a bargain slightly more likely.

Dumfries and Galloway
Number 25 in the Halifax survey, Dumfries and Galloway stretches from Stranraer in the west to Gretna on the border with England. Home to some lovely coastal towns, which are ideal for parents looking for an outdoorsy lifestyle for their family, it also offers the "foodie" town of Castle Douglas, known for its great range of independent producers and excellent high street. With a climate that tends to be milder than elsewhere in Scotland, it may offer an easier transition for newcomers arriving from warmer climes further south. Some excellent schools and average house prices of just under £170,000 add to its attractions.

8. Scottish Borders
There's no shortage of ways to keep the kids occupied in the Scottish Borders. As well as the great outdoors, the area's huge range of child-oriented activities includes an enormous adventure playground just outside Selkirk, the opportunity to zip wire over a reservoir and a donkey sanctuary. And, when it comes to housing, according to the UK House Price Index for Scotland, detached homes in the Scottish Borders currently fetch an average of £260,221. At £156,903 and £126,061 respectively, semi-detached and terraced homes are even more enticingly priced, especially for those moving either from further south or from Scottish property hotspots such as large parts of Edinburgh, Glasgow and Aberdeen.

9. East Dunbartonshire
Lying just to the north of Glasgow, East Dunbartonshire is ideally situated for the perfect combination of an outdoor life with easy access to the cultural and social activities of one of Scotland's largest and most exciting cities. Featuring at number 39 in the Halifax survey, East Dunbartonshire owes its popularity with families both to its geographic position and some very good schools. Average house prices here are higher than many other areas in Scotland and, currently, are continuing to rise.

10. Midlothian
Comfortably inside the top 50 at number 46, Midlothian borders Edinburgh and attracts many people who work in that city but are looking for a more rural home life. That's not to say that there isn't plenty to do: the fifteenth century Rosslyn Chapel, known to many people courtesy of Dan Brown's "The Da Vinci Code" is a top attraction and Dalkeith Country Park, with its impressive adventure playground and elegant shopping and eating facilities is a firm family favourite. House prices are inevitably buoyed by the area's proximity to Edinburgh, but buyers can still expect considerably more for their money than in the capital.
You can sign up to our newsletter and join Nethouseprice's community of over 190,000 members who get regular property tips, relevant offers and news, click here http://nethouseprices.com/auth/user-register
Source: Nethouseprices 23.11.18