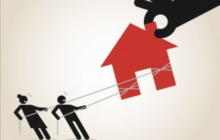 No-one wants to be in the situation where they are at risk of having their home repossessed but, in the first quarter of 2018, mortgage repossessions rose by 5 per cent across the country. Cannock Chase in Staffordshire holds the unhappy title of seeing the highest number of mortgage possession claims at 47 per 100,000 properties. And, unfortunately, when lending institutions sell repossessed properties, they pay little regard to sold property prices, as their sole aim is to recoup the debt. This often means that repossessions sell for less than their market value.

Definitions
Much of the terminology surrounding repossessions is confusing and mystifying for the layperson. Here are some simple explanations to help you make sense of the letters that may be coming through your letterbox.

Arrears
In relation to a mortgaged property, arrears are where the mortgage holder has not made all of the payments that they are obliged to make. If you miss a payment, you are in arrears. Your mortgage lender will want you to clear any arrears as soon as possible. If you do not do so, you risk your lender moving on to the next step and beginning legal action against you. Even if you cannot pay the outstanding amount straight away, it may be possible to avoid legal action if you talk to your lender. You can get free help to do this via organisations such as Citizens Advice.

Mortgage possession action
This is where a mortgage lender begins legal proceedings as a result of uncleared arrears.

Suspended possession orders
Even where the mortgage lender takes you to court for arrears, you will not automatically lose your home. The lender may ask the court to grant a suspended possession order, which will allow you to remain living in your home provided you keep to an agreed schedule of repayments to clear your arrears. Even if the lender does not ask the court for a suspended possession order, you can ask for one if you can argue that the lender either has not followed the correct procedures or has acted unfairly or unreasonably.

How to negotiate an agreement with your mortgage lender
If you are already in arrears or are afraid that you soon will be, it is crucial not to ignore the situation. If you go into debt and your mortgage lender takes the view that you are not dealing with the situation, they are likely to begin legal action. To avoid this happening, you might want to work through the following list:

1. Review your financial situation in order to clear your debt or reduce your mortgage payments. The first step is to examine your household budget closely to see if you can either increase your income (perhaps via a second job or letting out a room) or by cutting back on non-essential spending. Next, consider whether you can change to a cheaper mortgage deal. You might also be able to save money by switching insurance and/or utilities providers. If you have an endowment policy, perhaps you can alter the payments you make onto this. Finally, if your property was purchased via a shared ownership scheme, you may want to investigate whether you can sell back a portion of your ownership to the landlord.

2. If you have already built up a mortgage debt, your priority must be to repay the outstanding sum as soon as possible. You may have several possible options but, because you are already in arrears, all of them will require you to reach an agreement with your lender. If your financial situation has changed since you fell into arrears and you are now able to make additional payments as well as your usual monthly payments, you may find your lender is amenable to this plan. The lender may also agree to allow you to add the debt to your capital. If you have an endowment policy, you may want to consider giving it up in order to realise the necessary cash. Equally, cashing in a mortgage payment protection insurance policy might provide the necessary sum. Another option could be to borrow money, whether that is from family or friends, or via a bank loan or credit card (although you should, of course, be wary of the implications of taking on more debt). Whatever option you take, it is essential that you understand the pros and cons, as well as the future implications.

3. Once you have thought about the problem and decided how you intend to repay any arrears, you need to contact your lender. You can find their contact details online and on your most recent mortgage statement or any other letter they have sent you. If your lender is a high street bank or building society, they may have a local branch nearby with a mortgage adviser, who may also be able to help you.

4. Put in writing the details of how you intend to deal with the problem. As a precursor, your letter should set out the background to the problem (for example, your arrears are as a result of losing your job) and explain why the debt built up (for example, after losing your job, you have been reliant on benefits that were insufficient to meet your living costs). If you previously had a good payment record, say so. You should also try to estimate how long it will take you to clear the debt relative to the term of the mortgage. Don't forget, if you have equity in the property, make sure the letter notes this fact. As a last resort to clearing the debt, you might consider selling the property, particularly if local sold property prices are good and properties are selling quickly.

5. If you have no means of paying off the arrears, you must seek independent debt advice as soon as possible. Citizens Advice is an excellent starting point. You should also seek immediate advice if your mortgage lender has begun sending you letters threatening legal action.
You can sign up to our newsletter and join Nethouseprice's community of over 190,000 members who get regular property tips, relevant offers and news, click here http://nethouseprices.com/auth/user-register
Source: Nethouseprices.com 26.11.18