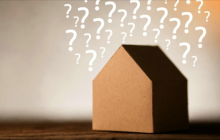 If you are in arrears with your mortgage, your mortgage lender may begin legal proceedings. This can be very frightening, but it does not automatically mean that you will lose your home.

Repaying your arrears
You may be able to avert legal action if you can agree a repayment plan with your mortgage lender. There are various ways in which you might do this and a specialist debt adviser, from an organisation such as Citizens Advice, may be able to help you with this.

Selling your property to clear the debt
If repaying your arrears is not a possibility, then if sold property prices and the general state of the market permit, one idea might be for you to sell your home in order to clear the debt. It may be tempting to leave the property and hand over the keys to the mortgage lender, but you will continue to be responsible for the mortgage (and the accruing arrears), insurance on the property and other associated bills until the property is sold. Moreover, properties sold as a repossession almost always fetch less than they would have done had the property's owner been behind the sale. This has little to do with either sold property prices or what a property is actually worth and far more to do with the method by which lending institutions often choose to sell repossessions (auctions are a common means) and the fact that a lender is only motivated to try and ensure that a property fetches sufficient to clear the outstanding arrears and associated mortgage. It has no interest in helping the one-time owner realise sufficient from the sale to allow them to house themselves going forwards. In the worst cases, a repossession sale may not even realise sufficient funds to clear the outstanding debt. In such a case, as the one-time owner, you would still be liable to repay the shortfall.

Your lender's legal obligations before beginning court proceedings
A mortgage lender has several very important legal obligations that it must adhere to before commencing legal action.

Mortgage Conduct of Business (MCOB) rules
First and foremost, in relation to mortgages taken on from 31 October 2004 onwards, is its obligation under the MCOB rules to treat you fairly and provide you with a reasonable opportunity to repay your arrears. If your lending institution does not do this, you can complain to the Financial Ombudsman Service. In addition, if you find that your contact at your lending institution is less than helpful, do not be afraid to go higher up the organisational chain and speak to their manager or supervisor. If this fails and you cannot reach an agreement with your lender as to how you will repay your arrears, do make sure that you make whatever payments you can afford - however small. This will stand you in good stead if your case does reach court.

Pre-action protocol
This sets out the procedures that the lender (and you) must follow before commencing court action.

Your obligations are to:
- keep in regular contact with your lender
- act fairly and reasonably in all of your dealings with your lender
- try to agree a way to repay your arrears and make those repayments.

Your lender's obligations are to:
- inform you of the total amount of your arrears
- tell you how much is outstanding on your mortgage and whether any interest or other charges have been, or will be, added
- give precise details or an estimate of the interest or other charges that are payable on your mortgage
- set out your current monthly instalments and how much you have paid over the last two years
- provide you with appropriate information on mortgage arrears (for example, the National Homelessness Advice Service booklet)
- find out whether your property is occupied by an authorised tenant
- discuss with you or your representative the circumstances in which your fell into arrears and your proposals for repayment
- advise you to seek independent specialist support from the local housing authority and debt repayment advisers
- give you a reasonable time period to consider a proposal for repayment and then to consider any request from you to change how or when you pay
- following any offer by you to make repayment, get back to you as quickly as possible. If they refuse your proposal, they must do so in writing within 10 working days of the offer
- not commence court action while negotiations about repaying the arrears are in process.

Your mortgage lender must delay starting legal proceedings where:
- you have claimed under a mortgage payment protection policy, expect the insurer to pay it and can pay any mortgage instalment not covered by the insurance
- you have put in a claim to the Department for Work and Pensions for Support for Mortgage Interest or Universal Credit, expect to be eligible and can pay any mortgage instalment not covered by the benefit
- you have applied to your local authority for assistance under a mortgage rescue scheme or similar and expect support to be given
- you have a confirmed appointment with a debt adviser or you need time to seek independent debt advice due to specific financial or personal difficulties
- you are in the process of selling your home to repay the debt
- you are making a complaint to the Financial Ombudsman Service about the manner in which your lender has treated your case
- you anticipate an imminent improvement to your financial circumstances and you have a confirmed appointment with a debt adviser.

Court action
When the lender starts court action, you will receive a claim for possession from the county court and a notice (addressed to "the tenant or the occupiers") from your lender, confirming that action has begun. The particulars of the claim will specify the amount outstanding, how much you ought to be paying and the steps your lender has taken. You should report any inaccuracies or missing information to the judge at the hearing. You will also receive a defence form that you can use to list your personal and financial circumstances and set out how you have tried to meet the arrears. It is not a defence to say that you cannot afford to repay what you owe. You must also complete an income and expenditure sheet, so the court can assess your financial means.
You can sign up to our newsletter and join Nethouseprice's community of over 190,000 members who get regular property tips, relevant offers and news, click here http://nethouseprices.com/auth/user-register
Source: Nethouseprices.com 26.11.18