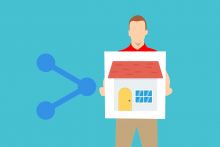 According to Zoopla's 'State of the Property Nation' 2018 report, online estate agents are becoming ever popular.
Despite only seeing a modest increase in overall market share, 46% of those surveyed said that they are 'likely' to use an online estate agent the next time they sell.
But, with so many options, how do you choose which online estate agent to use?
The fact they are still a relatively new concept means it can be hard to get recommendations from friends and family. Since online agents don't have physical offices, you can't walk in and talk to them face-to-face.
However, if you've decided you're one of the 46% who want to give online agents a go, there are still a number of things you can check to help you decide which one is the best option to sell your home.
Price
As with traditional agents, the most obvious way to compare online agents is based on price.
Which one is cheapest? Which one gives you the best value for money?
Be aware that as with most things, you often get what you pay for. Therefore, it makes sense that while price should be a factor, it shouldn't be the only thing you use to decide which brand to trust with finding you a buyer.
Payment Options
In the past, most online estate agents offered 'pay upfront' prices only. That helped keep their prices low but meant that regardless of whether your home sold or not, you would still have to pay.
As that model has come in for a lot of criticism, many online estate agents now offer 'pay on completion' prices too. In other words, you can choose to only pay once your property has sold.
In short, if you want the cheapest price, choose an agent with an upfront payment option. If you want the lowest risk, only use an agent that allows payment on completion of the sale.
Services Offered
Keep in mind that unlike traditional estate agents who usually have very similar offerings, what you get from an online estate agent can vary dramatically from one agent to another.
Some will simply list your property on portals like Rightmove, others will actively try and find you a buyer and support you through to completion. Some will offer hosted viewings packages, others will not.
So, be sure to check each online estate agent to ensure they offer you exactly what you need.
Reviews
The reputation of online estate agents is another thing that varies dramatically. Just because they appear to be a big brand with popular TV advertising campaigns doesn't mean they are necessarily the best agent for you to use.
Be sure to check online estate agent reviews carefully to find out which ones perform the best, and worst, when it comes to the service they provide.
So, if you've decided you'd like to give an online agent a try, there are a number of factors you can use to compare the different brands and services available.
Source: Property Road 29/11/2018