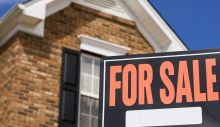 The prospect of selling a house or flat is enough to make anyone jittery. In an uncertain market, with many houses taking longer to sell and sold property prices stalling or even dipping, there's even more reason to worry. However, there are steps that any seller can take to increase the chances of selling their property.

Think about finances

Ask yourself if you can really afford to sell. After all, there is no point putting in the time, effort and expense of preparing a property for sale if you then find you cannot afford to buy a new property. A financial shortfall is particularly likely to be an issue if:
- you have limited or no equity in your existing home
- there is a significant price difference between homes similar to your current property and those that you would like to buy.

Of course, you may have savings to make up the shortfall, but it is essential to sit down and do your sums before proceeding with any sale preparations. As part of this, you should find out whether you are able to port any existing mortgage, whether you could borrow any additional funds and which mortgage provider offers the potential for the best deal.

Appoint a licensed conveyancer or solicitor

Although in England and Wales there is no legal obligation to use a solicitor or licensed conveyancer, and certainly no obligation to appoint one prior to any agreed sale, doing so can make the whole process smoother. There are two main advantages. Firstly, an appropriate legal professional can help ensure you have a portfolio of appropriate documents ready for prospective buyers. Secondly, having a solicitor or licensed conveyancer already on board is a definite signal to would-be buyers that you are a serious seller, who is unlikely to back out of a sale at some later date.

Get your documents in order

House sales usually require you to provide a suite of documents to the buyer or their legal representative. While you are not obliged to organise these prior to putting your property on the market, doing so can help speed up the process once you have an interested buyer. Documents to gather include:
- Energy Performance Certificate
- Property details, including accurate dimensions (your estate agent should help with this)
- Any planning permission certificates
- Any building regulations approvals
- Electrical certificates
- Gas Safety certificates
- Recent utilities bills
- Buildings and contents insurance certificates
- Mortgage roll/account number

Declutter

This is emphasised by estate agents and property television shows - and with good reason. A decluttered home that is not filled with overflowing shelves, cupboards bursting at the seams, boxes under beds and the like immediately feels - and looks - more spacious. As well as providing reassurance to would-be buyers that the home has sufficient storage space, decluttering also makes it easier for a buyer to imagine themselves and their family in the property. To this end, it can help to remove excess personal photographs, ornaments and knick-knacks in order to present a relatively blank canvas. However, be careful not to overdo it, as many estate agents would suggest that overly depersonalised homes can be as difficult to sell as those at the opposite end of the spectrum. Of course, it can be difficult to know what to do with possessions cleared out prior to selling. Hiring a storage facility can be one solution as can borrowing space in a friend's or relative's garage. Some people also use their cars to store a box or two of possessions - or even the laundry basket - prior to a viewing.

Repair or replace where necessary

Once you have done any appropriate decluttering, it will be easier to spot anything that needs replacing or repairing. This might be as simple as a lightbulb that needs changing, but could also include broken lavatory flushes, dodgy tap washers or faulty locks. Don't forget the outside space - broken fence panels or a gate that doesn't close are almost certain to attract the wrong sort of attention from prospective buyers. Not attending to these "small jobs" tends to suggest to property viewers that larger, more serious and almost certainly more expensive problems also lie in wait.

Decorating

This does not have to mean painting the entire property from top to bottom, but it does mean touching up shabby or peeling paintwork, washing down grubby surfaces and perhaps also replacing very bright or quirky paintwork or wallpaper with something more neutral. If you're unsure whether redecorating a particular area is a cost-effective use of your time, your estate agent should be able to advise you further.

Professional valuations

Although local sold property prices might have given you a fair idea of what your property is worth, it is always worth getting a professional's opinion, even if you intend to go ahead with the sale without using an estate agent. To be as accurate as possible, you should ask at least three different agents for a valuation, on the basis that the true value is somewhere in the middle. If you decide to engage the services of an estate agent, make sure the firm has recent experience of selling similar properties.

Asking prices

It may sound obvious, but set a realistic asking price. Too high and you will struggle to get viewers in through the door. Too low and you risk not getting what your property is actually worth. Unless you're in Scotland, most buyers prefer asking prices rather than "Offers Over" or "Offers In The Region Of".

Think about when to market the property

Spring is the traditional time to market a property for sale, with early autumn a close second. Conversely, the summer holidays and closer to Christmas are times when demand from would-be buyers is perceived to drop. While you may wish to pay attention to these seasonal variations, you should also look closely at what's going on in your local market. If sales are slow, it may be sensible to delay putting your home up for sale. Looking at trends in selling prices can also help you gauge the strength of the market.

Market your property appropriately

It is crucial that information about your property reaches those buyers who might have a genuine interest in buying it. In some places, where demand is strongest from local buyers, traditional placement in an estate agent's window may do the trick, but online advertising is usually a must.
You can sign up to our newsletter and join Nethouseprice's community of over 190,000 members who get regular property tips, relevant offers and news, click here http://nethouseprices.com/auth/user-register
Source: Nethouseprices 29.11.18