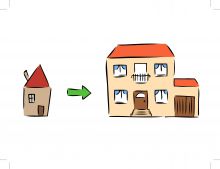 Wooden garage doors are known for looking welcoming and luxurious all year round. However, during the cold season they tend to need a little extra TLC to stay looking – and working – their best. Here are our top tips for maintaining your wooden garage door over winter.
1. Keep your doors clean
A combination of wet weather and a slow build-up of dust and dirt will gradually make your door dirty and sticky – even leading to rot if it goes untreated long enough.
Regularly cleaning the inside and outside of your garage door, will prevent this and allow you to leave it longer before re-staining or repainting. It doesn't have to be a long chore – simply mix hot water with a mild detergent or washing up liquid and wipe the door with a soft cloth to remove grime.
2. Routine re-staining and repainting
Most homeowners choose to highlight the beautiful natural grain of their wooden garage doors by staining them instead of painting them. Regularly investing in a quality wood stain helps protect the wood and allows you to alter the shade of your garage door whenever you choose. A tough, weather-resistant finish will keep the doors looking attractive and free from moisture damage for longer. Keep an eye out for 'film finish' and 'penetrating finish' stains as they will have slightly different effects.
Make sure you take the time to re-stain your garage door properly. Investing some effort into preparation and quality materials will ensure your hard work lasts a lot longer than simply brushing another coat on top of what's already there. Firstly, clean the door with a sponge and soapy water before rinsing away any residue with a garden hose.
Once the door is dry (wait at least 3 hours), disconnect the automatic opening and closing mechanism and use a medium-fine sandpaper to remove any imperfections in the surface. Before applying the stain, clean the door with a dry lint-free cloth, then, using a brush, paint the stain on evenly.
This should be repeated every 3 or 4 years, although you may need to do it more often if your area gets particularly harsh weather.
3. Look for wear and tear
Simply using the mechanism of your door over time can cause considerable wear and tear. This, in turn, can damage the door panels and the stain or paint finish, which can be difficult to repair. Check for damage caused by movement of the door every six months or so, looking for any gaps or cracks appearing on the coating of the door as this can lead to more serious damage. Scraping or screeching sounds as the door opens is another sign of damage.
4. Test the mechanism
If you have an automated garage door with an electric opener, it's important for the safety of everyone that uses the garage to test the automatic power unit, the clamps, springs, rollers etc. regularly. Many garage door specialists (such as Wessex Garage Doors), provide professional servicing to make sure everything is in working order at least once a year.
Ideally, you should test the sensor system yourself every few months. You can do this by placing a small piece of timber under the door and waiting for it to automatically close. The sensor should register the obstruction and immediately trigger the door to go into reverse.
5. Keep it running smoothly
Another important part of keeping both your garage door and the automatic opening and closing mechanism safe is to make sure all moving parts are safely lubricated. Clean any dirt and debris from the moving parts and make sure that the tracks (where the garage door moves up and down) are properly lubricated and run smoothly. Don't overdo it – too much oil or lubricant can attract dirt and grit – you only need a small amount. It's a good idea to lubricate every three or four months.
6. Check the seals
The seals around the edge of your garage door are a fundamental part of keeping the door (and whatever's behind it) safe from the elements. If you stand inside your garage with the door closed, can you see any daylight around the edges of the timber?
If the answer is yes, the seals will need replacing as they're either too small or worn out. Your local hardware store should sell a replacement and even provide a recommendation – just don't forget to measure the full length you need along each side.
Source: Annie Button, 04 December 2018