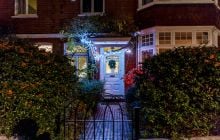 Traditional wisdom often stipulates that homes up for sale should be removed from the market over the Christmas period. The reasoning behind this is not so much that sold property prices dip at this time of year but that there's a belief that house hunters tend to put their search on hold during the festive season. However, what's the truth behind this assumption? Is it worth trying to sell (or buy) a home at this time of year? And what do estate agents think?

The pros

1. It may be true that there are fewer buyers around over Christmas but those that are still in the game tend to be serious and better motivated to make an offer. Similarly, the sellers who keep their homes on the market at this time are usually very intent on gaining a sale.

2. Online searches are now most would-be buyers' favourite way of searching for a new property. And, with websites such as nethouseprices being accessible 365 days a year and 24 hours a day, it is easy for people to search for properties whenever suits them.

3. With many people having time off work over the Christmas period, it can be easier for them to find time to view a property. They are also less likely to have to jostle with potential competitors at an open-house viewing as few estate agents think that open-houses are worthwhile at this time of year. Although some sellers may prefer open-house viewings, the fact that would-be buyers may have more flexibility over potential viewing times can at least mean that viewings are less likely to be at inconvenient times (which, for many people, means late evenings and weekends).

4. January is one of the busiest months in terms of rental interest. Consequently if you are looking to buy a new rental property, clinching a sale in December can put you in a good position when it comes to attracting tenants.


The cons

1. The relative lack of would-be buyers means that a seller is unlikely to receive multiple offers on their property and so less likely to be the fortunate beneficiary of a bidding war. Additionally, if buyers are aware of the lack of competition, they may be more likely to make cheeky offers. This can put a seller in something of a conundrum, especially if they are in a hurry to sell. However, there is no definite evidence that Christmas offers translate into lower sold property prices.

2. A combination of Christmas decorations, parties, and visits to and from family and friends can mean it is hard to keep a house viewing-ready. Even the most tasteful decorations may make a property appear cluttered and finding the time to clean and prep a home for a viewing can be a challenge.

3. Estate agents, solicitors and council staff are likely to have time off over the festive period. This can mean that even if an offer is received, the sale process will not progress very far until the Christmas period is well and truly over. Sales and purchases that are already underway prior to Christmas may also stall temporarily.

4. Adding a potential house sale or purchaser can be an additional stressor at what is often an already very stressful time of year.

5. Be aware that Christmas trees and other decorations in property particulars "date" a home's listing for sale very precisely. You can get around this by ensuring your estate agent takes the photographs before you put up the decorations.

The view from estate agents

As a rule estate agents tend to discourage vendors from removing their property from the market over the Christmas period. This makes sense from an agent's point of view as they may be worried about a seller jumping ship to a competitor or deciding not to re-market their property at all. However, they may also be able to point to a list of interested buyers who are ready and willing to make Christmas viewings.

So should you wait until after Christmas to market your property and/or look for a new home?

The Christmas and New Year period is a popular time of year for people to decide to make a change and move house. That means that estate agents often notice an upsurge in both would-be sellers and buyers in the new year. More potential buyers mean that sellers are more likely to receive an acceptable offer. However, whether or not you choose to wait depends on your particular situation and on how you feel about adding house hunting or selling into the Christmas mix.

Should you remove your property from the market over Christmas?

As above, the answer to this is subjective and depends very much on the personal circumstances on the seller and on their analysis of the pros and cons listed above. However, it is worth bearing in mind that taking a property off the market before Christmas and putting it back on in January means it will show as a new listing. Rightly or wrongly, many buyers are put off if a property has been on the market for a long time. Of course, a little research on the part of any interested buyer will turn up a property's previous listing history but a new listing may be enough to get a few new viewers through the door. And, once they're through the door, the length of time the home has (or hasn't) been on the market may cease to be as much of a consideration.

If you are keeping your house or flat on the market over Christmas, remember to keep decorations tasteful and in keeping with the property. Bear in mind, too, that excessive outdoor lights (and giant inflatable Santas or snowmen) can be a particular distraction when it comes to showing off your garden to its best effect. If you have them, you might also want to display photographs of your property - and, in particular, the garden - during spring, summer and autumn. Inside the house, keep the atmosphere and ambience appropriate to the weather and temperature outside. If it's cold, make sure the heating's on and if you have a fire or fuel-burning stove, light it.
You can sign up to our newsletter and join Nethouseprice's community of over 190,000 members who get regular property tips, relevant offers and news, click here http://nethouseprices.com/auth/user-register
Source: Nethouseprices 14/12/2018