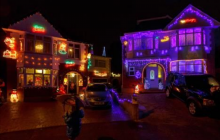 If you're someone who truly loves Christmas, you might be tempted to make your next house move somewhere that really knows how to celebrate the festive season. Here are a few suggestions to ponder, perhaps while enjoying some mulled wine and a mince pie.

Continental Christmas markets have been popular among the UK population for some time now. And, while some people still prefer to make an annual pilgrimage to Vienna, Nuremberg, Strasbourg, Munich or the like, others like to look closer to home. Fortunately, there are now several well-established continental-style markets in the UK - and many of them are sited in cities and towns known for their highly desirable residential property. Of course, high sold property prices often go hand-in-hand with "highly desirable residential property" but even in some of the UK's most desirable locations, there may be ways and means of affording a step onto - or up - the ladder. We take a closer look at Bath, Edinburgh and Winchester.

Bath

Famous for its Roman lineage, its grand Georgian terraces and for being - albeit briefly - home to Jane Austen, Bath has never been short of either visitors or would-be inhabitants. Its Christmas market runs for little more than a fortnight but makes the most of the picturesque setting in the quaint streets surrounding Bath Abbey. Said to be the south-west's preeminent seasonal shopping experience, Bath's Christmas market has a firm focus on locally-produced products. The combination of the historic setting and the goods that showcase some of what the local area has to offer makes it unsurprising that Bath's residential property market is currently doing rather better than the overall national picture. Many of the city's most recent incomers are emigres from London, attracted by house prices that are significantly lower than those in the capital. Indeed, figures from Hamptons International suggest that 42 percent of residential properties sold in Bath and north-east Somerset during the first six months of 2018 were purchased by Londoners, many of whom still commute to the capital for work. Of course, this influx of London salaries has had less attractive knock-on effects for locals hoping to buy in Bath and its surrounding areas; average house prices are now almost fourteen times higher than the average wage or salary for the region and anecdotal reports suggest that many locals are having to look further afield both to buy and to find affordable rents. Some onlookers have questioned whether high-spending Londoners are to blame as much as a proliferation of Airbnb rentals and student accommodation.

Edinburgh

The Scottish capital's six-week seasonal celebrations stretch far beyond a simple Christmas market. There are actually several markets, fairground rides, an ice rink, a grotto and even an elves' workshop. The culmination of the festivities is Edinburgh's Hogmanay, with its fireworks, ceilidh, concert and the opportunity (perhaps more enticing to some than others) to join in the annual Loony Dook and take an invigorating New Year's day dip in the Firth of Forth. Many of those who come to enjoy some or all of these events are Edinburgh residents. Others come from further afield and some, no doubt, find them an additional attraction to a city that already enjoys considerable prominence at home and abroad. Perhaps this is why Edinburgh's residential property market is said to have outperformed every other local authority district in the UK in 2017. It's too soon to say for sure how it performed in 2018 but initial indications are that low supply of property and high demand has resulted in further rises to prime property values. This translates into sold property prices that do not appear to be in any danger of slipping in the near future. While this may be good news for some homeowners and investors, it might be discouraging for those looking to make their first forays into Edinburgh's residential property market. For this group, looking beyond the favoured hotspots of New Town, Morningside, Grange and Merchiston could be a must. Fortunately, new developments, including some to the east of Princes Street, may offer more scope for purchases.

Winchester

The Christmas market hosted in England's ancient capital attracts more than 500,000 visitors annually - which is around five for every permanent resident of both the city and its outlying villages and market towns. Slotted into the Cathedral Close, around a seasonal-only ice rink, the Christmas market is relatively compact and can get very busy indeed, particularly at weekends. Visitors come not only from the local area but from much further afield, as evidenced by extra parking for multiple coaches on the outskirts of the city. Winchester's city centre is undoubtedly quaint and its history - ancient Kings, both real and legendary, poets and writers, not to mention the famous boys' college - has put the city firmly on the tourist map year-round. Like Bath, it's also something of a honeypot destination for Londoners with money to spend. And, unlike Bath, at under an hour on a fast service to Waterloo, Winchester is seen by many as a more viable proposition for a daily commute to the capital. Inevitably, this means that house prices, particularly in city centre areas walkable to the station, are steep. Terraced housing commonly attracts a price tag of in excess of half a million pounds. Semis go for even more and, although there are fewer of them, detached houses can easily command seven figures. Outlying areas, such as Badger Farm, attract lower price tags but commuters will have to invest in a bicycle, catch the bus or chance their arm at finding a parking space at the railway station.

Of course, there are plenty of other Christmas markets across the UK. Notable ones include the Leeds' Christkindelmarkt, which is one of the oldest and best-known German Christmas markets in the country, and which is hosted in the city's Millennium Square, Birmingham's Frankfurt Christmas market and Nottingham's Winter Wonderland. Belfast, Cardiff, Glasgow, Exeter and Manchester also have well-regarded markets - and London has several, including what is billed as Nordic-style festivities on the South Bank.
You can sign up to our newsletter and join Nethouseprice's community of over 190,000 members who get regular property tips, relevant offers and news, click here http://nethouseprices.com/auth/user-register
Source: Nethouseprices.com 18.12.18