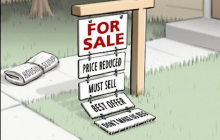 The provisional end of year figures make gloomy reading for sellers - and perhaps also for would-be buyers interested in as wide a selection as possible of potential new homes. As sold property prices not only stagnate but actually slump across many areas of the country, sellers are starting to question whether it is wise to shelve or at least postpone their sale plans.

House price data: the hard facts

Recent data from one of the largest high street lenders, Halifax, shows that in the twelve months to November 2018, UK house prices increased by a mere 0.3 percent. True, it is still an increase but, significantly, it is also 1.5 percent down in the twelve months to October. It also represents the lowest rate in six years. In addition, when average house price growth was measured over the three months between September and November 2018, the results showed that it fell 1.1 percent when compared to the figure from the preceding quarter. Currently, anyone looking to buy a house in the UK can expect to pay an average of £224,578. However, the key questions for those debating whether or not to sell are whether prices have further to fall and if they might stage any sort of recovery in the near future? In order to make an educated guess at the answers it is sensible to look at the factors that may be influencing current prices.

Insufficient supply of properties to the market

In a sense, this is a bit "chicken and egg". Fewer properties coming up for sale sometimes results in prospective sellers assuming there is no market. This makes them wary of putting their own property up for sale. This is less likely to happen if the few properties that do come up for sale sell quickly.

Problems saving for a deposit

With wage and salary growth at disappointing levels for many people, and the general cost of living rising, finding any money to set aside for a deposit can be tricky. And, with most lenders demanding at least a 5 percent deposit, lack of ability to save the requisite funds inevitably restricts the flow of potential buyers.

Brexit

The uncertainty sparked by the Brexit referendum and the ongoing inconclusive negotiations looks to have the potential to turn into a conflagration. With the Governor of the Bank of England warning that a no-deal Brexit may send house prices plunging by up to a third, it's no surprise that buyers are scared off. Meanwhile many sellers, too, are uncomfortable about entering the market in such uncertain economic times.

Alternatives to selling

If you're someone who really needs to sell, you may have to accept what you are offered for your property - although you should, of course, ensure that your home is in the best possible condition and that you've followed any relevant advice from your estate agent (if you have one) in order to maximise your sale price. However, before you grit your teeth and accept an offer you would rather decline, have you considered the alternatives?

1. Renting instead of selling

If a home owner's current property is too small, in the wrong location or too expensive, renting may offer a potential solution. This was the solution that many frustrated would-be sellers turned to in the aftermath of the 2008 property crash, when average residential house prices in the UK fell by 16 percent. A fall in value alone is not necessarily sufficient to convince someone to withhold their property from the market; after all, a loss incurred on the sale of one property may translate into a saving on an onward purchase. However, falling sold property prices tend to go hand-in-hand with diminished demand from buyers. Generally, the rental market holds up a little better, which is why renting can be a useful interim solution. That said, becoming a landlord - even if only for a short period of time - is not an undertaking to be entered into lightly.

Figures from earlier in the year suggested that the number of properties in the UK owned by accidental landlords grew by over 230,000. At the same time, the number held by buy-to-let landlords had reportedly fallen by 88,000 in the two months following the introduction of a higher rate of stamp duty on second homes. However, unlike the average buy-to-let landlord, accidental landlords can find themselves ill-prepared for the raft of regulations, financial restrictions and obligations, and health and safety duties that immediately apply to them. Engaging the services of a reputable and experienced managing agent may well be an expense that pays for itself several times over.

Successfully renting out a property may then give the new landlord some of the options that they originally hoped to realise from the property's sale. For example, they may find themselves financially able to rent more suitable alternative accommodation - whether that is a larger property, a cheaper one or something that is located in a different area.

2. Extending or otherwise altering the property

Provided the property or its surrounding plot is large enough, extending or otherwise altering the building can be a suitable alternative to selling if the original desire to move was prompted by a need for a larger property, perhaps because of an increase to family size. It may also work if alterations are needed, for example, to accommodate a wheelchair user. Of course, it may be contingent on obtaining the requisite planning permission and obviously also on the ability to access sufficient funds. Some homeowners may decide to investigate the potential for remortgaging their property - and, with residential remortgages up by a reported 23.2 percent (50,000 new remortgages were recorded in October this year alone) there's every evidence that this is a popular option. Fuelled by low interest rates and a still competitive mortgage market, these figures represent the highest rate of remortgaging in a decade. As more fixed-term mortgages come to an end in 2019 and 2020, property market observers expect the remortgaging trend to continue its upward growth.

Ultimately, whether or not to sell is a highly personal decision, which may be very dependent on specific (and perhaps unalterable) factors. While the figures make clear that the market is no longer in favour of sellers, it is not yet entirely hostile. Properties, especially those at mid and lower-market levels, are still selling - and, with the dream of home ownership showing no signs of dying, buyers are still looking.
You can sign up to our newsletter and join Nethouseprice's community of over 190,000 members who get regular property tips, relevant offers and news, click here http://nethouseprices.com/auth/user-register
Source: Nethouseprices.com 19.12.18