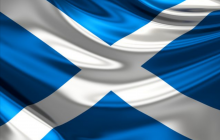 Overall, Scottish property sellers can look back on 2018 with a certain amount of equanimity. Unlike much of the rest of the United Kingdom, sold property prices showed an upward trend while the length of time it took to sell the average home actually fell.

We take a closer look at the ins and outs of the Scottish property market over the last twelve months and look ahead to 2019.

House price growth in Scotland

Predictions from PwC suggested a 4.8 per cent price rise for Scottish residential properties during 2018. At the time of writing, in the closing days of 2018, the final figures are not yet in but all indications are that Scottish price rises have outpaced those from almost everywhere else in the UK (with only those in the West Midlands showing parity). Although PwC suggests Scottish property price growth may slow a little during 2019 to an estimated 3.4 per cent, this figure is still anticipated to exceed average rises elsewhere in the UK. Additionally, by 2022, it is anticipated that an average Scottish residential property will cost 20 per cent more than in 2017. In financial terms, this would equate to a rise from £143,000 to £172,000.

Tax relief for first-time home purchasers

June 2018 saw the introduction of a new tax relief aimed at first-time home buyers. Although the threshold for the Land and Buildings Transaction Tax (LBTT) rose to £175,000 instead of £145,000, first-time buyers of properties of over £175,000 are also entitled to benefit from the relief. On properties worth over the £175,000 threshold, a first-time buyer is entitled to a discount of up to £600 on the LBTT. Note, however, that if a couple or a group of individuals are buying a property together, all of them must be first-time home buyers in order to benefit from the discount.

The LBTT has been unpopular in some quarters since its introduction on 1 April 2015. Although its replacement for Stamp Duty as a tax on the purchase of residential properties was welcomed across most of Scotland because it resulted in a reduction on the amount of tax paid under the previous regime, purchasers in higher value areas, such as Edinburgh and Lothians, found themselves paying more. This was as a result of the fact that homes worth in excess of £333,000 attracted a higher rate of LBTT than they did under Stamp Duty. Provided they are first-time buyers, purchasers of such high value homes now stand to benefit from the new tax relief.

It's too soon definitively to assess the effect of this change to the tax regime but figures from the Scottish Government suggest that 80 per cent of first-time buyers in Scotland will now pay no LBTT at all, and an estimated 12,000 people are set to benefit annually. Perhaps unsurprisingly, anecdotal reports from estate agents suggest something of an uptick in interest from individuals who previously might have ruled themselves out of attempting to buy a property.

Interest rate rises

The Bank of England raised interest rates in August 2018 from 0.5 per cent to 0.75 per cent. The rise was only the second in a decade and all indications are that any future rises are likely to be gradual and limited. Currently, there is little indication that this 0.25 per cent increase has affected the Scottish property market in any material way.

High demand from buyers

Unlike many other parts of the UK, selling agents in Scotland reported strong buyer demand throughout 2018. Edinburgh in particular, and east-central Scotland in general, performed particularly strongly. Strong and consistent demand from buyers - an increasing number of which appear to be investors from south of the border - ensured that would-be sellers remained motivated to put their properties up for sale. Meanwhile, the competition from so many buyers has resulted in strong sold property prices and a reduction in the time lag between a property going on the market and the sale completing.

Currently, Glasgow is rejoicing in the fastest property price growth of any major UK city and all the signs are that this is set to continue into 2019.

The "prime" market

Across Scotland, it is only the "prime" market that shows any signs of sluggishness. Expert consensus is that this is due largely to the unwelcome effects of the LBTT on this segment of the market: for example, a £750,000 property attracts £48,350 under the LBTT regime compared to £30,000 under the historical Stamp Duty regime. Consequently, potential sellers living in "prime" properties may be more inclined to stay put rather than sell up. The likelihood that they may also be more inclined to pay for building work and home improvements to their existing property could lie behind a recent rise in the average cost of home renovations and building work.

Looking ahead to 2019

"Brexit" is the word hovering over 2019 - and its uncertain shadow is affecting the property market just as it is affecting almost every other area of life across the UK. However, in Scotland, at least, the general consensus is that the desire and, crucially, the wherewithal to fund, home ownership remains strong in Scotland. Rising rents are a prime incentive for many to turn towards home ownership and with interest rates remaining manageably low and banks and building societies continuing to offer an excellent and varied range of mortgage products, the tools to turn a daydream into reality are within many people's grasp. While some of these potential movers, sellers and buyers may be nervous about the effects of Brexit, many have doubtless already reached an accommodation with the situation. Some experts have suggested that the market naturally prices in future economic events - Brexit included - and thus current selling prices already reflect Brexit. Whether this is true or not, retaining the confidence of sellers and buyers will go a long way towards ensuring that Scotland's property market continues to flourish in the next twelve months and beyond.
You can sign up to our newsletter and join Nethouseprice's community of over 190,000 members who get regular property tips, relevant offers and news, click here http://nethouseprices.com/auth/user-register
Source: Nethouseprices.com 02.01.19