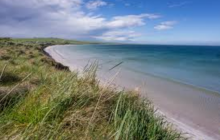 The start of a new year is the time when many of us reevaluate our lives. Relationships, jobs, homes and sometimes all three may all be up for analysis as January dawns. Some changes may be relatively mundane and not necessarily terribly long-lived: contacting a recruitment agency, joining a gym, starting a diet, for example. Others can be rather more radical. For example, when the daily grind, with its commute, its crowded housing and smoggy atmosphere becomes too much for some, there's always a remote Scottish island to relocate to......

Stronsay: an introduction

Almost a year ago, the press seized joyfully on reports that Stronsay, one of the smaller islands in the Orkneys, had begun a campaign to use its "rich cultural life and sense of freedom" to attract new residents and visitors alike to its pristine Atlantic surroundings. Located a 95 minute ferry trip from Kirkwall, which is itself a 70 minute plane journey from Edinburgh, Stronsay is undeniably remote. It's also home to around 350 human residents, around half of whom were not born in the Orkney Isles, and much larger populations of seals and seabirds. Although the island's main economic activity is beef and sheep farming, there is also a small fishing industry, focussing on lobsters and crabs, and growing interest in renewable energy developments.

The community group behind the campaign hope initially to double the number of Stronsay's annual visitors from its current figure of 600. Tourists come in search of the island's fabled sandy beaches, jewelled-coloured seas, sea cliffs and one of the world's most impressive natural sea arches, the Vat of Kirbister. Longer-term, the hope is that more visitors will equal more jobs on the island (to support the growing tourist industry) and that this increased economic activity will eventually translate to permanent incomers looking to make new lives for themselves on the island.

Despite its distance from the Scottish mainland, Stronsay is ideally set up for residential life. As well as boasting a crime-free environment, it has excellent health care and a small but well-resourced school, which provides all-through education from nursery age up until age 16. However, from age 13 onwards, island pupils have the option to attend Kirkwall Grammar School on Orkney Mainland, where there is a Hall of Residence for weekly boarding.

Searching for property on Stronsay

Any online search for property for sale on Stronsay may sometimes prove fruitless. This is not because there is never anything for sale but rather because property often sells privately. Consequently, visiting the island - usually several times - and chatting to the locals may prove the only way of buying a home there. Of course, this method will also help ensure that any decision to move to the island is a considered, well-judged one.

Buying property on Stronsay

Scottish buyers will be familiar with the process used to purchase property on Stronsay but those from elsewhere may not. Broadly-speaking, it is a ten-step process:

1. Engage a local solicitor

Perhaps unsurprisingly, Stronsay is not noted as a hub of legal services but there are several choices across the water in nearby Kirkwall. Your solicitor will steer the entire purchase process for you, which is why you should engage them before you make an offer on a property.

2. Sell your existing property

This may seem counterintuitive advice to anyone coming from England or Wales, where simultaneous sales and purchases are the norm. They're not unheard of in Scotland either but coordinating a sale in, for example, England and a purchase in Scotland can be fiendishly tricky. In particular, if you're in a chain, you must ensure you can put down a deposit and have any necessary mortgage agreement in place prior to making an offer. Generally, however, Scottish sellers are wary of chains.

3. Get to know the local market

In most places across Scotland, this means ensuring that the local estate agents know your face and your property requirements. It also means familiarising yourself with local sold property prices to give you a fair indication of what you can expect to pay. With Stronsay, as already indicated, matters may be a little different. Yes, some Stronsay properties are advertised with local agents in Kirkwall and perhaps even further afield. Many, however, may be private sales, which means that getting to know the locals could be the best route to finding your perfect property.

4. Book a viewing

If the property is listed with an agent, that agent will arrange the viewing for you. However, you should expect the vendor to conduct the viewing themselves.

5. Read the Home Report

Even private sales must supply a Home Report. This includes a survey, a price valuation (useful for pitching the property's asking price against recently achieved local sold property prices), a property questionnaire and an energy report. You should also consider whether or not to obtain a more detailed survey.

6. Note of Interest

If you like the property and it is on sale with a local agent, you should file a 'note of interest' with them. This ensures you will be kept up-to-date with any other offers made, price changes and the like.

7. Closing date

An agent for a property that has attracted multiple 'notes of interest' may proceed to a 'closing date'. You must file your 'best and final offer' on the property before noon on the stated date.

8. A successful offer

A successful offer results in a 'qualified acceptance' from the vendor's solicitor. This is the trigger for exchange of 'missives', which is an exchange of documents whereby the final terms of sale are agreed.

9. Settlement

The final contract agrees a settlement date, and this is when you must pay the balance of the purchase price. In return, you receive the keys to your new property.

10. Tax

The Land and Buildings Transaction Tax (LBTT) replaced Stamp Duty in 2015. There are certain exemptions for lower-priced properties and also for first-time buyers (up to a cap) but, overall, you should expect to pay more than you would under the English Stamp Duty system. However, your legal advisor will have ensured that you have kept back the necessary funds and that LBTT is not an unexpected sting in the tale.
You can sign up to our newsletter and join Nethouseprice's community of over 190,000 members who get regular property tips, relevant offers and news, click here http://nethouseprices.com/auth/user-register
Source: Nethouseprices.com 02.01.19