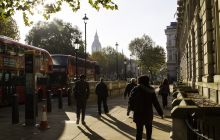 It might seem an unusual idea, but increasing numbers of people are choosing to join the ranks of weekly commuters. In other words, they work away from home for the bulk of the week, but live at home for the rest. Many of those choosing this option have families. Why do they do it? How is it affordable? Is it a route worth considering?

Priced out
Rising sold property prices mean that more and more of us are finding ourselves priced out of the area where we work. This may even be the same area that we grew up in and where we retain strong family and social networks. Understandably, many in this situation are reluctant to up sticks entirely and move elsewhere in the country. Others may find that their employment opportunities centre on a particular area - often a major city, such as London - while housing in that same place is beyond their financial reach. Another group may be able to afford to live near where they work but, for any of a number of reasons that often centre on educational opportunities, fear of crime and gangs, and concerns over air quality, they are not keen to raise children there. Eventually, some of these people decide to explore weekly commuting as a viable alternative to their existing arrangements.

Short term contracts
The rise of short term contracts among other atypical ways of working has resulted in more people who find themselves needing or wanting to work in an area that may be beyond comfortable commuting distance from their own home. Relocation may be impractical or unaffordable, or it may simply seem unwise due to the fixed term nature of the new job. For these people, weekly commuting can be an eminently sensible solution.

Weekly commuters: what do they lose out on?
For those weekly commuters with families at home, it is often the day-to-day minutiae of family life - school runs, homework, parents' evenings, celebration assemblies and bedtime stories -that they find themselves missing out on. And, of course, their partners must pick up the strain. Another significant downside that almost all weekly commuters, with or without a family, must acknowledge is the consequent cost. Yes, there may be a saving insomuch as they are only making a single round trip to and from work, but set against this is the expense of financing two properties, even if the weekly accommodation is only a room in a shared house.

Weekly commuters: what do they gain?
For most, it is time that is their biggest saving. Making the round trip to and from work only once frees up significant time. Some will use this time to work, which perhaps means they can spend a longer "weekend" at home. Others may frequent the gym, socialise or just enjoy downtime. Additionally, many find that making a single return commute is significantly less stressful, particularly if their travel arrangements are prone to regular disruption by strikes or inclement weather.

Weekly commuting: how to organise accommodation
Most weekly commuters have a primary home, which may be some considerable distance from where they work. Such a distinct separation of home and work lives appeals to many, as of course does the potential ability to buy a home that local sold property prices would make unaffordable in the work location. However, any new purchase must be calculated carefully to ensure there are sufficient funds to enable the commuter to house themselves near work. Finding that accommodation can be tricky. For a lucky, well-remunerated few, buying a pied-à-terre near work is a realistic option. Developers in large cities such as London, Manchester and Birmingham often market properties directly at such people and, in many areas, there can be considerable choice. However, as always, if you buy a second property, you must be mindful of the financial downsides. In particular, since 1 April 2016, anyone purchasing any property in addition to their main home will find that the transaction is subject to an additional 3 per cent in terms of Stamp Duty for the first £125,000, 5 per cent (instead of 2 per cent) on the portion between £125,001 and £250,000, and 8 per cent on the remainder above £250,001. Second home purchasers will also not necessarily be eligible for any discount on their council tax.

Those who either do not want to buy a second property or cannot afford to do so must explore other options. Some may be lucky enough to have friends or family willing to put them up, perhaps for a nominal rent, occasional babysitting or the like. However, if weekly commuting is likely to be a permanent arrangement, it may be sensible to be wary of exhausting the generosity of friends and family. Agencies specialising in matching so-called "5-2 workers" with week-time accommodation are proliferating in many cities and can be an excellent first port of call. Currently, anyone searching for three or four nights' regular weekly accommodation in London, for example, can expect to pay anywhere between £400 and £1000 per month for a room in a shared home (which often belongs to a homeowner looking to make money from rental income without committing to a full-time lodger). These sums represent a significant saving on the typical cost of a full-time rental in the capital.

Weekly commuters: how far do they commute and where do they live?
Unsurprisingly, there are no neat answers to these questions. Much depends on the financial resources of an individual, the length of (weekly) commute they are prepared to tolerate and what they want from their home environment. When it comes to London-based workers, it is clear that the gap that has grown between property prices in the capital and those elsewhere in the UK has resulted in many people looking further and further afield for a home. Although median earnings in London currently stand at £671 per week - the highest in the UK - housing costs far outstrip this figure. According to the Hometrack UK Cities House Price Index, London has the dubious honour of being the holder of the highest price-to-earnings ratio anywhere in the UK at any time. Moreover, the Home Counties are no longer the answer they once were. Prices here, too, have risen sharply and, the current price stagnations notwithstanding, there is little suggestion of any significant downward adjustment. As a result, would-be commuters look to considerably cheaper areas of the country that also benefit from reasonable transport links to their place of work. Yorkshire, parts of the south coast and even Scotland are not uncommon commutes.
You can sign up to our newsletter and join Nethouseprice's community of over 190,000 members who get regular property tips, relevant offers and news, click here http://nethouseprices.com/auth/user-register
Source: Nethouseprices 03.01.19