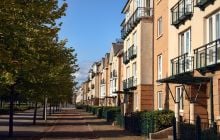 Wales is not necessarily at the top of the property investor's list - but could this be a mistake? What does Wales have to offer the serious investor? We take a closer look at the advantages and disadvantages in investing in Welsh property in four particular hotspots: Cardiff, Pontypridd, Newport and Wrexham.

Lower prices and better returns
As property investors continue to turn away from London, other parts of the United Kingdom have benefitted. Areas with lower average sold property prices have naturally attracted attention. Chief among these is Wales. With residential selling prices that are considerably below the national average, it would be understandable if investors were cautious, looking for the catch. Needless to say, lower than average purchase prices do not automatically translate into lower income levels for buyers of rental properties. Indeed, a Countrywide survey from 2017 found that residential landlords in Wales enjoyed an average rental income of £700 per month. This might be unimpressive for a property with a purchase price that was in the region of £200,000 (and, indeed, without a very hefty deposit, a lender probably wouldn't entertain granting a mortgage on such a property). However, the picture begins to look rather different if the property cost £80,000 to buy and rented out for £475 per month or cost £95,000 and rented for £525 per month. The first would provide a yield of around 7 per cent and the second a yield of 6.6 per cent.

Cardiff
The Welsh capital has plenty to tempt investors. Not only is there a large student population, plenty of professionals choose to make the city their home too. More and more up-and-coming companies are also basing themselves there, attracted by the regenerated waterfront, the abolition of the Severn Bridge tolls and a growing potential workforce. As a consequence, local estate agents report that demand for rental properties in Cardiff itself and within easy commuting distance is on the increase.

Pontypridd
The presence of several campuses of the University of South Wales makes Pontypridd something of a student mecca. Demand for furnished, shared accommodation is accordingly high. However, would-be investors in this area should note that they are likely to need to accord with the legislation surrounding Houses of Multiple Occupation (HMOs). As any seasoned landlord knows, this can add significantly to the cost - and hassle - of owning and managing a property. Despite this, buoyant demand from tenants and strong rental yields can makes investing in HMOs financially rewarding in this area. Vastly improved transport links to Cardiff means that there is also strong demand from commuters for properties in Pontypridd. Some of these commuters are young professionals, but others have families and are seeking family-sized homes. Seasoned investors and those with good local knowledge recommend that anyone targeting the commuter market should consider buying north of the M4. Not only do financial returns tend to be strongest in this area, but this is also the spot for the best transport links into Cardiff. Across the whole of Pontypridd, anyone prepared to renovate a property - and with the finances to do so - may hope to make additional profits. Currently, there is still a good supply of unrenovated terraced housing, which is ideal either for the student market or for selling on for a more immediate profit. In previous years, buyers looking for a bargain have focused on the first three months of the year, when viewings and offers, and consequently sold property prices, tend to be lowest. In 2019, with Brexit just around the corner, this trend is likely to be amplified.

Newport
At around 20 minutes by train from Cardiff, Newport is another Welsh town that's attracting commuters. The number of new-build properties in the area is also on the rise - and last year, they were selling quickly: by May, the average time between a property going on the market and securing a buyer had fallen to 52 days from 76. This obviously means that potential property investors may face more competition in Newport than in some neighbouring areas, but local property experts consider it right for property investment. Particular areas to consider include Bassaleg, Ponthir and Rhiwderin.

Wrexham
Local estate agents report that the last decade has seen growing interest from investors. Urban and brownfield properties are the most popular, but those on the edge of town or the outlying villages are also now attracting attention. The majority of investment purchases are currently made by local families, seeking medium or longer-term returns, but there is some evidence that out-of-town investors are also now buying. Economically, the town benefits from a growing professional services sector, several bio-pharmaceutical companies, proximity to both aerospace and automotive companies, and several large food manufacturing sites. From a demographic perspective, this means that the town attracts a variety of people - and many of them are looking to rent property, at least in the short-term.

Council tax rises
As a popular holiday destination with some of the UK's most beautiful scenery, Wales has long attracted second home buyers, some of whom also choose to rent out their property to holiday-makers. However, before taking the plunge, the would-be second home purchaser in Wales should also bear in mind swingeing council tax rises that have been voted in across many areas of Wales. Some of the most scenic areas, such as Anglesey and Pembrokeshire, were among the first to be hit - and second home owners must now shoulder additional council tax charges of anywhere between 25 and 100 per cent. The reasoning behind the move is understandable: across Wales, an estimated 23,000 homes are either standing empty or are used as holiday homes. Over the past few decades, concern has risen over the numbers of local people unable to find affordable accommodation. Although there is little sign that many second home owners have sold up in response to the rises, data from local estate agents does suggest that fewer buyers are choosing to purchase a second home. Note that these rises do not affect anyone who rents out their property for 70 days or more per year. They must pay business rates instead of council tax, and this will often prove cheaper.
You can sign up to our newsletter and join Nethouseprice's community of over 190,000 members who get regular property tips, relevant offers and news, click here http://nethouseprices.com/auth/user-register
Source: Nethouseprices 11.01.19