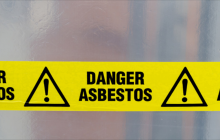 Selling a property that contains asbestos can be complicated – but it doesn't have to be. Asbestos has a reputation for being an extremely dangerous substance, and while this is true, it does not have to be a major factor in the sale of a home. Whether you have a property that contains asbestos that you are thinking of putting on the market, or you are concerned that the home that you are selling may have asbestos, it can be important to know the facts.
Understand the details is all-important when it comes to asbestos. Doing so can actually save you a lot of money and stress during your property sale.
Could my property have asbestos?
The simple fact is that any property that was built before 1999 could contain asbestos. It wasn't until 1999 that asbestos was completely banned from use in the UK, and up until the 1980s it had been an extremely popular and widely used building material with a variety of uses in construction. This means that there are many homes that contain asbestos without their occupants even realising.
So, you should not discount the possibility of there being asbestos on your property. The material can be found anywhere from insulation panels and sprayed coatings to part of the mixture of cement and roof cladding.
Do sellers have to disclose the presence of asbestos?
Ever since the repeal of the Property Misdescriptions Act 2013, property sellers have been required to disclose the presence of any asbestos that they are aware of. Failing can not only invalidate the sale, but it also an offense and owners can be prosecuted.
There would often be no point in trying to hide the presence of asbestos, as many buyers work with surveyors in order to determine the value of a home. An in-depth survey would uncover any asbestos, so it is wise to be upfront about the presence of the material, so that all the parties involved understand the kind of property that the are dealing with.
What if a survey uncovers surveys I didn't know about?
Firstly, it should be noted that it is not an offense to not be aware of asbestos in your property. And it is relatively common for thorough homebuyer surveys to uncover the presence of asbestos that the seller was not even aware of.
Of course, once the presence of asbestos has been ascertained this will affect the sale. For this reason, many sellers like to have their own survey of their property conducted beforehand. This allows them to be aware of the current value of their home as well as any potential issues, such as the presence of asbestos.
Will the presence of asbestos reduce the value of home?
In the majority of cases, having asbestos in a property reduces its value. Asbestos is well known as a very dangerous material, and it is still the cause of thousands of deaths every year in the UK. This means that it is something that you need to take seriously. If you are concerned about asbestos is your home it is always best to work with experts to establish whether you need to have the material removed.
Could asbestos stop the sale of a property?
It is still perfectly possible and legal to sell a home that contains asbestos. If the asbestos is in good condition then the law only requires the seller to disclose the presence of the material. Of course, if the material is currently in poor condition and could potentially endanger anyone living in the property it may be necessary to have qualified professionals examine the home to establish the remedial works that would need to be undertaken in order for the home to be fit for habitation.
Of course, some homebuyers will panic if they find out that a property has asbestos. This is another reason why it is important to have all the facts beforehand.
Should I have asbestos removed?
It may seem that the best option is to have the asbestos removed. However, this can be a costly process and may not be necessary. Speak to an asbestos specialist as to whether removal is right option – in some cases when asbestos is in good condition it is better to leave it alone and simply manage the condition.
Source: Artemis 15/01/2019