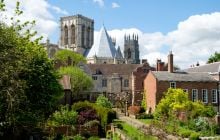 Towards the end of last year, the Sunday Times revealed its annual list of the best places in the country to live. The list includes suggestions from across the UK. We take a closer look at the eleven towns and cities featured.

1. York
At the top of the list sits one of England's oldest and most historic cities. It owes its placing less to its undeniably impressive historical lineage and more to its modern incarnation as a booming metropolis. Employment opportunities in the city have burgeoned in recent years, with the arrival of several tech firms. As a consequence of more people with more money to spend, the restaurant and retail sectors have also blossomed. Starter homes currently cost an average of £180,290, although the city's most desirable period properties are considerably pricier.

2. Bermondsey, Southwark
With the average starter home costing buyers £695,410, Bermondsey isn't the location for every would-be purchaser, but it's undeniably desirable. As well as its proximity to the City of London and just about all the capital's main cultural and entertainment options, Bermondsey is home to several attractions of its own, including the White Cube Gallery and the Fashion and Textile Museum.

3. Shipston-on-Stour, Warwickshire
Close to both the Cotswolds and Stratford-upon-Avon, Shipston-on-Stour might have the most obvious appeal to tourists looking for a convenient base. However, this one-time medieval wool town has plenty of its own traditions and attractions. Most obviously, there's the classic Cotswold architecture. However, inhabitants praise its community spirit: as well as the Shipston Proms, there's a food festival, an angling festival, a wool fair that has its origins in medieval times, and a whole host of clubs and societies. And, with the average starter home costing £227,760, Shipston-on-Stour represents one of the more affordable corners of this highly desirable part of England.

4. Tynemouth, Tyne and Wear
If pushed, the average UK inhabitant might guess that Tynemouth, in the north-east, is a seaside town. This is true - but it's also a seaside town with a long and interesting history. The town's known origins trace back to the Iron Age. Today, there's a Roman fort and museum, and a ruined priory and castle to explore. Lovers of the outdoors can revel in some outstanding coastal views. King Edward's Bay and the ever-popular Long Sands are popular beaches, ideal for families - and, in 2016, Rough Guides voted it the UK's best coastal destination. History and beaches aside, the town has several well-regarded schools, including a couple that are Ofsted "outstanding". There's also a good variety of places to eat, with a strong emphasis on seafood. Finally, the town's accessibility to central Newcastle - around 20 minutes by car or Metro - makes it a winner for commuters. It's also within easy reach of Durham, Sunderland and the A1 for those travelling further afield. The average starter home costs £144,890.

5. Altrincham, Cheshire
Much of Cheshire has had to get used to faint praise as the home of many of the nation's footballers and their wives. However, the county has always been popular with others too: there's the horsey set, of course, but also those who work in Liverpool, Manchester or Chester but prefer to live somewhere greener and more rural. Until relatively recently, Altrincham probably wasn't on their radar. It's a market town that used to be known more for its vacant shops than its shopping opportunities. Despite this, in under ten years, the town has reinvented itself and it's become something of a shopping mecca, with its local food market proving especially popular. Shopping aside, its schools are generally excellent and it's on a direct tram link into Manchester. Starter homes can be had for an average of £151,020, which, by Cheshire standards, is not an eye-watering price.

6. Ballyhackamore, Belfast
Belfast has been "on the up" for some years now. As well as those residents who've never left, the city is attracting increasing numbers who moved away to sample life elsewhere but are now wanting to return home. Many of these returnees have young families and Ballyhackamore, to the east of the centre of Belfast, is proving particularly popular with this younger demographic. House prices are reasonable, with an average starter property going for £95,110.

7. Melrose, Scottish Borders
Transport improvements, in the form of a new train line, mean that Melrose's inhabitants can now reach Edinburgh in just under an hour. The attractive town, with its good shops and restaurants, is in a picturesque area that also benefits from hills and a ruined abbey. As such, it has rarely been short of would-be home buyers, but the faster train links have resulted in a surge of interest from those working in the Scottish capital. Average sold property prices for starter homes in Melrose stand at £86,990, which is comfortably below Edinburgh.

8. Berkhamsted, Hertfordshire
Hertfordshire as a whole is immensely popular with London workers looking for more space, cleaner air and affordable property. With the average starter home costing £273,760, Berkhamsted isn't the cheapest place in the country to buy property, but its shopping facilities, good restaurant scene and picturesque setting continue to ensure that local estate agents are kept busy.

9. Frome, Somerset
Popular with people working in Bath and Bristol, as well as those seeking a more rural lifestyle, Frome is enjoying something of a resurgence in popularity. With an average starter home costing a tempting £127,480, young families and millennials looking for affordable properties are among the town's biggest fans. Some hardy commuters are even prepared to make the round-trip to London.

10. Chelmsford, Essex
Ignore the old, tired jokes about white stilettos, perm-tans and Birds of a Feather. This Essex town is a hit with London-bound commuters both for its accessibility to the capital (35 minutes on a fast train into Liverpool Street) and its excellent schools. And, with the average starter home costing £192,140, sold property prices are considerably more palatable than those in most of London.

11. Mumbles, Swansea
With the average starter home costing £171,710, property prices in Mumbles are below the national average. However, the location of the town is definitely not below average. Enjoying a westerly position on Swansea Bay, Mumbles has benefitted from recent financial investments and further redevelopment of the foreshore, headland and pier is on the horizon.
Source: Nethouseprices 18.01.19