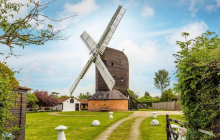 Every now and then, a property comes along that makes even seasoned estate agents sit up and take notice. Here are eight of the quirkiest places currently on the market. Their unique nature means that the usual tactic of referring to local sold property prices to assess their value may be less helpful than normal - however, all of them are bound to end up being treasured by the right purchaser.

A converted watermill
Darley Mill in the village of Knowle, near Solihull, traces its history back to 1618. This listed property retains its original mill gearing and a waterfront terrace provides the perfect spot from which to relax and enjoy the house and its grounds. Those grounds are expansive, extending to around seven acres. And, as well as the house itself, there are a number of outbuildings, which include an original coach house. The star of the show is, of course, the main house. It has benefited from a sympathetic but thorough renovation that ensures it meets modern building regulation standards while also retaining plenty of period charm. Knowle might be a village, but it's a bustling one, with both a primary and a secondary school, a rugby club, a golf club and a good variety of restaurants and shops. It's also well-placed for easy access to Birmingham, Coventry and London via both road and rail - and, of course, Birmingham International Airport is within easy reach. Darley Mill is on sale for £2,500,000 with Savills.

A lighthouse
This Grade II* listed lighthouse in Sutton Bridge is situated on the edge of Lincolnshire, close to the Norfolk border. It was once the home of the famous artist and conservationist, Sir Peter Scott, and, as one might expect from anywhere he chose to live, the area is superb for bird-watching. The lighthouse is built at the mouth of the River Nene estuary and enjoys expansive views out across the Wash. The 1.7 acres of land that come with the property includes wildfowl wetland ponds, which attract many resident and migratory bird species, including pink-footed geese, shelduck, oystercatcher and black-tailed godwit. The area is also a mecca for raptors, with merlin, peregrine falcon and short-eared owl just some of the exciting species that make a living there. The four bedroom property, which includes a lantern room, is on sale with Fine and Country for a guide price of £600,000.

A private island in Orkney
A 40 acre island in Orkney is looking for a new owner willing to pay £300,000 for the privilege. There's space, fresh air and sea winds aplenty, but the island's accommodation consists of only a one bedroom cottage. However, there are also various farm buildings and a wind turbine supplying free electricity. Moreover, the island is not totally isolated - at low tide, a causeway connects it to the Orkney mainland. The island is for sale through Savills in Aberdeen.

Henry VIII's hunting lodge
It's not often that buildings with a verifiable connection to one of England's most famous kings come onto the market - but Matham Manor's pedigree is undeniable. Although most of this Grade 2 listed property in Surrey's East Molesey was built in the eighteenth century, its earliest parts date to the fourteenth century. The property remained in royal ownership until the reign of Charles I, when it was sold to a wealthy merchant. Centuries later, renovations revealed tunnels leading from a priest hole towards Hampton Court Palace. These tunnels are perhaps the most tangible link between the property and its past, but there's also an impressive Jacobean door and a beautiful Queen Anne-era staircase. A rear extension assures the new owner of a truly palatial lifestyle. The six-bedroom property is on sale with Knight Frank for a cool £3,250,000.

A Cambridgeshire windmill
A beautifully-renovated three-bedroom Cambridgeshire property that's on the market for £675,000 with Savills began its life as a windmill. Indeed, to the casual passer-by, it still very much looks the part. Its sails were replaced less than two years ago. Situated in rural Swaffham Prior, the mill offers mostly ground-floor living accommodation, although there are panoramic views across farmland from the upper floor. There is potential for further development of the property but, as ever, this is subject to planning permission - and, unsurprisingly, the mill is Grade 2 listed. Local facilities include a primary school and pub, but the village is only eight miles from Cambridge.

A castle in Durham
Standing in 17.5 acres of parkland, the Castle in Durham's Castle Eden is a nine-bedroom Grade 2 listed property that is thought to be the work of Sir John Soane. Despite its name (and appearance), strictly speaking it is a Georgian country house that dates to around 1700. However, it is built on a site that's rich in medieval history. It's for sale through Urban Base for offers in the region of £2,500,000.

An old school near Milton Keynes
Anyone who yearns after their vanished schooldays might be tempted by this four bedroom schoolhouse conversion near Milton Keynes. Constructed from a very attractive mellow yellow stone, with a fish-scaled red clay tiled roof, this Grade 2 listed property has a slick and modern interior that nonetheless makes the most of the property's features. These include cast iron mullioned windows and an enormous stone fireplace. The property also benefits from a separate annexe, that's ideal for intergenerational living, an au-pair or even a spot of AirBnB. Situated in the picturesque and historic village of Aspley Guise, where sold property prices are remaining buoyant, the house is also within easy reach of nearby shops, restaurants and other facilities in the town of Woburn Sands. It's also conveniently located for easy access to the London mainline and the M1. Originally built in 1847, the property was last used as a school in 1940. It's for sale through Savills and has a guide price of £2,000,000.

A houseboat in Shoreham-By-Sea
If a life afloat appeals, a houseboat might be just the purchase. This West Sussex one is for sale for £350,000 through Fox and Sons. "Dunnolly" is a Thames Lighter that dates to the 1940s. She comes with freehold mooring and, with three bedrooms, there's enough room for the family. She also benefits from mains services: water, electricity and broadband. Heating is courtesy of coal and wood-burning stoves and a back boiler.
Source: Nethouseprices.com 21.01.19