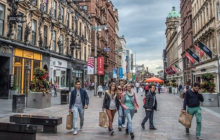 It can be difficult to know what to look for when choosing an estate agent. This is especially true if you are a first time seller or if it is a long time since you have had experience of buying or selling. Many people choose an estate agent based on personal recommendation or as a result of the sales boards they see around them in their local area. However, is this always the best way? What should you be looking for to ensure a smooth, efficient and - hopefully - speedy sale? And is there anything particular to be aware of if you are selling a property in Scotland? We take a closer look at these questions.

Traditional versus online agencies
The rise of the internet has inevitably led to online estate agencies. These are growing in popularity as "big names", such as PurpleBricks continue their spread across the United Kingdom. However, Scotland also has its own Scotland-specific online agencies. These include Scottish House Move, which is moving to position itself as the national market leader. Although the company was only established in 2011, the directors behind it have a background in traditional High Street estate agency. Their company's USP is its in-depth knowledge of the Scottish market and of the legal requirements for selling in the country.

Essentially, online agencies tempt clients by offering a fixed fee service that significantly undercuts those charged by traditional High Street firms. Critics decry online agencies as lacking the human touch (as sellers are usually required to conduct their own viewings) and as potentially restricting the pool of buyers due to their lack of a traditional shopfront. On the other hand, most buyers now research properties online, which rather negates the need for shopfront advertising. Additionally, many online agencies have large databases of potential buyers and are as willing to assist sellers negotiate the price for their property as any High Street agent. They also tend to offer telephone and email support, and advertising across a wide range of well-used property websites.

The bottom line is that both traditional and online agencies are capable of helping you sell your property. Which type of agency you choose very much depends on your personal preferences. Of course, finances might be the deciding factor. However, if you want to go into an office and talk face-to-face to someone about your home, if you don't want to conduct your own viewings, and you do want your property particulars displayed in an estate agent's shop front, a traditional High Street firm is probably for you. Conversely, if you're happy with email or telephone communications, don't mind conducting your own viewings, and think that shop front advertising adds little to the whole process, you may want to consider using an online agency.

Shortlisting agents
Once you've decided whether you are going to use a traditional High Street firm or an online agency, it's time to shortlist the possible contenders. Don't forget that some agents will be working within firms of solicitors. This is common in Scotland, and many sellers and buyers prefer it. If it's important to you, make sure you only shortlist agents that operate in this way.

If you're going for a traditional High Street firm, your potential candidates may largely be dictated by those agencies that have a local presence. You probably already know who they are, whether from seeing "For Sale" signs, from searching sold property prices and listings online, or from talking to friends and neighbours. However, take a closer look at them. You might want to begin by looking at their websites. Are they well-laid out and easy to use? Do they display their fee structures online or are you expected to call up and ask? Does there appear to be room to negotiate on fee structure? The next step is to take a walk past their offices. Do they look smart? What about the properties displayed in their windows? Does it look as if the agency has the right experience to sell your property? To take an extreme example, if yours is a Glasgow tenement flat, choosing an agency that specialises in shooting estates may not be the best move. Not only will the agency not necessarily have the requisite experience to value your property, it is less likely to have many potential buyers already on its books. Finally, go inside the estate agents. Are you made to feel welcome? Do you get the sense that this agency actually wants your business?

Having your property valued
Received wisdom is to ask at least three agents to value your property. Mostly, this is so that you can gauge its true value more accurately. Thanks to listings of recent sold property prices, you may already have a fair idea of its worth but the estate agents' valuations are crucial. Even so, don't take them at face value. Ask them why they've arrived at the figure they have and whether there is anything you could (or should) do to increase it. Also ask them how they would market it, and to whom. Do they already have potential buyers in mind? If you're up against a tight timescale, perhaps as a result of a job move or a pregnancy, make sure the agent knows this.

Fees
Estate agents charge a fee to sell your property. Online agencies are more likely to offer you a fixed rate. Traditional agencies are more likely to charge a percentage of the selling price. They are also a little more likely to offer scope for fee negotiation. You may also be charged extra for property photography or advertising. Make sure you know exactly what a particular sum will get you, and don't assume cheaper is always better.

As a general rule, it is wise to appoint a sole agent - at least at the outset. It's usually cheaper and the agent is more likely to work harder at trying to sell your property. However, sole agency agreements run for a fixed period of time. After that, you will be free to appoint additional agents.

Work with your agent
Once you've appointed an agent, whether online or traditional High Street, don't assume that that's your part in the matter finished. You and your agent need to work as a team to sell your property as quickly - and for as good a price - as possible. Keep in regular contact with the agent and, if you're not conducting the viewings, consider asking for relevant feedback from viewers.
You can sign up to our newsletter and join Nethouseprice's community of over 190,000 members who get regular property tips, relevant offers and news, click here http://nethouseprices.com/auth/user-register
Source: Nethouseprices 21.01.19