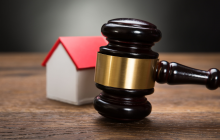 When it comes to selling property, most of us immediately think of using an estate agent to find the right buyer. However, for a number of reasons, this may not always be the best option. Sometimes, an auction house may provide a better alternative, realising a higher selling price, a speedier sale or, perhaps, the difference between a sale and no sale.

Why consider putting your property into auction?

There are several very solid reasons that suggest a property may be a good fit for an auction catalogue.

1. You need to sell quickly. This may be because financial reasons mean you need to realise your equity in the property or perhaps because an imminent change in your working life or personal circumstances means you need to move out of the area.

2. You want certainty that a buyer will not pull out at the last moment. Perhaps you have already been "burned" by a buyer (or a series of buyers) who pulled out of the transaction at a late stage. You may have lost out on an onward purchase as a result - and this may have cost you a considerable sum of money,

3. You have an unusual or very dilapidated property that might struggle (or has already struggled) to attract serious buyers. This can sometimes happen if a property is unusual for the area and consequently is less likely to attract the attention of serious purchasers. Conversely, people on the lookout for unusual or interesting properties often pay close attention to auctions. Run-down properties often struggle to attract buyers, but this is even more likely during an economic downturn, when more people are either not buying at all or are choosing "turnkey" properties. However, auctions are an ideal hunting ground for those looking for a project, who are unfazed by the prospect of having to spend money in order to make money.

4. You would welcome the chance for buyers to go head-to-head and drive up the selling price of your property. This can be risky, but anyone who's spent any time in auction houses knows that the atmosphere generated during the bidding process can drive up the sale price to a figure that can be far in excess of the guide price.

5. You are willing to set a realistic price for your property. Sellers marketing with an estate agent often veer towards setting a price that roughly reflects what they hope to achieve for the property. Unfortunately, this can have the effect either of deterring buyers or of appearing to invite "chancers", who submit offers far below the asking price. Sellers experienced with the auction process are often more relaxed about setting a lower price. They know this will often attract more interest in the property, which, in turn, will translate into more potential bidders in the auction room - and, hopefully, a selling price that they are happy with.

Choosing an auction house

Unless you've attended a property auction before, you may not even know which auction houses operate in your local area. A Google search should resolve this issue for you. Your next step is then to investigate the services of those various auction houses. You may be tempted by more established operations that perhaps have a name you recognise and - you hope - may be more likely to have the skills and knowledge to sell your property. However, do not discount smaller, less well-known or newer auction houses. They may offer a more personalised service, better rates or simply attract a wider pool of would-be buyers. Go along to a few auctions before you commit to a particular auction house and also make sure you examine their promotional literature for other properties. Ask yourself if you can imagine them selling your property.

The cost of selling at auction

Everyone knows that estate agents take a percentage of sold property prices. However, so too, of course, does an auction house. Precise rates vary, but 2.5 per cent is fairly standard. In addition, you can expect to be charged for the advertising costs of marketing your property. Finally, don't forget that you'll need a solicitor to assist with the conveyancing.

Guide prices and reserve prices

The guide price is the price that is displayed on the auction literature. It is an indication of the property's value, although it will not necessarily correlate closely to what it eventually sells for. The auctioneer will assist you with reaching a guide price. The usual factors, such as local sold property prices and the property's state of repair, will influence this. However, so too will the fact that the property is for sale at auction rather than via an estate agent. Guide prices are often set a little lower than a property's true value in order to tempt buyers into bidding. Conversely, the reserve price is the minimum figure that you are willing to accept for the property. It is kept secret from the bidders. They will not know when the bidding has passed the guide price. In setting the reserve price, you must remember that if a bid matches or exceeds it, you will have to sell the property. Equally, the auctioneer will withdraw your property from sale if nobody's bid reaches your reserve.

Pre-auction marketing
This is important if you want to attract serious bidders. Although the auctioneers should be doing their bit, make sure you do yours too. Use word of mouth and social media to advertise the property, make it available for pre-auction viewings, and make sure it looks it best.

Completing the sale after the auction

It is usual for the sale to complete quickly following a successful bid at auction. 28 days is standard, which is one reason why you need a legal advisor ready and waiting to move into action as soon as the hammer falls.

Online auctions

These are increasing in popularity, but allow for a longer completion period (usually 56 days).
You can sign up to our newsletter and join Nethouseprice's community of over 190,000 members who get regular property tips, relevant offers and news, click here http://nethouseprices.com/auth/user-register
Source: Nethouseprices.com 28.01.19