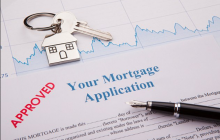 Given the current uncertain economic situation, it may seem surprising that the press has covered a number of recent stories about 100 per cent mortgages. However, recent news from Lloyds has attracted even more attention than similar products from other lenders. We ask why is there such a fuss about 100 per cent mortgages in general and this one in particular - and look at whether you might stand to benefit from just such a product.

Mortgages: a short history lesson

The word 'mortgage' derives from a French phrase 'mort gage', which means 'dead pledge'. This quixotic phrase hints at the origin of today's mortgages. Back in the twelfth century, it was common to use land - or, more precisely - the income from a piece of land - to pay a debt. This was a 'vif gage', or 'live pledge'. Conversely, someone with a 'mort gage' was required to find an alternative means of paying off the debt.

Back then, the Church's hold on Britain was almost absolute. It discouraged the use of any 'mort gage' due to a fear that this form of borrowing encouraged usury (lending money at unreasonably high rates of interest). However, the intensely feudal nature of society at the time posed problems for both live pledges and dead pledges. Eventually, both fell largely out of favour.

Fast forward a few hundred years to the nineteenth century and building societies started to appear. Although the Industrial Revolution had prompted countless families to leave their ancestral farms and villages to find work in the newly booming towns, most had to live in slum-like conditions in rented homes that often consisted of a single room at best. Property ownership was a matter for the rich. And, at first, the building societies did little to change this state of affairs: only the wealthiest members of society could afford to borrow money to finance a property purchase.

However, by the dawn of the twentieth century, agitation against unscrupulous landlords, constantly rising rents and appalling living conditions was gaining traction. The period immediately following the First World War saw the first large-scale government programme of house building for the population. This was the beginning of the era of the council house, although not yet of large-scale private home ownership.

By the 1930s, slum clearance programmes resulted in new housing estates in the first real "suburbs". Whether coincidentally or not, this influx of housing appeared at the same time as the UK's building societies started to offer the first low-interest mortgages.

Of course, at first, it was only the wealthier middle classes in professional occupations who could take advantage of a mortgage to buy their own home. Despite this limitation, by the start of the Second World War in 1939, almost 30 per cent of UK households lived in owner-occupied property. Relatively widespread destruction of housing stock in bombing raids and the inevitable post-war economic difficulties temporarily halted this upward trend. However, by the mid-1950s, home ownership was once again on the rise. Sold property prices and interest rates alike were both low, encouraging more and more people to take their first steps onto the housing ladder. A reduction in Stamp Duty and government lending to building societies to enable them to provide mortgages encouraged this trend. By 1964, national homeownership stood at 45 per cent.

The housing market took a new direction in the early 1980s with the introduction of Margaret Thatcher's "Right to Buy" policy. Together with the Mortgage Interest Relief At Source (MIRAS), "Right to Buy" was responsible for encouraging many more people to buy their first home. In 1991, homeownership levels in the UK stood at 67 per cent.

Unfortunately, problems lay ahead. Demand for property began to outstrip supply (particularly as local councils did not build sufficient replacements for the properties sold off under "Right to Buy"). Sold property prices began to rise, even as the financial sector went through a process of deregulation, enabling more and more people to access mortgage products that were closely tailored to their own needs. By the mid-1990s, price rises were outstripping both real wages and inflation. The proliferation of buy-to-let mortgages also increased competition for those hoping to buy their first home.

Plugging the gap?

For some people, 100 per cent mortgages plugged the growing gap. At 100 per cent loan to value, they required no deposit but usually came with interest rates that were considerably higher than a mortgage offered to someone with even only a 5 per cent deposit.

The 2009 house price crash

However, as a consequence of the 2008 financial crisis, in 2009 house prices plunged by an unprecedented 7.6 per cent. Banks and other lending institutions reacted by tightening lending criteria. Part of this new, tougher regime was the almost total disappearance of the 100 per cent mortgage.


The current situation

Lending criteria remain tight and saving for a deposit can seem an insurmountable goal. Perhaps as a consequence of this, several lenders are looking again at the 100 per cent mortgage. The most recent addition to the market is a product from Lloyds. It is available only to buyers with a family that can afford to put a sum equivalent to at least 10 per cent of the property's purchase price into a Lloyds savings account. This savings account pays what Lloyds describes as a "market-leading" interest rate of 2.5 per cent. The mortgage itself is a three-year, fixed-rate deal with a 2.99 per cent interest rate. It's undoubtedly a good deal for those able to access it, but commentators have already raised questions over whether it marks further growth in the gap between those who can afford to get onto the property ladder and those who cannot. Even those whose families have the financial resources to enable them to access the product might stop to query whether the market offers better alternatives. Research shows that the average savings held by the parents of prospective first-time buyers stands at over £40,000. Parents prepared to go one step beyond putting some of that money in their own special savings account, as per the Lloyds product, and gift or loan a proportion to their adult child may enable that child to access some of the very competitive ten-year fixed rate deals also currently available.
You can sign up to our newsletter and join Nethouseprice's community of over 190,000 members who get regular property tips, relevant offers and news, click here http://nethouseprices.com/auth/user-register
Source: Nethouseprices.com 30.01.19