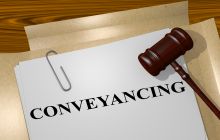 Understandably, most would-be buyers have several key areas of concern when it comes to purchasing a property. Sold property prices rising faster than their income, getting approved for a mortgage and, of course, actually finding a suitable home all tend to rank high on a purchaser's radar. Unfortunately, there is at least one glaring omission from this list and that is the quality of the conveyancing service used to facilitate the purchase. Even where conveyancing does feature, concerns often focus around the cost and the likely timescales. The idea that errors may creep into the process - and, worse, that these errors may occur after the purchase has completed - rarely crosses the minds of the majority of buyers.

Happily, for most, the conveyancing process is smooth - and you can increase the chances of falling within this group by understanding a little about what you ought to watch out for.

When it comes to property transactions, the golden rule to remember is always to raise problems when they occur. Waiting until the transaction is complete is ill-advised for two main reasons. First, it can end up costing you more money. Secondly, a problem that might have been resolvable prior to completion may be insurmountable afterwards. In other words, if something's worrying you and you want it fixed, raise the matter with your conveyancer as soon as you know it's a problem.

Of course, some concerns genuinely do come to light only after the transaction has completed. Common post-sale issues include:

- The vendor either fails to leave behind items listed as included with the sale of the property or leaves items that ought to have been removed. This second situation covers the fairly common scenario where the new owners discover a garden full of rusting white goods or an attic stacked with years of junk.

- Unexpected issues concerning the lease - for example, an unforeseen increase to the service charge.

- Unexpected issues relating to rights of way - for example, discovering that a neighbouring property has the right to access your garden in order to bring their rubbish out for collection.

- Problems at the Land Registry as a result of substandard conveyancing - for example discovering that there is a charge still subsisting against the property.

- A problem with the fabric of the building that was not noted by the surveyor.

The mechanism for resolving these issues depends on where the fault lies.

Sellers

If the sellers have caused the problem by leaving items in the property, you have the legal right to pursue them for the costs of removal. Your conveyancer should help you with this. Similarly, if they have removed items they ought to have left (according to the fixtures and fittings list), your legal adviser should assist with pursuing the matter further.

Search company

If the problem is as a result of inadequate work by the search company, your initial remedy lies with that company's in-house complaints' procedure. If this does not resolve the problem, your next step is to complain to the Property Ombudsman (TPOS). TPOS has the power to pay compensation up to a maximum sum (currently £5,000).

Surveyor

If the problem relates to a survey on the property, you should direct an initial complaint to the relevant company. If this does not result in a satisfactory outcome, you should (provided the surveyor is a member) complain to the Royal Institution of Chartered Surveyors. Surveyors carry professional indemnity insurance, which can make getting financial compensation for errors and oversights easier than you might suppose. However, be aware that many surveyors routinely advise that prospective purchasers seek specialist advice on matters such as damp and timber surveys, gas and electricity checks, and drainage inspections. Furthermore, a surveyor who identifies building issues such as subsidence may advise the would-be buyer to seek further advice from a builder, architect or appropriately-qualified expert. The presence of invasive species such as Japanese knotweed is another situation in which a surveyor may advise seeking further specialist advice. Essentially, if the buyer is on the receiving end of a recommendation from their surveyor to seek further advice from elsewhere then the surveyor has "covered their back". The buyer is unlikely to have further recourse against the surveyor at a later date.

Legal adviser

Problems occurring as a result of shortcomings in the legal process as conducted by a licensed conveyancer or solicitor may give rise to a potential claim in negligence. As with complaints against other professionals, you should first raise the issue with the firm concerned. You may then want to escalate it to the relevant governing body and, ultimately, to the Legal Ombudsman. Unsurprisingly, this can be an expensive process, which may be all the more unwelcome if you are already out of pocket as a result of what you are complaining about. In this situation, it is worth checking your home insurance policy to see if it includes legal fees. Alternatively, there are a number of "no win no fee" firms specialising in these sorts of negligence claims that may take on your case.

Top tips for avoiding problems

If you're at the start of the house-buying process, it's easy to be overwhelmed with the practicalities of the house-hunting search. However, alongside monitoring local sold property prices, booking viewings and arranging a mortgage, here are a number of tips that should help the purchase process run as smoothly as possible.

1. Do not engage any professional (estate agent, licensed conveyancer, solicitor, surveyor, etc) unthinkingly. Not only might you want to take recommendations from friends and family, and draw up a shortlist, you should also check what redress you would have if anything goes wrong. This means finding out about their regulatory body and whether they are a member of any trade bodies or redress programmes.

2. Make it a matter of routine to keep a note of all communications with your conveyancing team and other associated professionals. In particular, make sure you put any complaints into writing and, as far as possible, ensure you include supporting evidence.

3. On a day-to-day basis, keep in regular contact with your conveyancer. This is the simplest - and usually also the cheapest - way of ensuring nothing relevant is missed.
You can sign up to our newsletter and join Nethouseprice's community of over 190,000 members who get regular property tips, relevant offers and news, click here http://nethouseprices.com/auth/user-register
Source: Nethouseprice 31.01.19