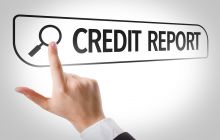 Many of us understand the importance of credit scores when buying property. Despite this, it's all too easy to put off the task in favour of choosing where you'd like to live, searching property websites, examining sold property prices and working out how much you can borrow. However, your chances of getting any mortgage - and especially a competitive product - are greatly enhanced by a solid credit report. So, how do you check your credit score - especially if you don't want to pay for the privilege?

The UK has three large credit reference agencies: Experian, Equifax and TransUnion (until recently known as CallCredit). All three allow you to keep a regular eye on your credit rating, as determined by them. Generally, they do this by offering a free monthly trial, after which you move to a paid subscription service. What is not always clear is that you can check the contents of your credit report, and your credit score, without having to pay a penny. Moreover, since the GDPR regulations came into force in May 2018, the credit reference agencies are obliged to allow you to check for free.

You can access your basic (or "statutory") report online via the relevant credit reference agency's website. You can also apply in writing. If you are uncertain how to do this, the Information Commissioner's website offers more details.

The statutory report is intended as a "snapshot" of your credit status. If you want a more comprehensive report, you will normally have to pay to receive it. Both Experian and Equifax offer free 30-day trial periods, during which you can access the full report. However, beware: both agencies normally require you to sign up with a credit or debit card before you can do so. If you do not want to transfer onto the paid subscription service that immediately follows the free trial period, you must remember to cancel your account in time.

TransUnion, via its Noddle service, offers a free for life full credit check. There is no 30-day trial and no need to supply debit or credit card details. Updated every month, the report contains:
- a detailed credit report, including your credit score
- financial deals (credit cards, loans, mortgages and the like) that fit your credit profile and that you are likely to be accepted for
- up-to-date money-saving offers.


You can also choose to upgrade your Noddle service to include alerts and ID protection.

Make sure you know what information you are expecting


All three credit reference agencies will provide you with what is known as a "statutory report". This contains:
- your personal details (full name, date of birth, address etc)
- your financial links to other people, such as your spouse
- confirmation of whether or not you appear on the electoral roll
- a list of all your credit accounts
- a list of any defaults or missed payments on those credit accounts
- a list of any recent searches that lenders have made of your file (note that this "footprint" of recent searches remains on your file for no more than one year).

Do you need to check all three credit reference agencies?

Ideally, yes. This is because all three agencies use slightly different parameters to assess your creditworthiness. Additionally, you will rarely know which agency any particular lender will refer to when considering your application for credit. Consequently, it makes sense to monitor your rating with all three. That said, if you are planning for a specific credit application and you are sure you know which credit reference agency the lender uses, you may decide to check your rating with that agency only. Sometimes, of course, time is short and checking your score at all three agencies may not be feasible. In this circumstance, the pragmatic decision may be to check your Experian file, as Experian is the largest of the UK's credit agencies and, consequently, the one that any lender is statistically most likely to use. Experian reports also tends to be the most comprehensive of the three. This means that if there are no nasty surprises lurking in an Experian report, the same is likely to be true of reports from Equifax and TransUnion.

Can you check your credit report too frequently?

Assuming there is more to your life than monitoring your credit score then, yes, you probably can check it too often. However, with tongue firmly out of cheek, it is prudent to make a habit of checking your credit report on a regular basis. Some experts suggest monthly. This is on the basis that even if you are not planning any forthcoming credit applications, keeping an eye on your credit files is one way to guard against the ever-present risk of identity theft or other types of fraud. If you are planning to make a credit application in the near future, perhaps because you want to remortgage or move up the property ladder, you should certainly check your files before putting in your application. Finally, remember that lenders cannot see how often you check your files - and the credit reference agencies do not care whether you look weekly, monthly, annually or not at all.

What is a Cifas marker and should you worry if there's one on your credit file?

Cifas is a UK fraud prevention service. If you have been the victim of identity fraud (and especially if you lost money as a result), the relevant financial institution will file what's called a "victim of impersonation" warning on your credit file. This alerts lenders to the fact that you have been the victim of a recent fraud and may be more vulnerable to further attempts. It should not prevent you from obtaining credit, but may necessitate an additional layer of security before you can do so. If you feel particularly at risk from potential fraud, you can choose to pay to place a "protective registration" on your file. This will remain on your file for two years and, in that time, help protect you from identity fraud. You must apply via the Cifas website and will have to pay for use of the service.

A good credit report can translate into serious savings on your mortgage
It can't be said too often: ensure your credit rating is rock solid and you are more likely to access the best mortgage products. This could give you more money to spend on your house purchase, pushing it into a higher bracket of future sold property prices.
You can sign up to our newsletter and join Nethouseprice's community of over 190,000 members who get regular property tips, relevant offers and news, click here http://nethouseprices.com/auth/user-register
Source: Nethouseprices 31.01.19