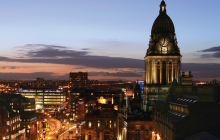 Lloyds Bank has just released its annual "affordable cities" survey. Using housing statistics from Halifax and earnings figures from the Office for National Statistics, it identifies the UK's most affordable cities in which to buy a home. Overall, the survey tracked the average earnings-to-house-price ratio in 62 UK cities.

The survey found that UK cities had an average house price of £248,233 in 2018. This represents a rise of almost £70,000 since 2013. Needless to say, the average UK city wage has not risen at the same pace and currently stands at £34,366.

Andrew Mason, Lloyds Bank's mortgage products director, admitted that house buying in the UK was challenging as a result of average sold property prices outstripping wage growth. However, he also saw cause for optimism, commenting that "home owners are still attracted to cities across the UK, in spite of rising costs". More specifically, the survey demonstrates that the housing market is currently more accessible to buyers north of the Midlands.

Here are the UK's 10 most affordable cities - including their average house price-to-earnings ratio - and a little about just why they might appeal to prospective buyers.

=1. Londonderry, Northern Ireland, 4.4
Usually more commonly known by its colloquial name of Derry, Londonderry benefited from its position as the UK's inaugural City of Culture back in 2013. While echoes of the Troubles undoubtedly still linger in some quarters, Derry has plenty of fans. It also has a good and varied selection of housing stock, including large detached properties and period town houses, some of which enjoy an enviable position within the seventeenth century city walls.

=1. Stirling, Scotland, 4.4
Stirling isn't known as Edinburgh's mini-me for no reason: there's the castle atop its crag right in the centre of the city, a surrounding vista of hills, and history enough to tempt Hollywood, in the form of "Braveheart". And there's more: as well as bearing a passing resemblance to the Scottish capital, Stirling has excellent rail connections to that city (and also to Glasgow). Unsurprisingly, it draws commuters aplenty, but the city is growing and - so far - there is sufficient choice of property to go around.

3. Newry, Northern Ireland, 4.5
Northern Ireland's second entry in the affordable cities survey, Newry is one of that country's newest cities. Its enviable geographical position, sitting in the middle of the Mourne Mountains and the Ring of Gullion, and close to what some may think of as "Game of Thrones" territory, goes some way to explaining its appeal to incomers. However, it's also established a reputation as something of a shopping paradise, while many of its historic buildings have enjoyed recent refurbishment.

4. Bradford, Yorkshire and Humberside, 4.6
Although traditionally it might have struggled in the shade of Manchester and Leeds, Bradford has more than enough to recommend it. On the housing front, there are several sociable and "village-like" neighbourhoods - and many of them feature some splendid stone Victorian properties. Its proximity to those larger, better-known cities makes it popular with commuters, while fans of fresh air and walking boots appreciate the fact that some of the UK's best countryside is quite literally on its doorstep.

5. Lancaster, North West, 4.7
It might be the most appealing city you've (perhaps) never been to. There's a castle, a folly, an excellent university, a restored riverside warehouse area and, of course, the Lake District, the Yorkshire Dales and the Trough of Bowland are close enough to enjoy an impromptu day out.

=6. Belfast, Northern Ireland, 5.0
A wave of investment and development means that Belfast is booming. For many, the city centre and, in particular, its cobbled Cathedral Quarter, is the place to be. Buyers looking for New York-style loft living in the city would do well to begin their search here.

=6. Aberdeen, Scotland, 5.0
Much more than 'just' an oil city, it's true that Aberdeen has faced tough times recently as a result of falling oil prices and several rounds of redundancies and retrenchments. However, the housing market is comprehensive, featuring everything from the large detached villas that have so often tempted oil company executives to small one-bedroom flats.

=8. Perth, Scotland, 5.1
In every sense, the riverside city of Perth is a "Fair City". Not only are its sold property prices relatively affordable when compared to its average wage, it's stunningly attractive. Its houses don't let it down on the looks front: there's a good selection of Georgian townhouses and Victorian villas, as well as some more modern - but still thoughtfully-designed - properties.

=8. Hereford, West Midlands, 5.1
It might be a long way from anywhere one needs to be, but there are good train connections to Birmingham, Worcester, Ludlow and Cardiff - and, perhaps more importantly - this city is within easy reach of the splendours of the Black Mountains. It also has pockets of historic loveliness: as well as the Cathedral, there are various period properties that occasionally come onto the market.

10. Sunderland, North East, 5.2
Although it might currently be associated with Nissan and Brexit, Sunderland has rather more going for it. Not only is it right by the sea, it also enjoys a vibrant music scene and is the annual host of one of Europe's biggest air shows. There's property to suit a variety of budgets, with around £150,000 being enough to secure a three-bedroom home with a garden in a great area of the city.

Just below the top ten most affordable cities, the follow ten also rank well in the price versus purse league:

11. Carlisle, North West, 5.3

=12. Liverpool, North West, 5.4

=12. Dundee, Scotland, 5.4

=14. Swansea, Wales, 5.5

=14. Glasgow, Scotland, 5.5

=14. Stoke-on-Trent, West Midlands, 5.5

=14. Durham, North East, 5.5

18. Hull, Yorkshire and Humberside, 5.6

19. Inverness, Scotland, 5.8

20. Derby, East Midlands, 5.9

And finally, in case you were wondering, the top three least affordable cities according to the ratio of average earnings-to-house-price are all in the south-east of the UK: Oxford, Chichester and Winchester.
You can sign up to our newsletter and join Nethouseprice's community of over 190,000 members who get regular property tips, relevant offers and news, click here http://nethouseprices.com/auth/user-register
Source: Nethouseprices.com 06.02.19